Today the assignment was to make Banana Bread. I did not have enough bananas so I went ahead and made some bagels instead.
Here is how it went.
Because I don't have a bread machine I mixed these up by hand. I used this recipe here. I just changed the recipe for making them by hand. I used my mixer to mix up the dough. I let it rise in my oven for an hour and then took it out and shaped the dough into bagels. I then boiled them in water and drained them on a rack.
Here are the bagels before baking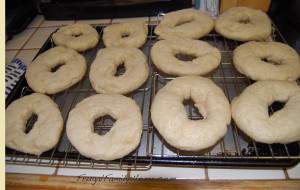 This is right after boiling them in the water. Then I brush them with an egg wash.
Here they are after baking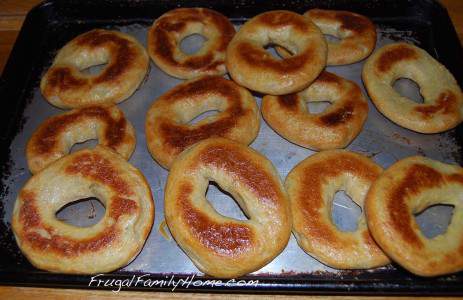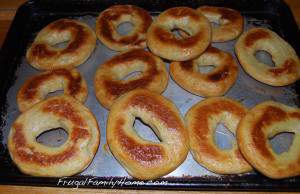 These turned out really good. Nice and chewy on the outside and soft on the inside. But they ended up flatter than normal. I think the water was a little hot for the yeast or the yeast was getting old. Anyway they still are really yummy.
This baking session took me about 1 hour of hands on time. I was able to do home school work with the kids during the rising time and baking time. If you have a bread machine it would take less hands on time.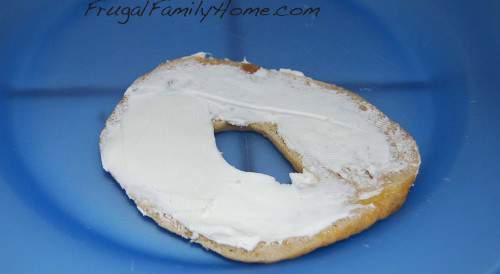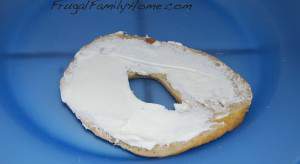 I let the bagels cool on a rack. Once cooled I then used some of my bread bags and double wrapped them. I put them in the freezer. Next time I think I will try to make the smaller bagel size like the ones we get at the bread store.
Did you do any freezer baking today?
[signoff]