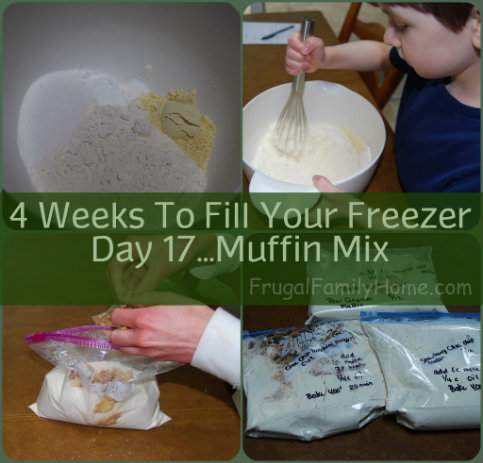 Today's freezer cooking was more like pantry cooking. Instead of making the Easy Morning Glory Muffins like Money Saving Mom is making, I made muffin mixes. The muffin mixes will make it easy for me to make up a batch of muffins for a snack or a dessert. I dry my own fruit and zucchini but if you don't have dried fruit you can add any thawed frozen fruit or fresh fruit or drained canned fruit when you make the muffins.
The Ingredients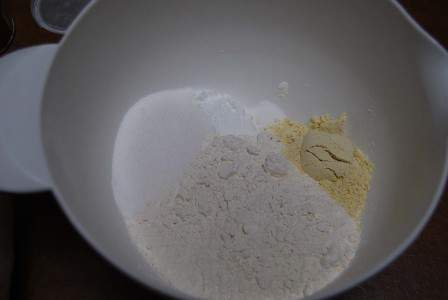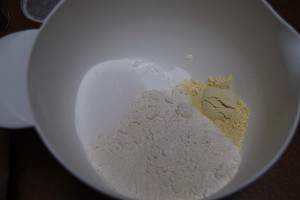 2 1/2 C flour (can used whole wheat or half and half)
1 T Soy Flour or Add 1 egg when preparing muffins
1/4 C sugar
2t baking powder (3t if using whole wheat flour)
1/2 t salt
I put all the ingredients listed above into a bowl. Then my son helped to mix them all up with a whisk.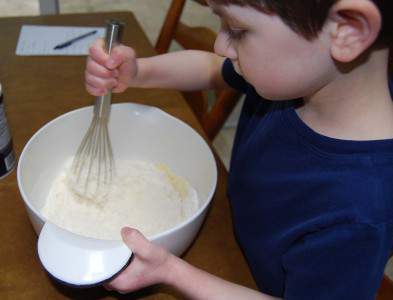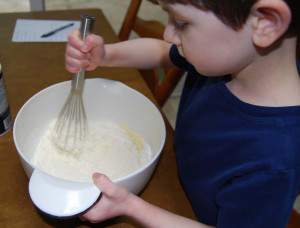 Once we had the mix ready, I put it into a storage bag. If plain muffins is what you want to make just add 1 t cinnamon and 1/2 t nutmeg. This amount of mix will make about 12 regular sized muffins.
We wanted to make three different kinds of muffins so we mixed up two more batches and added them to the storage bags. Then my daughter added 1/4 cup dried pears to the first mix along with the cinnamon and nutmeg.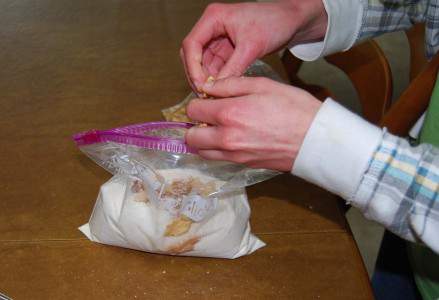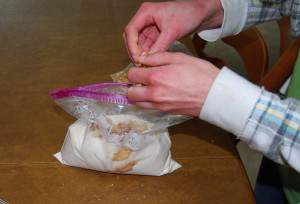 To the next mix we added 1/4 cup dried strawberries, 1/4 cup chocolate chips, 1/2 teaspoon of cinnamon and 1/2 teaspoon of nutmeg. To make a strawberry and chocolate chip muffin mix. We made the other mix into zucchini and chocolate chip muffin mix. To this mix we added 1/4 cup dried shredded zucchini, 1/4 cup chocolate chips and 1/2 teaspoon each of cinnamon and nutmeg.
I sealed them up and added the instructions for preparing them.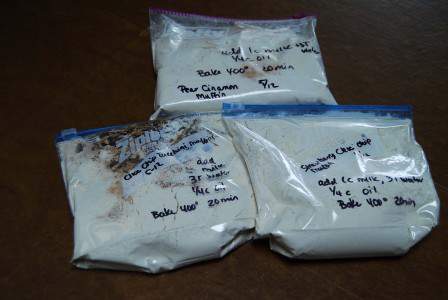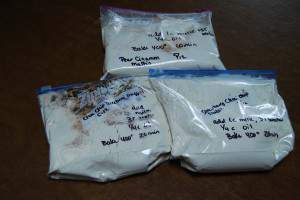 To prepare the muffins
Place one package of muffin mix into a bowl.
Add the wet ingredients to the mix
1 cup of milk or milk alternative(soy, almond or rice milk) or buttermilk
1/4 cup oil
1 T water (if you used soy flour) or an egg if you didn't use soy flour
2 T of water (if you used dried fruit or zucchini) omit if no dried fruit was added to mix
Mix until all ingredients are incorporated. Fill muffin tins 3/4 full with batter and bake in a 400 degree preheated oven about 20 minutes. If you want the tops of the muffins to get nice and brown and a little crisp. Bake in the top 1/3 of the oven. Remove from oven and let cool 5 minutes. Enjoy!
These little packages are nice to have on hand. I can mix them up in a bowl and have nice fresh hot muffins in no time.
Tomorrow's freezer cooking will be No Bake Energy Bites from Smashed Peas and Carrots. This is another recipe I have not made before so I am excited about trying something new. I read at Smashed Peas and Carrots that these are so good you can't eat just one.
Did you get any freezer cooking done today? What did you make?
[signoff]