Preparing a Pork Tenderloin for the Freezer
I have to tell you that the first time my aunt told me to purchase a pork tenderloin in the bag to cut  into pork chops I wasn't really sure about this. It is a big piece of meat and doesn't look to appealing in this form. But now years later and many time of cutting my own pork chops and roast it is really easy. So believe me when I say it is not that bad to do this and you can save a lot of money. I purchase my whole tenderloin packaged just like this above pictured at Costco from $1.99 to $2.19 a pound and recently they had them on sale at Safeway for $1.99 per pound.
Getting Started
The first thing I do is cover my counter top I will be working at with plastic wrap. I do this to make clean up easier but you don't have to. Then I get out my cutting board to use and place it on the counter. Once I am ready I put the pork tenderloin in the sink and cut one end open and drain off any juice in the package. It saves it from running all over your counter and onto the floor. Don't ask me how I know.
First Cut the Pork Roasts
The first thing I do after taking it out of the packaging is to cut off each end for two pork roasts. Like pictured below. I wrap them in plastic wrap and then put them into a freezer bag. These are great cooked up in the crock pot.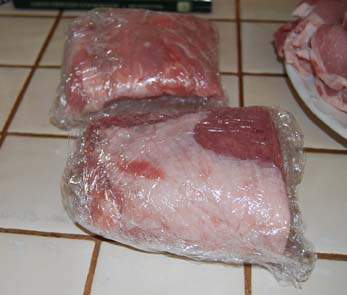 Cut the Pork Chops
The part you have left is the middle and I just start cutting it into slices for pork chops. We like thin pork chops so we get quite a few if you like thicker pork chops just cut them thicker. You could even cut some thicker for certain recipes and thinner for other recipes, whatever you need.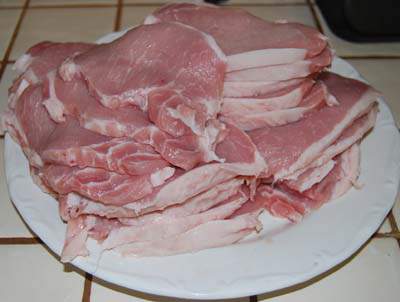 Package the Pork Chops for the Freezer
I usually package the pork chops 5 to a package. I find that 5 pork chops will fit nicely into one sandwich bag. Once they are all in the sandwich bags I put those into a gallon sized Ziploc freezer bag. By doing all the prep now you can get out just the right amount you need right out of the freezer without too much hassle.
Here is my plate of pork chops along with the wrapped up pork roast and a few I kept out for our dinner.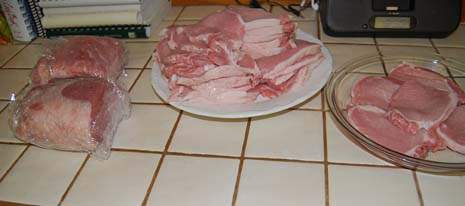 You can use the pork chops in any recipe you have. We like to marinate them and grill them. I also have a recipe my great grandma used to make with pork chops and I will post that next week.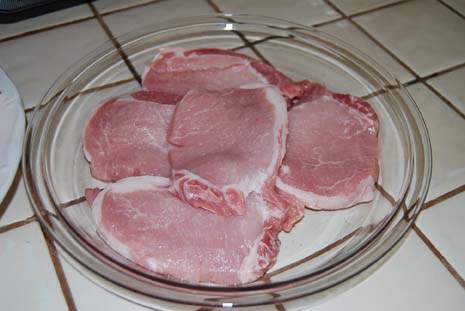 So the next time you see that big package of pork tenderloin on sale go ahead and pick one up. You can cut it up yourself and save some money over pre-packaged pork chops.
What do you think? Is this something you might try?
[signoff]