Peaches are a fruit that is so good. We could eat them year round, but out of season peaches, they are not good at all. Canned peaches are great but taste differently. Freezing peaches keeps the fresh flavor or at least as close to the fresh flavor as you can when preserving.
This step-by-step tutorial for how to freeze peaches can teach you how to freeze fresh peaches easily.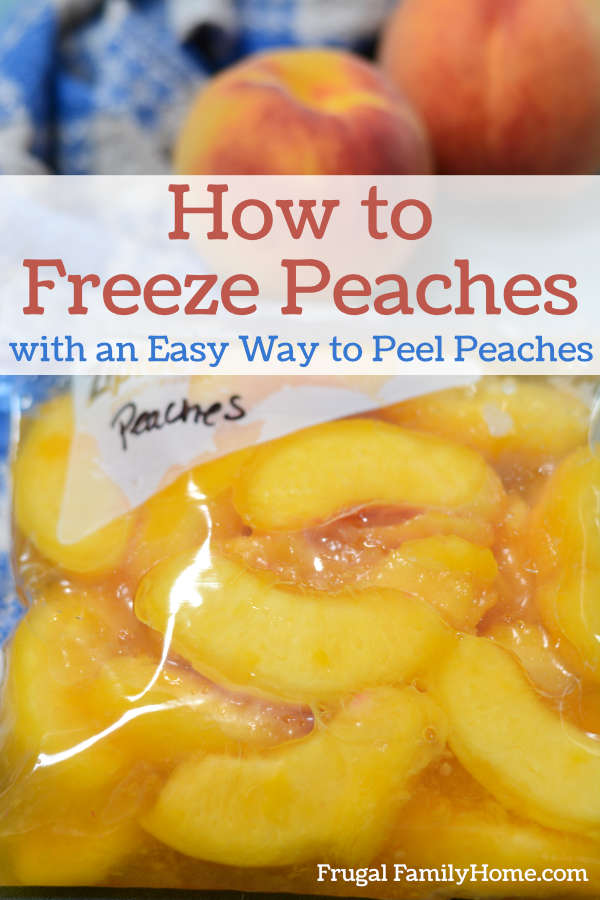 How to Freeze Fresh Peaches, Getting Started
My mom used to can and freeze peaches each year. We would go out to a family farm near us and pick peaches. Then bring them home and spread them out in a single layer in boxes to ripen.
I loved smelling that delicious aroma coming from the peaches. It's a heavenly scent. Then once they were slightly soft to the touch and smelled so very good when you gave them a sniff. It was time.
Time to preserve that peak of season flavor for later in the year. When the cold wind blows and you are longing for the warm sunshine on your face again.
Well, you can get a taste of sunshine in your home frozen peaches, any time of the year. 
But first you have to get some peaches!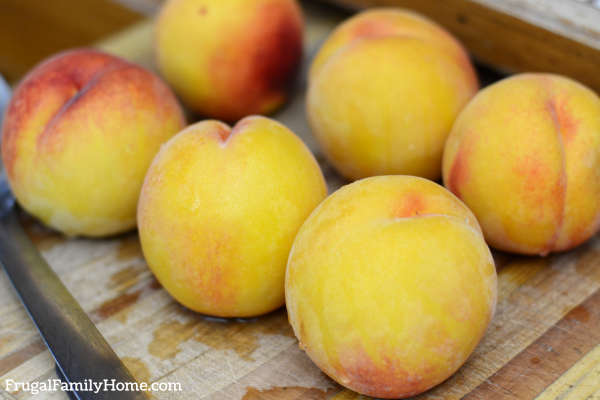 There are two kinds of peaches. Either kind will freeze well, but the amount of work put in will be different. If you are a lazy food preserver like me, then you'll want to know what peaches are easier to pit.
Two Kinds of Peaches
Cling
Cling peaches are named that because the peach flesh well, clings to the pit. So you need to cut the peach into slices off the pit. 
This is the harder to deal with peach. But some cling varieties of peaches are so good, you won't mind dealing with a cling peach.
One of the peaches that's a cling peach we love is called Red Haven. They are superb freezing peaches and so yummy too. 
Freestone
As you might have guessed, a freestone peach is one that breaks free of the pit easily. After peeling you can cut the peach in half, give it a little twist and it breaks free easily from the pit. 
Perfect when you are preparing a lot of peaches at a time. One freestone peach we love is Improved Elberta peaches. 
Once you decide on the peach you want to use, then let's get to freezing the peaches. The five steps are all explained below.
Freezing Peaches, Step by Step
In just 5 easy steps you can learn how to freeze fresh peaches. It's really can be an easy process. The hardest part is peeling the peaches and I have a tip for you for that too.
Here's a quick video to show you how to freeze peaches. But if watching a video isn't for you. Scroll on down to get the written directions
1. Wash Peaches
I think you know how to wash peaches. If I'm doing a lot of peaches it easy to add them to a clean sink cover them with water and mix them a bit. Then as you remove it each one rinse with water.
You just need to remove any dirt or debris from them which usually isn't much. The next step is to peel the peaches. And I have an easier way to do just that.
2. Peeling Peaches
You can take a knife and peel the skin off the peaches. But this often results in nicks and cuts into the fruit. If the peach is ripe, you should be able to pull a lot of the skin off.
But the best way to peel peaches is below…
Bring a pot of water to a boil. Add a peach or two at a time and leave it in the water until the skin splits or about 30 seconds. You don't want to cook the fruit.
Immediately remove the peach from the pot of boiling water to an ice bath. Which is just a large bowl of cold water with ice.
Let the peaches sit and cool for a couple of minutes in the ice bath.
Remove the peach and using a knife start to peel the skin away. Once started the skin should slip or pull right off.
That's how easy it is to peel a peach.
Once peeled you can slice the peach or cut it in half. After it's cut you need to make sure it doesn't turn brown while you are peeling and cutting the rest of the peaches and to do that we need to make a soak.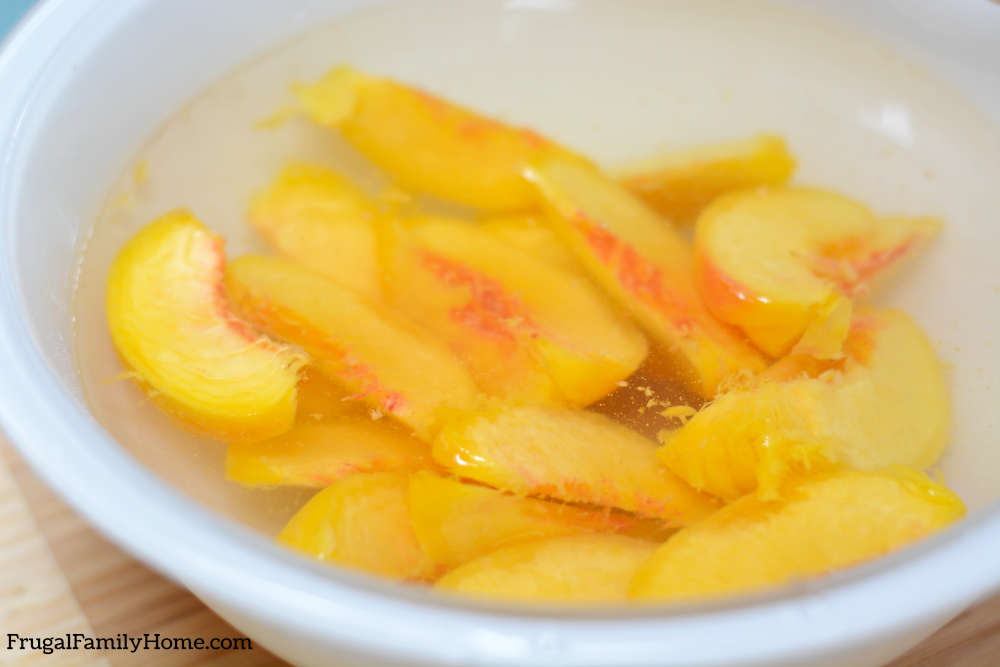 Some of the links below are my referral links which means when you purchase through them I can make a little money at no extra cost to you. Thanks! See the disclosure policy for more information.
3. Soak the Peaches
While you are preparing the peaches, you'll want to keep the peeled and sliced peaches in a soak to keep them from browning. You can use fruit fresh in water to keep your prepared peaches from turning brown.
You can also use a saltwater solution if you don't have fruit fresh. To make the salt water solution mix 8 cups of water with 2 tablespoons of salt. Don't worry about the peaches tasting salty they won't.
Once you have all the peaches prepared it time to…
4. Mix with Sugar, the Easy Sugar Pack Method
There are a few ways you can freeze peaches. You can sugar pack them, syrup pack them or puree them.
You can use any of these methods but the easiest one is the one I'm sharing. Plus, this is how to freeze peaches without them turning brown too.
I'm assuming you want fruit in slices so I won't cover the puree method. For myself I like to go the easy route so I skip the syrup pack and go with the sugar pack. It's the easiest method.
To pack your peaches in a sugar pack for the freezer you'll want to mix sugar with a produce protector like fruit fresh. The fruit fresh will keep your frozen peaches from turning brown so it's important.
You want to mix 2/3 cup of sugar with 2 teaspoons of produce protector.
Measure out 1 quart of peel and sliced fruit and sprinkle with the sugar mixture. Gently toss or mix to coat the fruit with sugar and let it stand about 10 minutes until the sugar dissolves.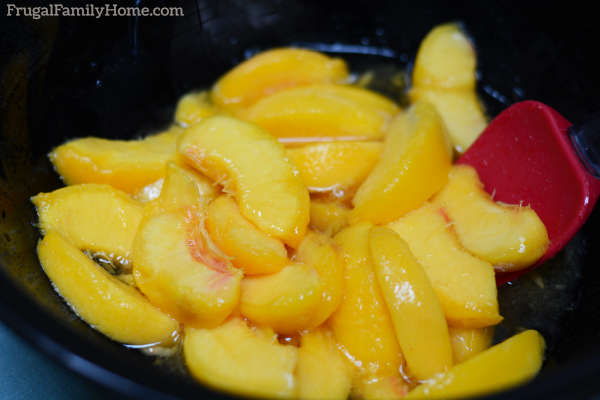 Then it's ready to pack into containers.
5. Place in Freezer Containers or Bags
Once the sugar is dissolved and a syrup has formed. It's time to package your peaches. You'll want to scoop the sliced fruit and syrup into freezer jar or plastic freezer boxes or bags.
Seal the container, label with the date and what it is. Then freeze.
It's that easy to freeze peaches. Now a few questions you might have about the frozen peaches…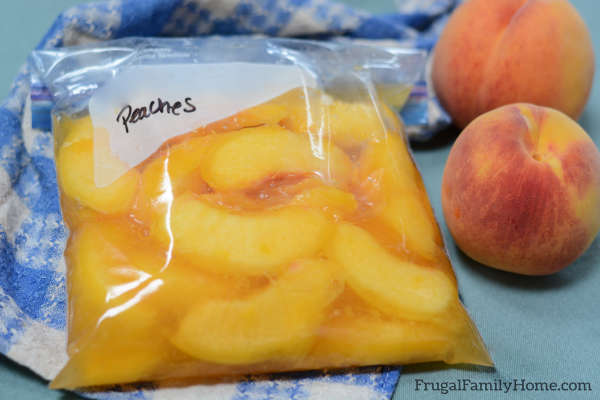 Freezing Peaches Questions and Answers
Can I use frozen peaches instead of fresh?
You can use frozen peaches in place of fresh peaches in recipes. You'll want to thaw and drain the peaches first. Then replace the amount of fresh peaches with the same amount of frozen peaches.
How to Thaw Frozen Peaches?
To thaw frozen peaches, you'll want to place them in the refrigerator to thaw overnight.
How do you keep peaches from turning brown when frozen?
You can keep your peaches from turning brown when frozen by adding a produce protector like fruit fresh or you can use a little lemon juice. The ascorbic acid helps to protect against browning.
How long do frozen peaches keep?
Your frozen peaches will keep 10 to 12 months in the freezer.
How to Use Your Frozen Peaches…
Frozen peaches can be used in so many ways. Here's a few to get you started. 
Eating Like Fresh Peaches
You can thaw them and drain them to eat just like canned peaches. But they taste so much fresher. 
Make Peach Shortcake
You can thaw them and use the juice and the peaches over shortcake for a quick and easy yummy peach shortcake.
Make Peach Pie
Thaw the peaches add a little cinnamon and nutmeg along with a couple tablespoons of flour. Then add it to a pie crust and bake. Yummy peach pie that is quick and easy. 
Make Peach Jello
Make homemade peach jello with this recipe. But instead of berries use the peaches with liquid in the recipe. It's a more natural version of Jello Jigglers. 
Make Cinnamon Peaches
Cook the peaches in a skillet with a little cinnamon. Then stir in cornstarch dissolved in water and boil for about a minute to thicken the syrup. This makes a great topping for pancakes or waffles.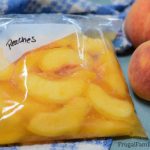 Print
How to Freeze Peaches
Freezing peaches is a great way to enjoy fresh peach flavor in the winter and it's easier to do than you might think with this step by step tutorial.
Ingredients
1

quart

Peaches

2/3

cup

Sugar

3

teaspoons

Fruit Protector
Instructions
In a boiling pot of water simmer a few peaches at a time for 30 seconds

Remove from boiling water and add to an ice bath. Let sit for 3 minutes.

While the peaches are cooling make the soaking liquid. Mix 1 quart of water with 1 teaspoon fruit fresh. Stir and set aside.

Remove one peach from the ice bath. Peel, the skin should slip off easily.

Then cut into slices and remove from pit.

Add the sliced peaches to the soaking liquid.

Repeat for other peaches.

In a small bowl mix 2/3 cup sugar with remaining 2 teaspoons of fruit fresh.

Measure out 1 quart of prepared sliced peaches into a bowl and sprinkle with sugar mixture.

Stir to moisten the sugar.

Add peaches and syrup to a freezer container or freezer bag. Remove as much air as you can and seal.

Label with peaches and date. Freeze.
Video
Notes
Freestone peaches are easier to work with since they come off the pit more easily than cling peaches. 
When ready to use your peaches, remove from the freezer and let thaw overnight in the refrigerator. Use as fresh peaches once thawed.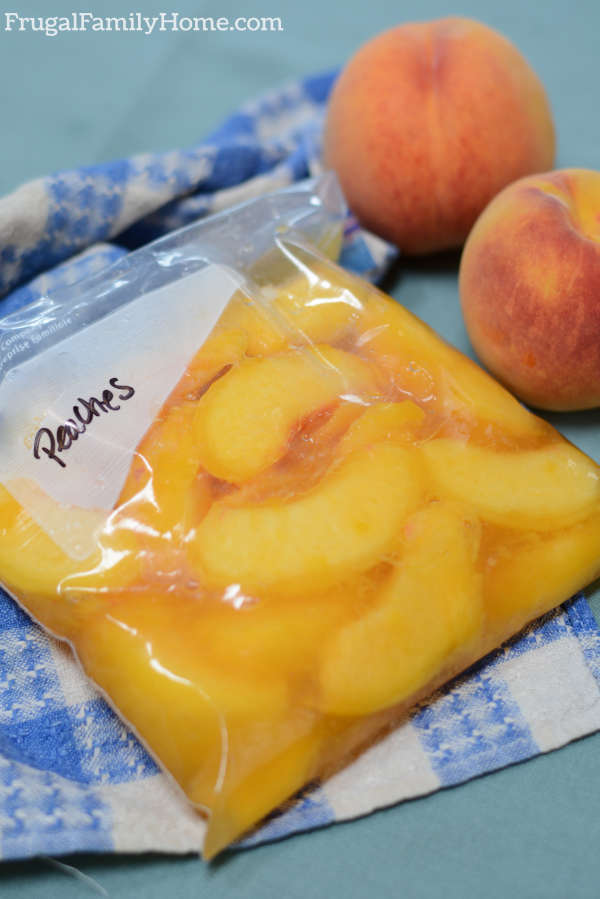 That's how to freeze peaches quickly and easily. The hardest part about the whole process is peeling the peaches. But if you use the technique, I shared it should go pretty quickly for you.
Now go find some of those yummy in season peaches and preserve them for this winter. When you are enjoying the fresh taste of peaches when it's cold outside you'll thank yourself.
More Ways to Preserve Peaches..
How to Can Peaches, Step by Step