Last week I posted one of my cheap eats posts on what it cost for our family of four to make tacos at home.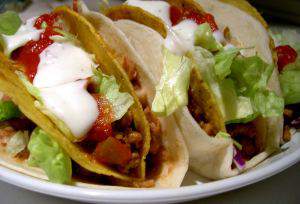 Here is what I found.
Taco Dinner
Taco Shells $.99/12 package we only need half for our family $.50
Lettuce $.50 (Everyday deals sells heads of lettuce for $.50 or less)
Ground Beef or Ground Turkey $2 for a pound
Taco Seasoning $.50 (this is a price for a packet but I make my own or buy it at the co-op)
Cheese $1 (I shred my own and purchase 8 oz for about $1.50)
Salsa $.60 (I make my own with a can of diced tomatoes and co-op salsa seasoning)
Flour Tortillas $.50-$.99 per package (if you prefer soft tacos) 1/2 package $.25-$.50
Refried Beans $.60 per can
Tortilla Chips $1 (half a bag to go with the tacos)
Fruit $1 (whatever was on sale this week or a can of fruit from the pantry)
This dinner works out to be about $7.95 for our family of 4, plus lunch for 3 of us.
So this works out to be $1.14 per person or about $5 for us to eat a taco dinner at home. This dinner includes 4 crisp tacos, 4 soft tacos, chips and salsa along with a serving of fruit.
Tacos eaten out:
If we were to eat at a Taco Bell each of the tacos would be about $1.
So it would be $8 for our family to eat at Taco Bell out or $2 per person. That is without any fruit or chips and salsa.
If we decided to go to a mexican type sit down restaurant with coupons and water to drink.
I think in our area that would costing about $20-$30.
So you can save about $1 per person and get better quality food at home than out to eat at Taco Bell. You can save $4 to $6 per person over eating out at a sit down mexican restaurant.
I like to compare the prices so I can be an educated consumer and decide when it is worth it for me to spend the extra money and when it is not.
What do you think? Do you think of how much extra you are paying when eating out versus eating at home? Does it make a difference in where you eat out?
[signoff]