Broccoli is a really versatile and a good for you vegetable, but it can be expensive too. This tutorial will show you how to cut broccoli so you can make all of it useable without it being tough or woody.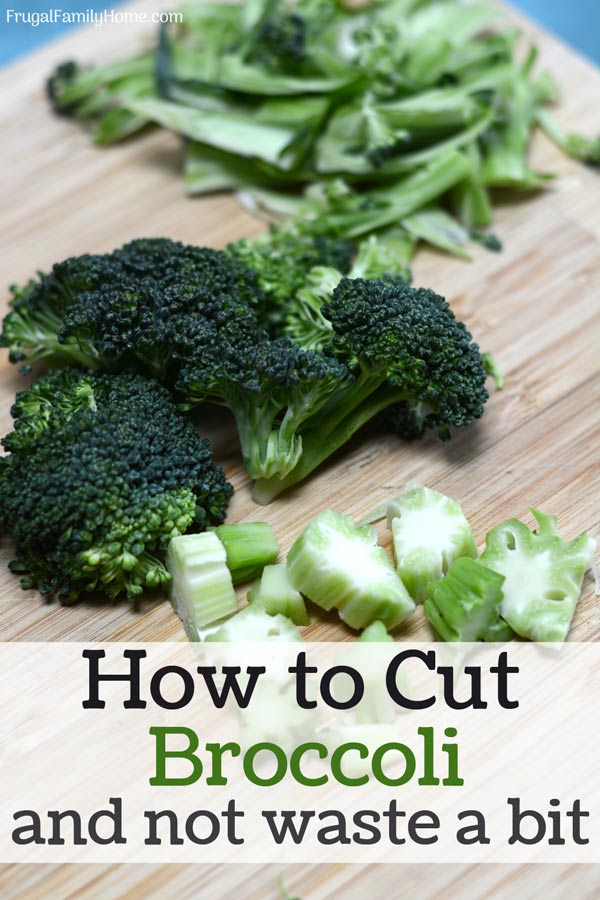 Before we get to how to cut broccoli let's talk about broccoli and the different parts of the broccoli plant.
What Part of Broccoli is Edible
If you are not used to making fresh broccoli you might think that only the top of the broccoli is edible. But you can also eat the broccoli stalks too.
Although it's covered in a tough skin. Which after cooking tends to get tougher. But in the video below I'll show you how to cut broccoli so you can use all of it. Without it being tough.
Do you know what part of the broccoli is best for you? In the past I would have guessed it was the florets. The flower part as it's darker in color and the usually means more nutrients.
But the best part of the broccoli is actually the stem or stalk. It contains more vitamins than the flowers. So don't throw away those stems.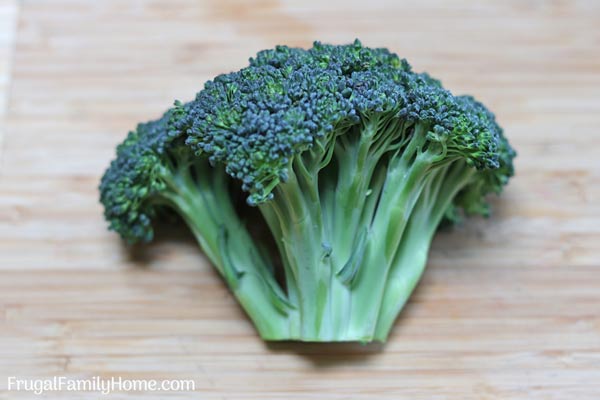 What are Broccoli Florets
If you've read a recipe and it calls for broccoli florets you might wonder what is that.
A head of broccoli is the big flower portion at the end of broccoli stalk. But when you cut the head apart into smaller pieces and remove the thick stock, you have broccoli florets.
How many cups of broccoli florets are in a head? In a medium or average sized broccoli stem you'll get about 3 1/2 cups of broccoli florets.
To make the most of your broccoli you can cut your broccoli stalk up as in the video below you can get about 2 cups of stalk pieces to cook too.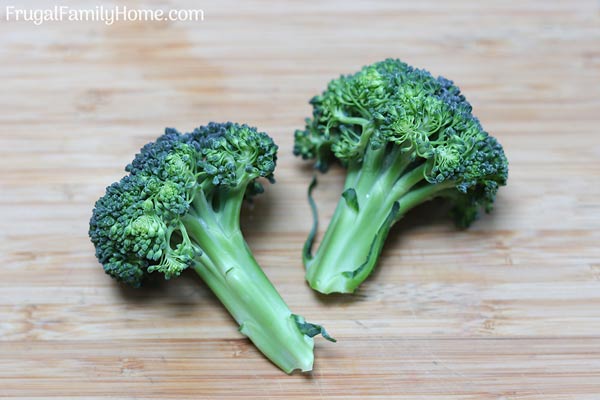 What is the difference between broccoli cuts and florets
I know I've made the mistake of purchasing broccoli cuts instead of florets in the freezer section of the store because they were cheaper. But you may not know what he difference is.
Broccoli cuts are broccoli florets and the cut up broccoli stalks. If you purchase them in the freezer section, depending on the brand, you can end up with lots of broccoli stalks cut up and very little florets.
Now if you will be pureeing the broccoli cuts into a soup, that won't be a problem. Or maybe even using them in a casserole should be fine. But eating them as a side dish unless you prepare the stalks yourself can be bad.
The broccoli stalks if they haven't been peeled can be very tough if not prepared correctly. Making them tough and chewy for regular eating as a side dish.
If you'll be serving your broccoli as a side dish be sure to use the broccoli florets instead of cut broccoli. Or at least prep the broccoli stalks like in the video below to make them tender and delicious.
Now let's get to how to cut broccoli so you you can use the whole broccoli stalk.
How to Cut Broccoli, Video Tutorial
As you can see it's not hard or time consuming at all to be able to use all the parts of the broccoli stalks. And with broccoli being so expensive it good to be frugal and use all you can.
One thing I didn't mention in the video is that you can keep the broccoli peelings for making vegetable broth.
Yes, that's right you can use it all up and make broth too.
What you want to do is take your broccoli stalk peelings and any other vegetable peelings and store them in a bag in the freezer.
Then when you need to make vegetable broth, you can grab those vegetable clippings, add a few seasonings and water and soon you'll have broth. For almost free.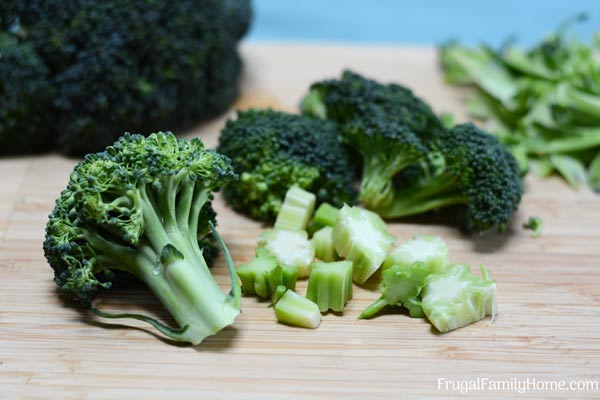 Now that's how to cut broccoli so you can use all of it and not waste a bit.
What do you think? Is this something you'll try? Maybe you have a better way to share? Leave me a comment below and let me know.
Stop Food Waste with These Tips Too…
5 Ways to Stop Food Waste
How to Keep Strawberries Longer