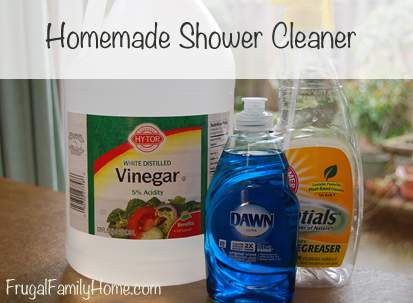 Homemade Shower Cleaner Recipe
I have seen this recipe posted a few different places but this is where I saw the recipe first. At the time I had lots of Scrubbing Bubbles in my stockpile so I knew it would be a while before I would get around to giving this recipe a try.
Last week I ran out of the scrubbing bubbles and I was excited to give the recipe a try. I know it doesn't take much to get me excited does it. 🙂  The recipe only takes two ingredients, Dawn and vinegar. I have read that the blue Dawn works the best so that is the one I used.
You do need to heat up the vinegar when you make it but after that there is no need to reheat it each time you use it. I usually will clean my shower while I am taking my shower so having a cleaner that is made of soap and vinegar is a plus. If you have never tried cleaning the shower while you are showering you should really give it a try. It is so much easier.
When I gave this recipe a try, I was really happy with how the homemade cleaner worked. I am sure it worked just as good as my scrubbing bubbles if not better. I did find that I didn't need to use that much to clean the shower. The first time I used it I sprayed too much on. I also have used this recipe to clean the sink, toilet and countertop. Although I do need to remember to use it more sparingly on the countertop. I ended up having to rinse quite a bit to get all the cleaner off so do use it sparingly until you get used to it.
Here's the recipe if you want to give it a try,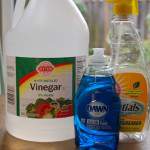 Homemade Shower Cleaner
1 part Dawn Liquid Dish Soap (I used 1/2 a cup)
1 part Vinegar (I used 1/2  a cup)
Empty Spray Bottle
Heat the vinegar until very warm. I just placed the vinegar in my liquid measuring cup and heated it in the microwave. Then I added the Dawn and poured it into a spray bottle. Gave it a gentle shake and that is it. I just used one of my spray bottles that was empty.
To use spray on surface let sit a few minutes and wipe off with a wet rag.
If you give this recipe a try, let me know how you like it. 
[signoff]