How to prepare garlic for the freezer so you don't have to peel and minced garlic each time you need a clove or two. Make your own garlic cubes for the freezer.
Garlic is something that I use all the time in so many recipes.
While I enjoy using garlic because it adds great flavor. I don't enjoy the peeling and the mincing every time I need one or two cloves of garlic.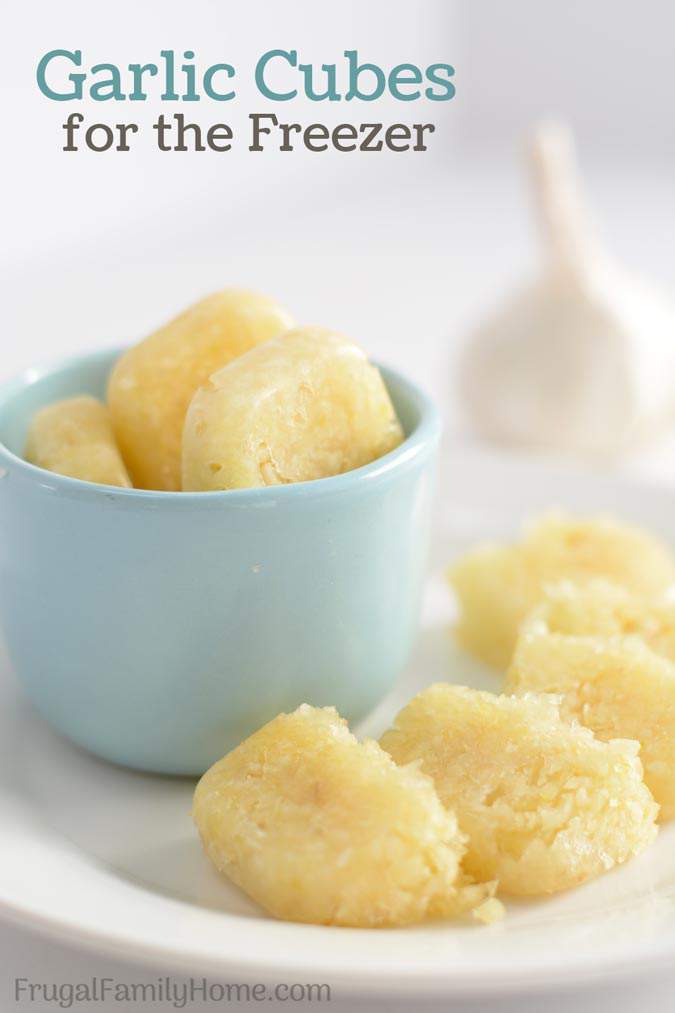 That's why I love to make my own garlic cubes for the freezer.
These cubes of yummy minced garlic are easy to make and I've found that purchasing garlic in larger quantities is less expensive. Saving me not only time but money too.
After all, when is the last time you had all the time you needed to make dinner?
Every little shortcut that can help you while you're trying to get dinner on the table after a busy day can help. Am I right?!
It's so much easier to grab a cube of minced garlic out of the freezer than it is to peel and mince one clove of garlic each time you need one.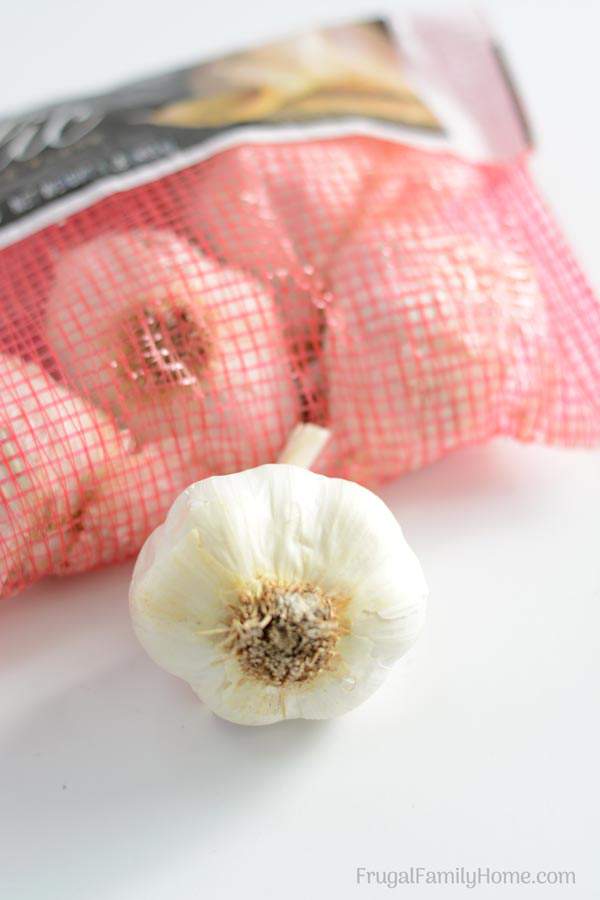 Buy Garlic in Bulk and Save
When I pick up a bag of garlic from the store I usually pay $2.99 for 15 heads of garlic. Which is less than half the price (about $.20 a head) of purchasing the garlic heads individually at $.50 a head.
When I bring home a bag of 15 heads of garlic and I know I'm not going to use them all anytime soon, I need to do something to keep them from going bad.
I don't want them sprouting or shriveling up before I can use them. Have you ever reached for a head of garlic to have it squish in your hands, it so sad and a waste.
To keep all those garlic heads from withering away, I prepare them for the freezer.
It does take a little time to peel and chop the garlic. But I've made a quick video to show you exactly how I do the whole process.
I was surprised to find that it only took me about 30 minutes to do eight heads of garlic for the freezer. It always feels like it takes a lot longer.
Tips to Quickly Prepare the Garlic for the Freezer
I know not everyone likes to watch videos and for those of you who prefer to read the tips I've added them below.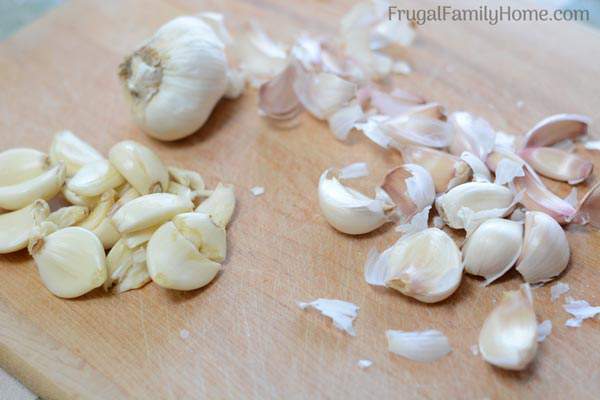 Separating the Cloves from the head of Garlic
When separating a head of garlic into cloves I've got an easy and quick way to do this. You don't have to pull them apart one by one.
Instead place the garlic clove on a flat hard surface, like a cutting board. Then place the flat side of the knife against ahead and give it a good whack.
This will break all of the cloves of garlic out of the head.
2 Ways to Peel the Garlic Cloves
Peeling is probably my least enjoyable job in the kitchen. But I've found using this technique makes it go so much quicker.
I start out by taking each individual clove of garlic on the cutting board. I place the flat side of the knife over the garlic cloves and give the knife a hit. This will squash the garlic cloves just enough to let them release their skins easily.
Another way to peel garlic cloves is to place them inside of a bowl, cover with another bowl and give them a good hard shake.
I've had mixed results with this method. It might be because my bowls are not the same size or that I can't shake them quite hard enough. But I always end up with a few cloves I have to smash to remove the skins.
I demonstrated on the video the garlic clove smashing technique because it works every time for me.
Chopping the Garlic Cloves
After all the skins are removed from the cloves, it's time to mince them. I find that using the food processor is the easiest way to get them minced.
I process the cloves of garlic until they are medium to finely minced. It only takes a few seconds. The food processor is so much faster than using a knife.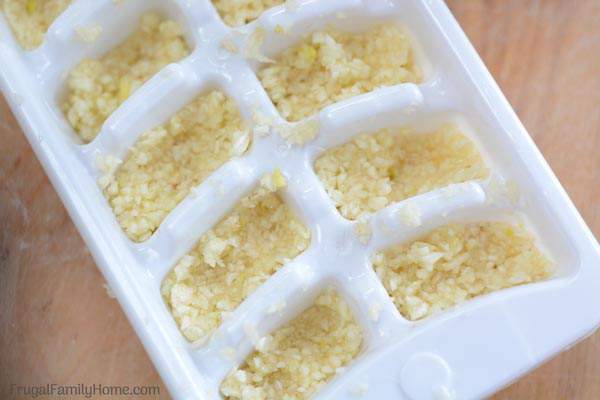 Portioning the Minced Garlic
I use a tablespoon or a teaspoon to portion the minced garlic. A tablespoon is a large amount but I can cut it in half if I need a smaller amount.
But if you use one or two cloves of garlic at a time, or don't want to hassle with cutting the cubes in half as needed, measure the portions with a teaspoon instead. Half a teaspoon is equal to one garlic clove.
I add a small amount of water to each cube, about half a teaspoon to help it hold together better. Then place in the freezer until frozen solid.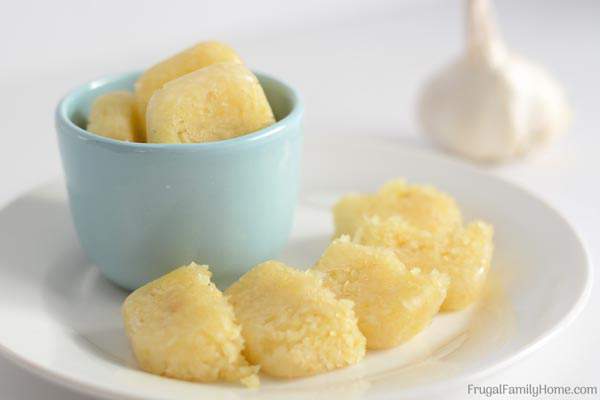 Once frozen pop your garlic cubes out of the ice cube trays and store them in a zipper bag. Be sure to label the bags. You'd hate to mistake one of these minced garlic cubes for yogurt or broth.
I know I could buy the jars of minced garlic at the store, but I never have. I think the garlic would be diluted by the water it sits in and it might have preservatives. I say might because I've never even checked to see. I prefer making my own freezer garlic instead.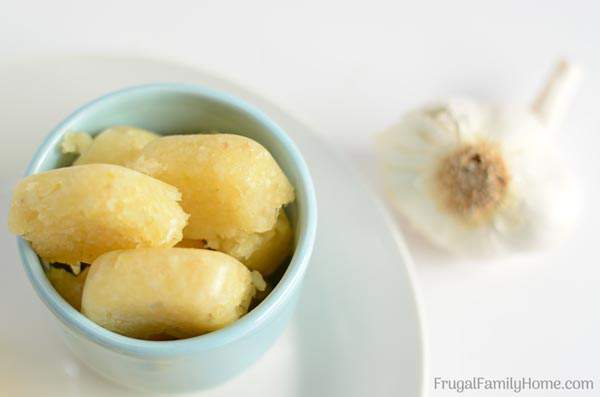 To prepare 8 cloves are garlic for the freezer took a little under 30 minutes and now I have minced garlic ready and waiting in the freezer whenever I need it.
What do you prefer, to peel the garlic each time, the jarred garlic, or do you freeze your own garlic too?
[signoff]
Pin it for Later…