We all have to eat, you know dinner time will come every day. It's so stressful standing in the kitchen trying to figure out what's for dinner tonight. But meal planning can help.
When you have a plan half, the battle of getting dinner done is already done. Because isn't coming up with what to make for dinner just as hard as making it. I think so.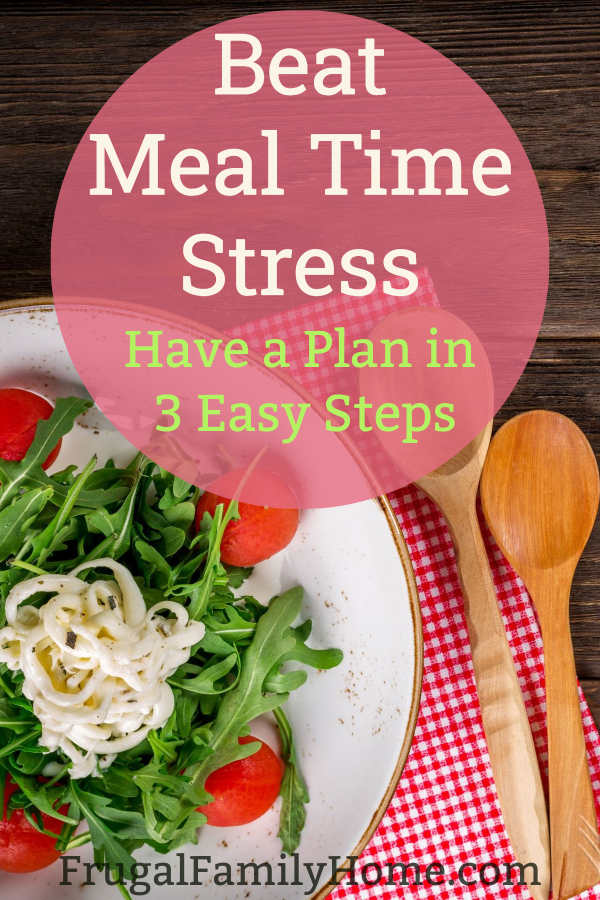 Some of the links below are my referral links. Which means as an Amazon Associate I earn from qualifying purchases and when you purchase through them I can make a little money at no extra cost to you. Thanks! See my disclosure policy for more information.
If dinner time rolls around every night and you stand in front of the cupboards or the refrigerator and wonder…
What are we having for dinner?
All the while the kids whine that they are hungry. And fighting with each other.
Your spouse comes in the door and asks what's for dinner I'm starving. And you don't have an answer.
You wished you had thought about it an hour ago. But the time slipped away with getting the kids settled after school into their chores and homework.
Then picking up the house, you didn't even have a moment to think about dinner until, well, dinner time was here.
If this sounds like your house, you are not alone. Many families end up eating out often because they don't know what to cook for dinner.
Having a dinner plan can make your life so much easier. And you can feed your family better meals too.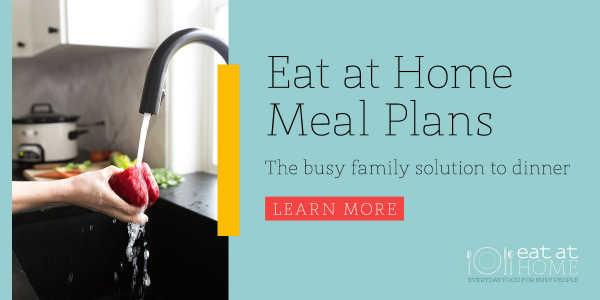 First let's start with…
What are the Benefits of Meal Planning?
In the example above, dinnertime is a stressful time for families. Many daytime activities are ending and the evening is starting. With it's own to do list.
But between daytime and evening is dinner. And having a plan for what you'll eat can make that transition so much simpler.
When you meal plan you'll be able to…
Get dinner started before the big rush of people come home.
Wouldn't it be great to know what you are making for dinner so you can get it started before the chaos of everyone coming home starts?
You can have a variety of meals.
If you meal plan a week of meals at a time you can include different food day to day. You won't be stuck in the same old meals dinner rut.
You can include healthier options with meals, to get your family to eat better a little at a time. Warm them up with one dish a week that is healthier for them. And increase it over time.
You can save money too.
When you eat at home more often it costs less than eating out. Which over weeks and years can really add up. And who couldn't use a little extra money?!
Now that you know the benefits of family menu planning, let's see how to do it, the simple and easy way.
How Do I Start a Meal Plan?
Simple meal planning has just a few basic principles to follow. Which are all below for you!
The 3 Simple Steps to Meal Planning Success
These steps are: selecting what you'll make, shop for the ingredients, and then prep your ingredients to make getting dinner done even easier.
1. Select What You'll Make
Don't just pull out your cookbooks and randomly pick recipes to make, that can be a recipe for disaster.
Look over your schedule and see which days you'll have more time to cook and which days you'll be short on time.
Select recipes that will work for the time you have.
Here's a few menu planning examples to help you get started.
If you'll be out of the house and coming home right at dinner time, a crock pot meal will be perfect. You can start it in the morning and dinner will be ready and waiting for you when you come home.
If you'll be home during the day but you know you'll need to get out of the house fast after dinner, pick a one pot dish for dinner. You can easily clean up after eating and get out of the house quickly without coming home to a sink full of dishes to do.
Know it will be a busy day? Make a quick 15 to 30 minute meal to get dinner done fast. Stir-fry is great for this or other skillet dishes. You can often prep most of the ingredients earlier in the day and cook them quickly.
Keep it Simple!
When you are first starting out with meal planning or making changes, simplicity can be your best friend.
Pick recipes with only a few ingredients. Simple 5 ingredient and fewer recipes can still be delicious and flavorful.
Easy and simple recipes are best until you hit your stride with meal planning.
There is no use planning to make an elaborate recipe if you feel frustrated and end up eating out.
Start with simple and branch out into more complex recipes when you have the main system down.
What about Breakfast and Lunch?
You can meal plan breakfast and lunches too. The best way I've found to do that is to have a few options you can pick and choose through the week.
Don't forget to include leftover dinner for lunch too. To use up those leftovers and not let them go to waste.
Now that's you've collected your recipes, it's time to make the grocery list and go shopping.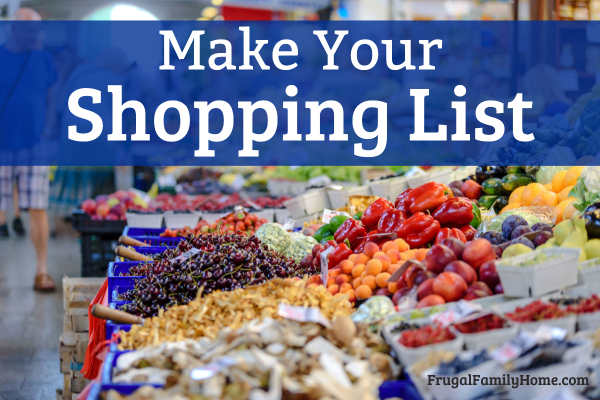 2. Make Your List and Shop
You need a grocery list. Whether it's on your phone or on paper or written your hand, you need a list.
If you go to the store without a list, you are sure to forget something and have to go back.
You're more likely to impulse buy snacks and other items you don't need or want. Yes, those cupcakes will call your name from the bakery.
The easiest way to make a list is by writing the ingredients from each recipe on a sheet of paper.
Add in the items you need for breakfasts, lunches, and snacks. Include any pantry items you usually stock but are low on. Things like flour, sugar, etc.
To make your shopping quicker and easier rewrite your list into categories. Put all the fruits and vegetables under produce. All the meat you need to buy under meat or butcher or deli.
All your canned goods, under canned goods. You get the idea.
By doing this, you don't have to look up and down your list or scroll on your phone. You can go into that section of the store, get your items and move on.
Saving you time and money too.
Do you know the longer you spend in a store, the more money you are likely to spend? So the quicker you get in and out the better.
Now you have shopped and have a kitchen full of food. You could stop there but don't.
3. Prep Your Ingredients
You wouldn't believe how much easier it is to prepare meals when some or all of the prep is done for you.
If we could only all have our very own sous chef to get all of our ingredients ready so we can cook more quickly.
Well, until that sous chef shows up, you'll need to do the prep yourself or get your family to help.
Many vegetables can be chopped, sliced or shredded days in advance and stored in the refrigerator ready to go.
Here's an example of how to prep ahead for a quick skillet dish of stir-fry. Because chopping vegetables can be time consuming when you are frazzled at the end of a busy day.
A day or two or a few in advance you can slice carrots, wash and chop the broccoli. Slice the onions and celery and store them all ready to go when you make dinner.
Just be sure to keep all the vegetables separated into groups according to how they cook.
For our stir fry example…
Carrots, celery and broccoli stocks go in first.
Onions and sliced peppers with broccoli florets go in next.
Finally, wait to add cabbage and other delicate vegetables at the end.
In this example you'd put the carrots, celery and broccoli stems in one bag or container. Separate the onions, peppers and broccoli florets in another container and finally the cabbage by itself.
You can even prep ahead the meat and marinades or rubs ahead of time and freeze them to be used later in the week.
Prepping ahead the meat and vegetables can make a huge difference in how long it takes to prepare your meal.
Those are the 3 simple steps to planning meals for the family. I know I use these techniques all the time and can usually get dinner cooking in about 10 minutes.
Then while it cooks, I can do something else. And I think you'll find it makes your life easier too.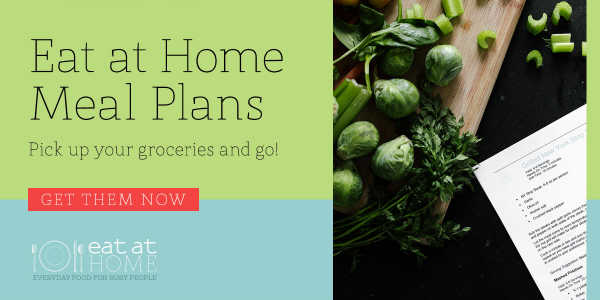 But what if you just don't have the brainpower to meal plan?
Dinner Meal Planning Done for You…
If you love the idea of meal planning but you know you are in a busy season of life and would love to have the recipes and grocery lists done for you, this is a great solution…
Eat at Home meal plans are inexpensive and perfect for those families who know meal planning is important but can't seem to find the time to pick the recipes and make the grocery lists themselves.
For a while in my life I used a meal planning service when I was working outside the home.
It made it so much easier having our dinner meal plan done. I didn't have to spend my evening deciding on what to make for dinner, making my list and then go shop.
I only had to worry about making a plan for breakfast and lunches.
My dinner meal plan was done for me and it was great. After using the meal planning service for a while I was confident I could do it on my own more easily.
So if you are just beginning out with meal planning, a meal planning service can be a perfect solution to get you into cooking more at home.
Then when you feel ready to make your own dinner meal plans, you can use all the tips. This way you don't have to master the whole process at once.
Find out more about Eat At Home Meal Plans…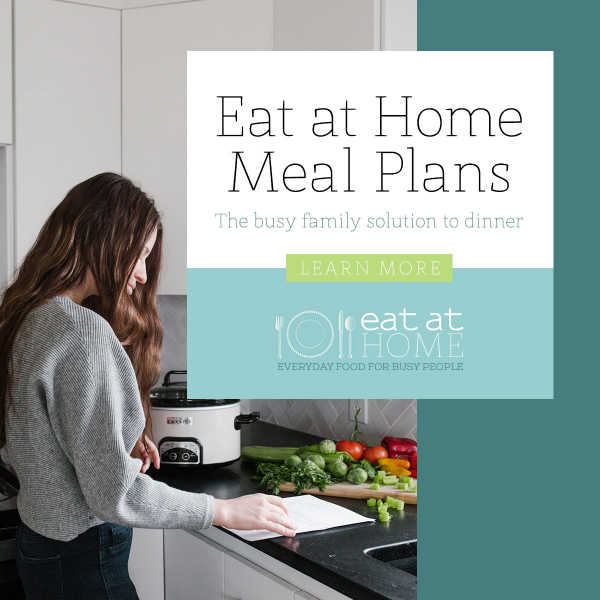 If meal planning is something you'd like to do but want ready made meal plans then the Eat at Home plans are perfect for you, Sign Up Today!
Be sure to use the code FRESHSTART to save 30% today! If you opt for the annual plan membership which is the best deal, you get the Breakfast Plans for free. Last day for the sale is January 19th, so hurry.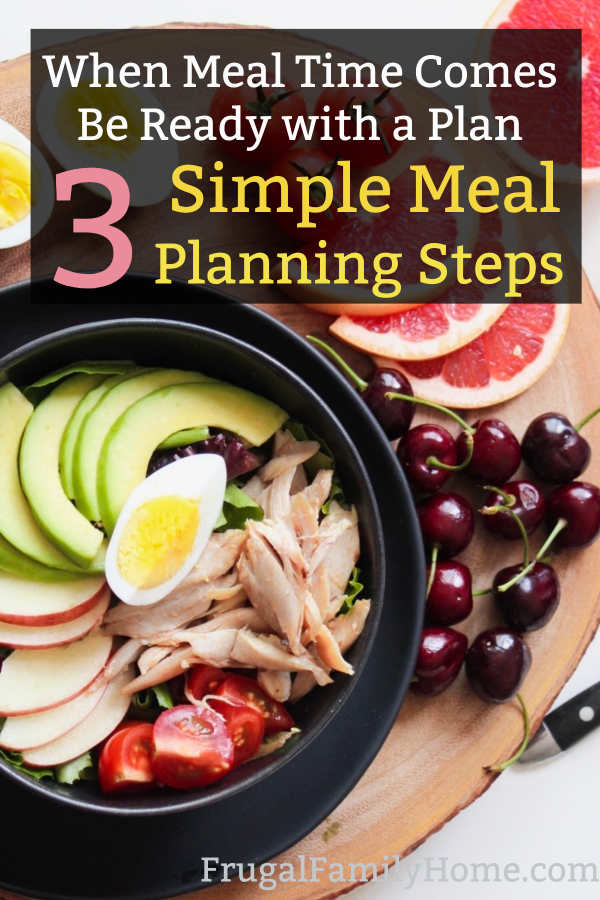 Whether you start with a meal plan service or do the 3 simple meal planning steps yourself, having a meal plan in place can help you keep your sanity.
With a meal plan you'll always be able to answer the question, "What's for dinner?" or lunch or breakfast with ease.