This is part two of my monthly menu planning tutorial. If you missed part one, you can see the first part of this two-part post by following this link. 
In the first half of my menu planning series, I talked about taking inventory, picking out the recipes to make for the month and filling in my monthly menu plan.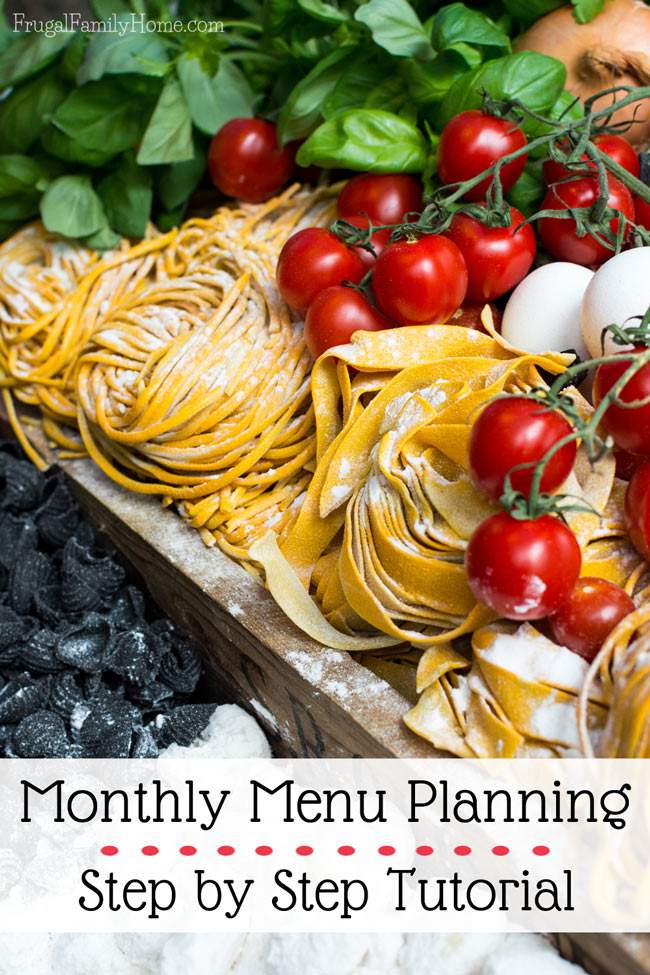 To continue with my monthly menu planning the next step is to make my grocery list.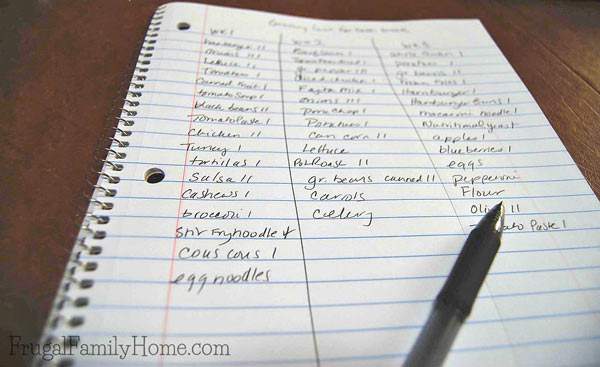 How to Make the Grocery List
I take a piece of paper and make a column for each week I planned out on my menu planner sheet. If I did 5 weeks, I will have 5 columns. I write the week at the top of each column.
Then I take my menu planner sheet and my recipes and write down each ingredient I will need for each recipe. If I need salad three times that week. I will write down how many bags of salad or heads of lettuce I will need for that week.
If I need two cans of tuna, I just write a two next to tuna on my list. After I have my list for each week I compare this list with what I have on my inventory list.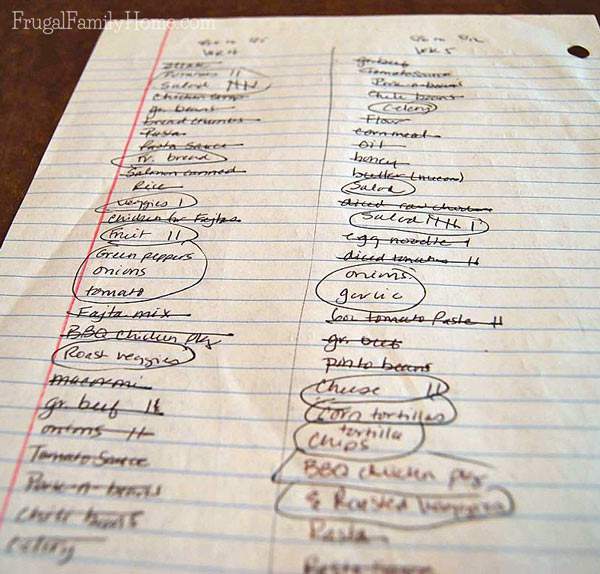 Cross off What I Have On Hand
Then I take my inventory list I made before I started to plan my meals. I use that inventory to know what items I can cross off my grocery list.
If I need 2 cans of tuna, one for week 1 and one for week 3 and I have two on my inventory list then I cross them off my shopping list. I do this process for each item in each week's column.
The items I have left that are not crossed off are what I need to purchase for my monthly meals.
What about perishable foods?
For the perishable foods on my grocery list, I will circle them. These are items like asparagus or green pepper or milk.
The items that I circle in week 1 I will purchase with my monthly shopping trip. The perishable items for weeks 2 through 5, I will pick up as I go to the store to get the good coupon deals each week.
Determine which stores to shop
Now that I have my list of item I need to purchase, I will now get out all my sales flyers. The next thing I do is determine how much time I have to shop this week. If I have more time to shop I will go to 3 stores and get the best deals at each one.
If my time is limited, I may just go to Wal-Mart and price match. I may decide that there aren't too many good deals this week and then my best bet would be to shop Winco Foods as that store tend to be the best-priced grocery store for most items.
I also at this time look to see if there are any coupons available for the items I am buying and I clip those coupons. My Winco store does not accept internet printed coupons so be sure your store will accept those if you are going to use them.
I write my list for each store and get the coupons organized with each list. Then I am off to the store to get the items I need for the month.
As the month goes on I will stock up on good coupon deals and any good deals on meat that I see. These sale items will be in my pantry or freezer for next month's meals.
That's how I menu plan for a month
By taking a little time once a month, I can know I have everything I need to make my months worth of meals.
You can plan for just one or two weeks at a time if it is harder for you to think of enough meals to make for a whole month. If you have trouble thinking of ideas for meals just keep your meal plans for a  few weeks.
Then when you are meal planning those old meal plans will give you some ideas.
How do you menu plan? Do you plan for a week or two or a month? Was seeing how I meal plan for a month helpful to you? If you have any questions just leave them in the comments and I will do my best to answer them.