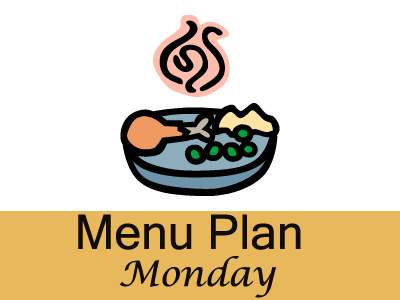 Do you plan your meals out each week? I know I love having a menu plan for each week so I don't have to think about what to have for dinner at 4 pm, because I already know. 🙂 Meal planning does make my life just a little easier.
Here's our menu plan for this week,
Dinners
Hamburgers, Hot Dogs, Fruit Salad, Baked Beans, Chips and Pie
Pan Fried Pork Chops, Mashed Potatoes and a Vegetable
Honey Garlic Chicken (new freezer recipe), Rice and Stir Fry Vegetables
Crock Pot Beef Roast with Potatoes, Carrots, Green Beans and Gravy
Beef Sandwiches (using leftover roast), Chips and Fruit
Garlic Lime Chicken (new freezer recipe), Mashed Potatoes and Vegetables
BBQ Meatballs, Mashed Potatoes and Vegetables
Lunches
Leftovers most days
Sandwiches and Soup
Hot Dogs with Chips
Tuna Sandwiches and Chips
Breakfasts
Waffles, Eggs and Bacon
Eggs, Sausage and Potato Hash with Toast
Oatmeal, Eggs and Toast
What's on your menu for this week?
[signoff]