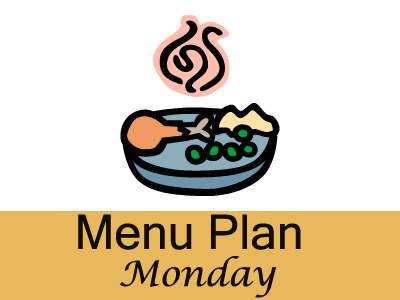 This week I am stretching one meal into two. With a few crock pot meals and a couple skillet meals too. I am keeping my menu easy this week as it is the last week of our homeschool term and I want to have more time freed up for anything extra we need to do for our homeschool.
Dinner
London Broil, Baked Potatoes, Salad and Rolls
Soup made with leftover London Broil and Rolls
Ham and Cheese Crock Pot Dish, Broccoli and Fruit
BBQ Meatballs, Mashed Potatoes and Salad
Fajita Chicken, Refried Beans, Salsa and Chips
Stir Fry Chicken, Rice and Fried Noodles
Lunches
Leftovers most days
Tuna Melts and Fruit
Corn Dogs with Chips
Breakfast
Toast, Eggs and Oatmeal
Waffles, Eggs and Sausage
Omelets, Fried Potatoes and Toast
That's what cooking at our house this week. What's cooking at your house?
[signoff]