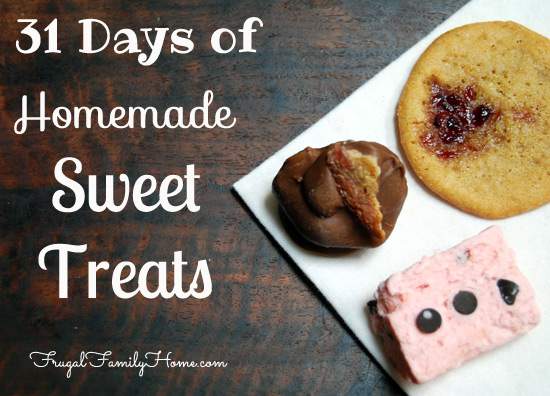 31 Days Series for This Year
Last year for the month of October I did a series call 31 Days of Homemaking for the 31 days challenge hosted by The Nester. This year I decided to give it a try again and this years subject is 31 Days of Homemade Sweet Treats. So for everyday in October, I will be posting a new candy or cookie recipe.
Most of these recipes I'm sharing are tried and true favorites that my family has been making for years. Ones that we would make at Christmas time to share with our friends and neighbors but I also have a few new ones too. I had some friends and neighbors who agreed to be my testing panel to make sure the new recipes were good ones. 🙂
I picked out mostly easy recipes to share. So most of them take no special equipment and very little time. In fact most of the recipes can be made in less than 30 minutes hands on time. There are a few recipes that require a candy thermometer, but don't worry if you don't have one. I'll make sure to include a link to a video to show you how to test candy without a thermometer in each of those posts.
I have set up a page, that you can bookmark, to take you to the list of all the sweet treats I will be making. As I add a new recipe I will link to it on the 31 Days of Homemade Sweet Treats page. So be sure to bookmark it or better yet why not subscribe to daily blog updates sent right to your inbox so you don't miss one. It's just one email a day and it's free.
I will also continue to post on other subjects this month like my goals, menu, Friday Freebies and such. I hope you enjoy all the recipes I will be sharing. If you have any questions or comments about any of the recipes I share be sure to just ask and I will do my best to help you with any questions.
Subscribe and you'll get Recipes
sent right to your inbox!
Click the button below and fill out the form.