Struggling with
What to Cook for Dinner?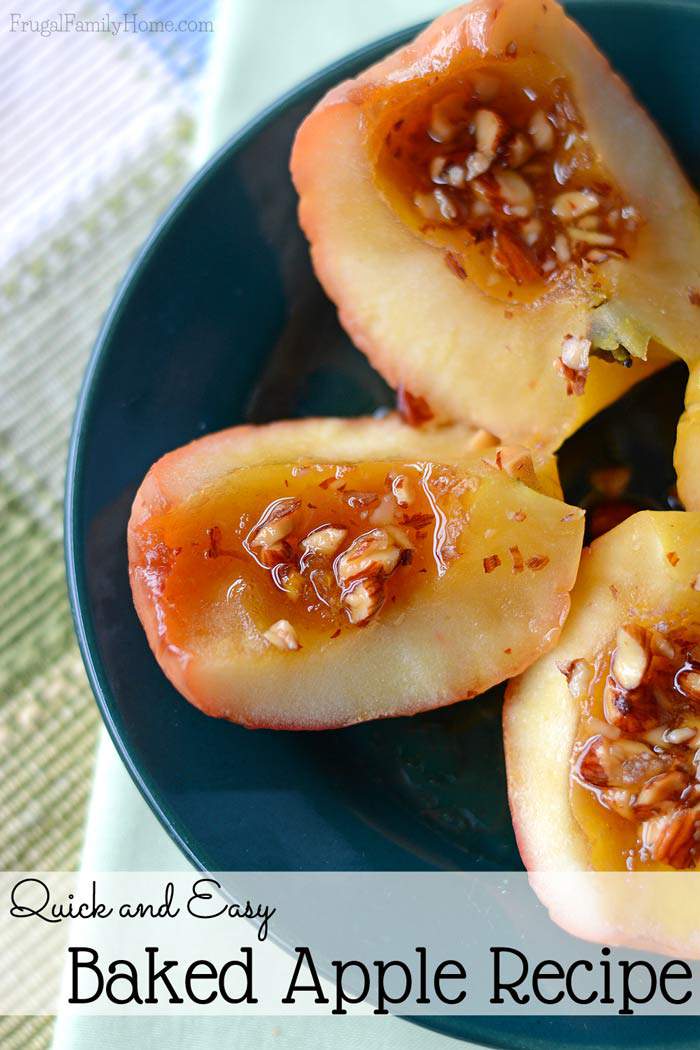 Sometimes you just want a quick and easy dessert to make. Often we only need just enough for our family of four and this recipe makes a quick and easy dessert in minutes. It's also inexpensive to make and is somewhat healthy too. What makes this baked apple so easy? This baked apple is made in the microwave.
Here's the What's You'll Need to Make the Microwave Baked Apple
Apple
Brown Sugar
Butter or Non Dairy Margarine
Raisins or Dried Cranberries or Almonds
Making the Microwave Baked Apple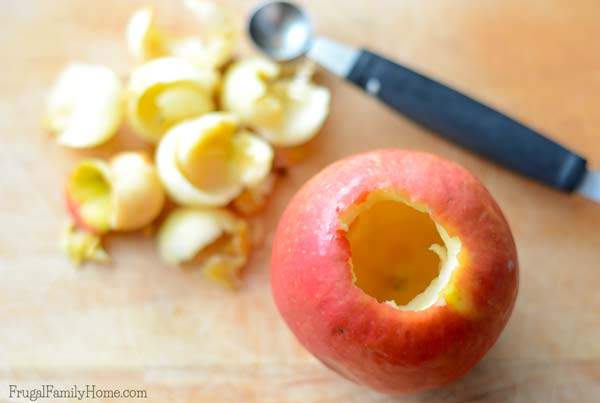 The hardest part is coring the apple and I have found that if you use a melon baller it makes the job much easier. I just use the melon baller to scoop out the core from the stem down to the bottom of the apple. Be sure to leave the bottom of the apple intact so the good filling doesn't leak out. If you don't own a melon baller I really like this one I own. (affiliate link) It's sturdy and works great.
Once the apple is cored you can peel it or leave the skin on. I'll peel the apple if the skin is really waxy feeling. If it's not too waxy, I'll leave it on.
Making the Baked Apple Filling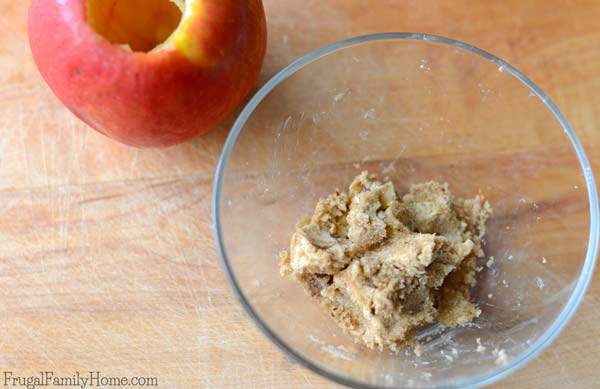 The raisins or cranberries are optional in this recipe. I do find they add a nice flavor and texture to the apple but if you don't have any on hand, just skip them. I didn't have any on hand when I made this recipe to take the photographs so I added in a few chopped almonds. I used 5 almonds in the recipe and it was delicious.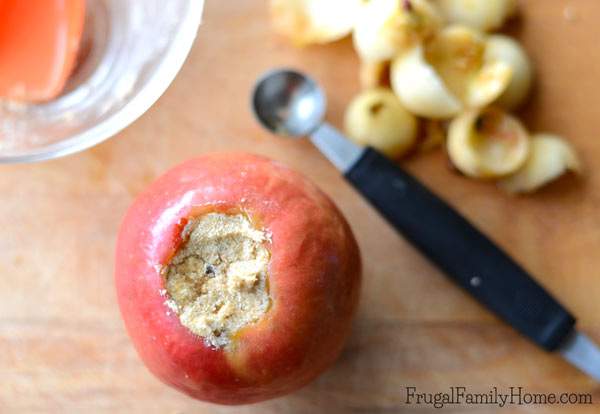 To make the apple filling add the brown sugar, cinnamon, and raisins, almonds, or dried cranberries to a bowl and mix to combine. Cut in the butter or margarine to make a thick paste like consistency. Once the butter and other ingredients are combined well. Press the butter mixture into the cavity made in the apple.
"Baking" the Apple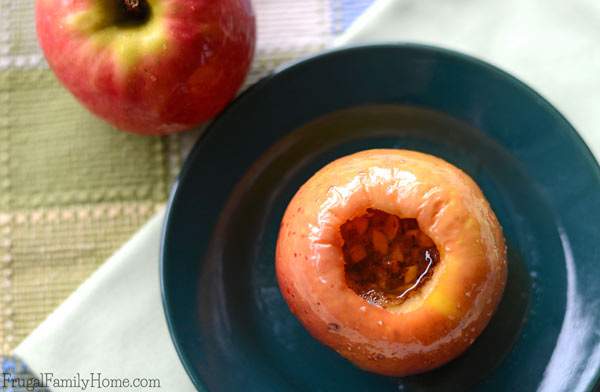 I guess it's really not baking when you cook this baked apple in the microwave, but you want to cook the apple in the microwave to melt the filling and soften up the apple a bit. I found in my microwave to get the apple to the tender-crisp stage I had to microwave it for one and a half minutes. Be sure to start with one minute and work up from there. Your microwave might cook it faster or slower than mine. Plus if your apple is bigger it will take longer to bake too.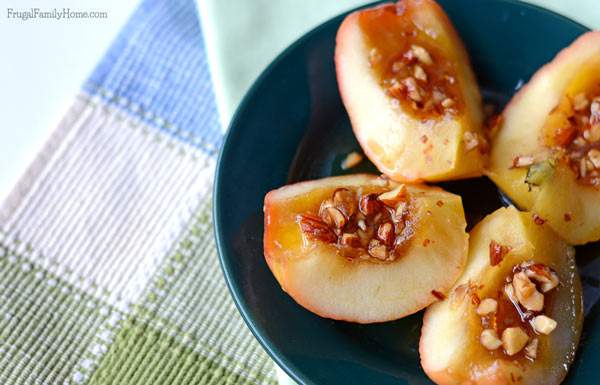 As the apple bakes, it give off such a great smell. Makes me think of fall with the apple and cinnamon scents coming from the kitchen. To serve we usually cut the apple into 4 pieces and dip them into the yummy sauce that is all over the plate. Makes me hungry for one just thinking about it.
Cost of this Frugal Dessert
This recipe makes 1 apple and the cost works out to be $.38 each. We were able to get two servings out of one apple.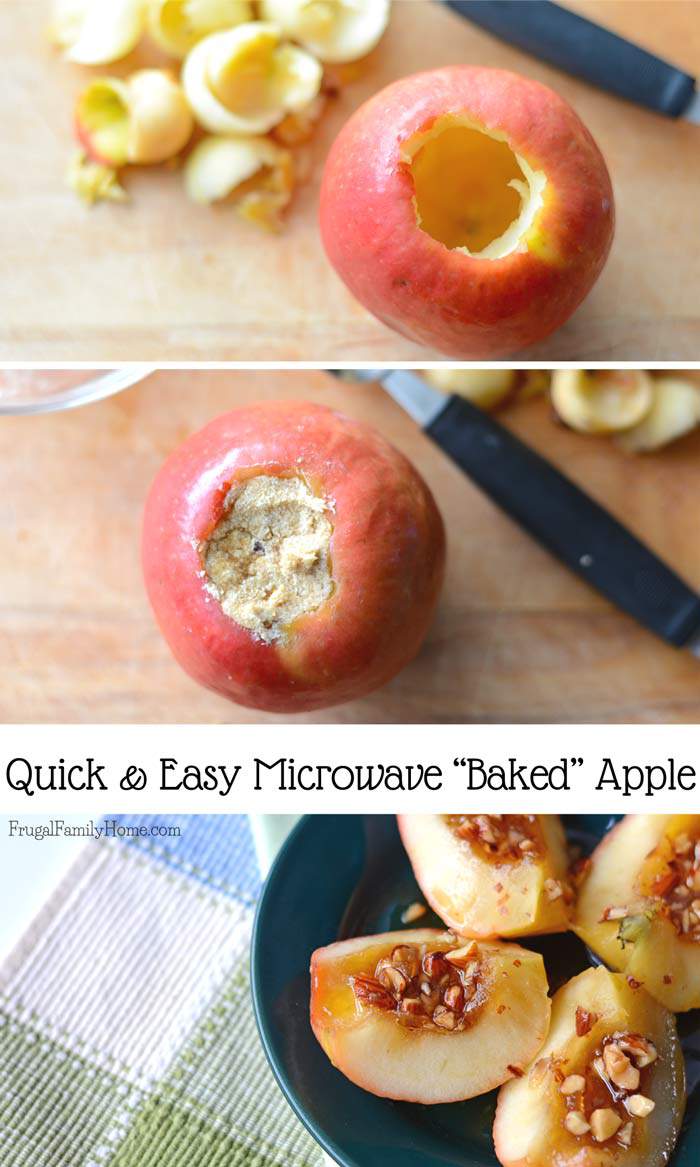 Here's the printable recipe so you can add it to your recipe file.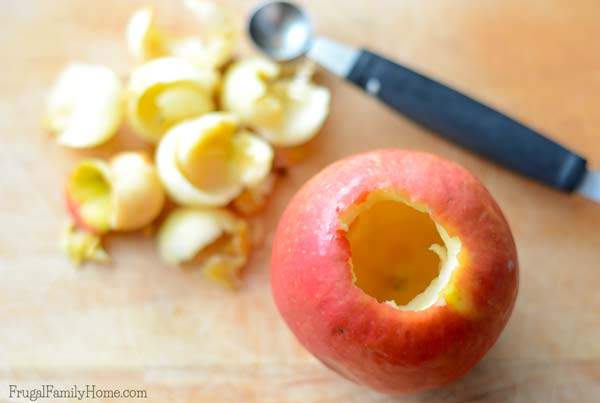 Quick and Easy Baked Apples
Ingredients
1

Apple

just use what you have on hand

1 1/2

T

Brown Sugar

1/2

t

Cinnamon

1

T

Butter or to make it dairy free a non dairy margarine

1

T

Dried Cranberries or Raisins or just leave them out
Instructions
Core the apple and peel if desired. I find a melon baller works great see my pictures above.

Mix the brown sugar, cinnamon, butter and dried cranberries.

Stuff the sugar mixture into the apple which has been cored out.

Microwave 1-2 minutes. (with my microwave I found 1 1/2 minutes made the apple tender crisp)

Enjoy the great smell then dig in
What is your favorite apple recipe? I would love to have you leave a comment below and let me know.
Some of the links in this post are my affiliate links. That means when you use them I might make a little money at no extra cost to you. Thanks for your support in this way. Please see my disclosure policy for more information.