This is a recipe I put together for breakfast while we had family visiting. I wanted to make something special for them. So I combined my biscuit recipe with a caramel topping and this yummy sticky creation of Caramel Sticky Buns is what I made.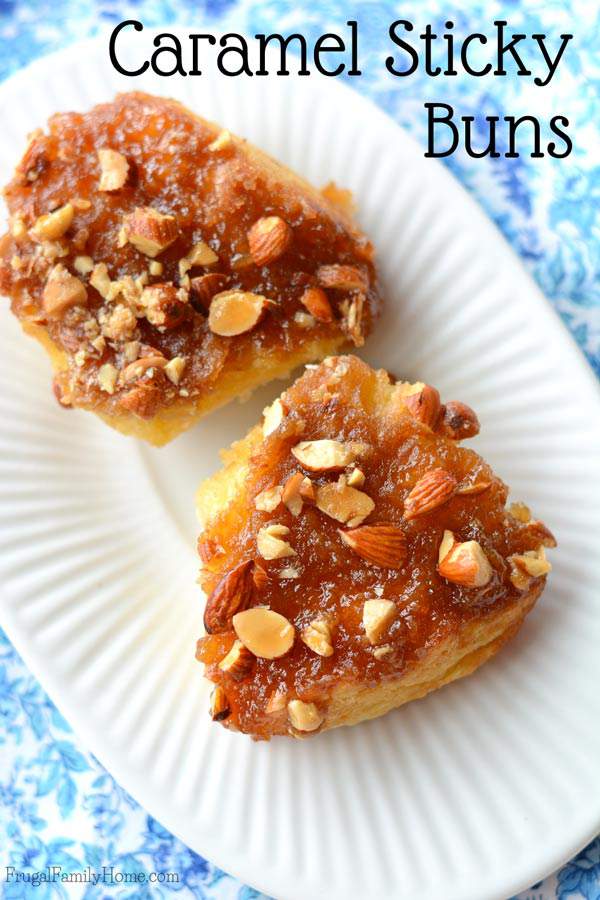 I know I will be making this often as everyone really enjoyed them. This caramel sticky bun recipes is definitely a new family favorite. Plus it's easy and inexpensive to make, which for me is a great combination.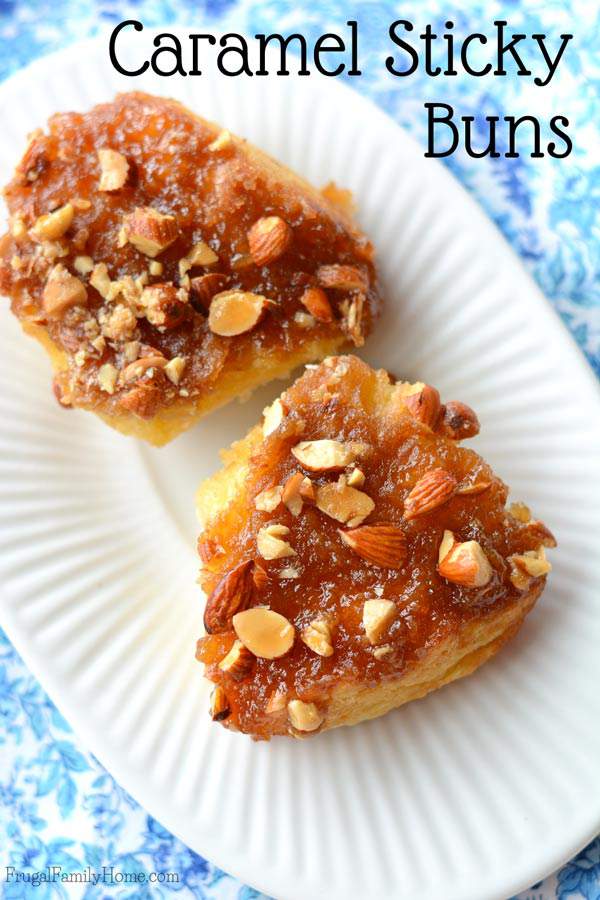 Easy and Cheap to Make Caramel Sticky Buns
Ingredients
Biscuits

2

Cups

Flour

3

t

Baking Powder

1

t

Salt

1/3

cup

Water

1/3

cup

Milk or Milk Alternative

we always use soy milk

1/3

cup

Oil

Caramel Sauce

1/2

cup

Brown Sugar

1/2

cup

Butter or Margarine

we use dairy free margarine

10-12

Almonds chopped
Instructions
Place the butter or margarine into a round baking pan and place in preheating oven to melt.

Once the butter or margarine is melted take the pan out of the oven and stir in the brown sugar and almonds. Set aside for now.

Mix all the biscuit dry ingredients together. Measure all the wet ingredients into a bowl or measuring cup.

Mix the wet ingredients with the dry ingredient and stir until mixed well. If the dough is a little sticky and wet add more flour so you can handle it more easily. Knead about 5 times on a floured board.

Pat out the dough about 1/4 inch thick and cut into biscuits. Place them on top of the brown sugar/butter mixture in the pan.

Bake 425 degrees for 12-15 minutes until golden brown.

Remove from the pan from the oven and invert over a plate. Tap the bottom of the pan to get the buns to release.

Then just pull them apart to serve. These are great served warm right out of the oven.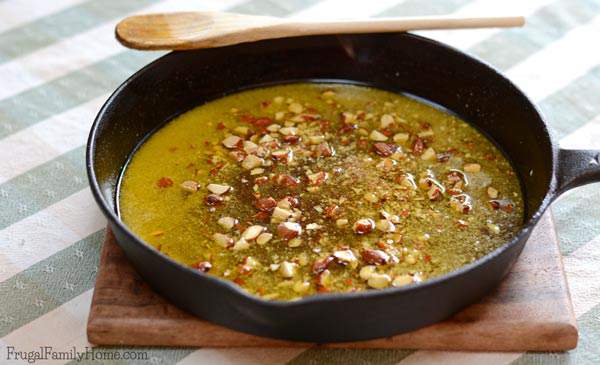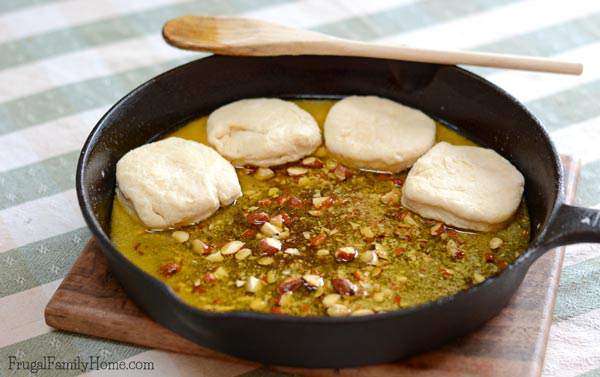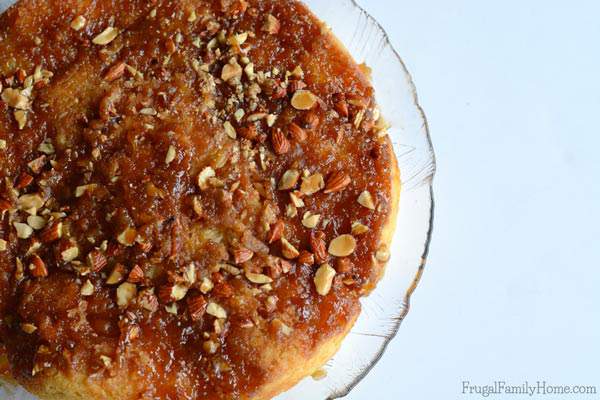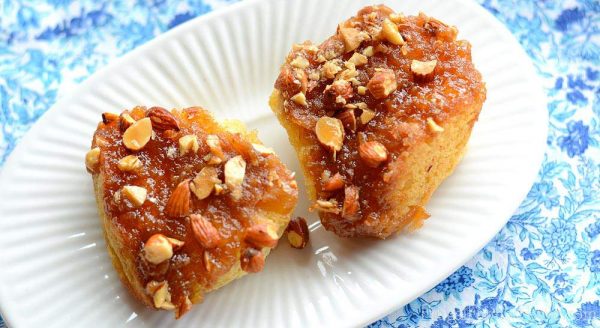 A Few Tips and Price Breakdown for This Caramel Sticky Bun Recipe
When mixing the biscuit dough just mix it until the dough comes together into a ball. If you over mix the biscuits can be tough instead of light and fluffy.
The almonds can increase the price so if your budget is really tight just leave them out. But if you have almonds they do add an extra crunch. Any nuts would do in this recipe so feel free to use what you have on hand.
To make a single batch of 12, Caramel Sticky Buns will cost about $1.33. That's just $.11 per sticky bun. Which is still quite a bit less than the store-bought equivalent.
I used my cast iron skillet to bake these in and couldn't fit all 12 biscuits in. Using a 10-inch cake pan would work great too and you should be able to fit all the biscuits in.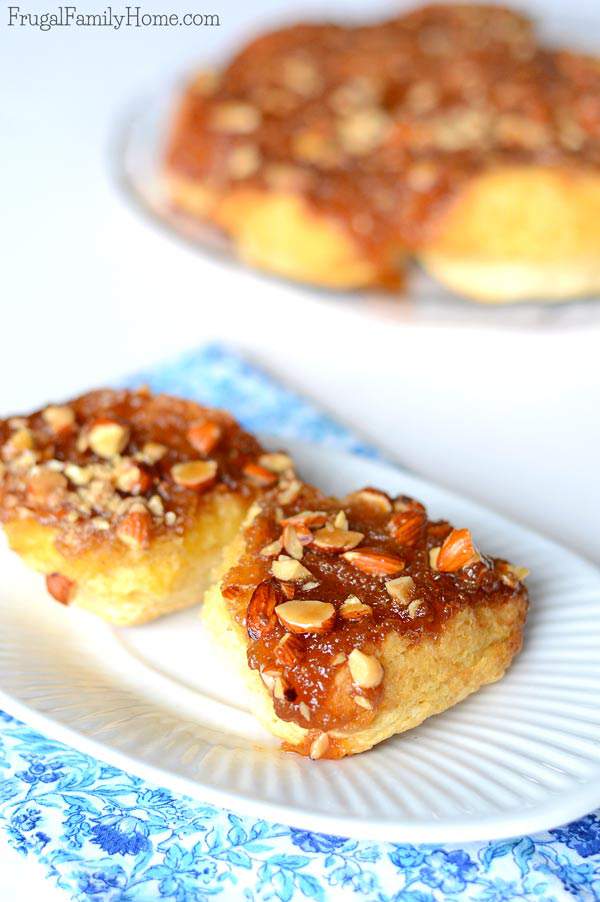 To find more frugal recipes for breakfast and beyond check out my 4 weeks of frugal recipes.
More Frugal Breakfasts in this Series,
Oat Groats
Rice Cereal
Cinnamon Twists
Jam Danish
Subscribe and you'll get Recipes
sent right to your inbox!
Click the button below and fill out the form.