This butterscotch fudge recipe I want to share is a really easy fudge recipe. In fact, it only takes two ingredients and about 5 minutes to make. It has a great butterscotch flavor. If you've looked at other fudge recipes and didn't want to deal with boiling to a certain temperature then this recipe is for you.
With only two ingredients needed and a microwave, it's a quick fudge recipe. Here's the recipe to give a try for yourself. Plus I've added a few tips below.
Butterscotch Fudge
A super easy 2 ingredient fudge that taste so good. And is creamy and delicious.
Instructions
Melt the butterscotch chips on the stovetop or in the microwave being careful not to overheat them.

Once the Butterscotch chips are nice and smooth remove from the stove, stir in the frosting until it is incorporated well.

Spread into a 9-inch square pan and then chill until firm

Cut into serving size squares.
Tips for Making this Butterscotch Fudge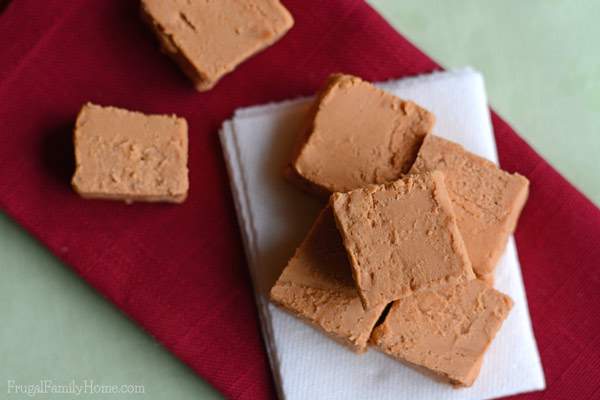 There're two ways to melt the butterscotch chips on the stovetop or in the microwave. Whichever way you choose to do to melt the chips, be sure to keep a close eye on them so they don't overheat. If they overheat and burn they will become grainy. I like to err on the side of caution and just microwave the chips in 30-second increments. Then give a little stir and 30 seconds and stir, until all the chips are melted and smooth. If you overheat the chips there is no going back. This is where you want to take your time with the recipe.
I like to whip the frosting in really well so that the whole mixture is a nice beige color without any white streaks. Be sure to keep stirring the frosting in until the fudge is a uniform color. If it's streaked you'll end up with a frosting and fudge mixture instead of fudge.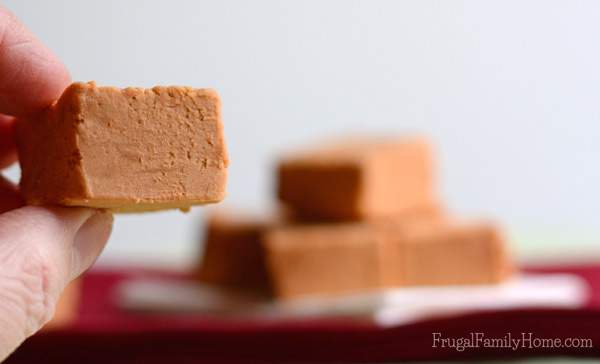 Once the fudge is mixed well, spread it into a 9-inch square pan for thinner fudge or if you like thicker fudge pieces spread it into a wide loaf pan and chill in the refrigerator until the fudge firms up.
This butterscotch fudge just smells heavenly. Everyone who's tried this recipe really likes it. It's an easier recipe to make than my vanilla peppermint fudge, peanut butter fudge, or the chocolate fudge recipe. But those really aren't very hard to make either, they just take a little more time and ingredients.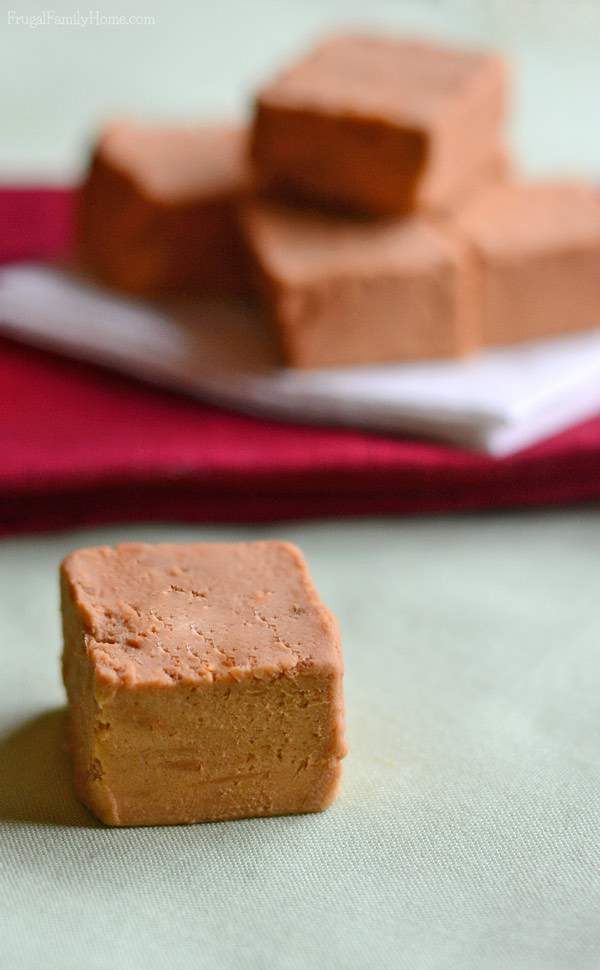 Have you ever tried making frosting fudge before? How did you like it? I would love to hear your opinions below in the comments.
If you like this recipe please consider sharing it with your friends. You can do this by clicking on the sharing buttons below. Thanks for sharing!
Read more posts in this 31 days of Homemade Sweet Treats series.
Subscribe and you'll get Recipes
sent right to your inbox!
Click the button below and fill out the form.