I am a member of the Collective Bias® Social Fabric® Community. This shop has been compensated as part of a social shopper insights study for Collective Bias and their client. Please see my disclosure policy for more information.#VelvettaRecipes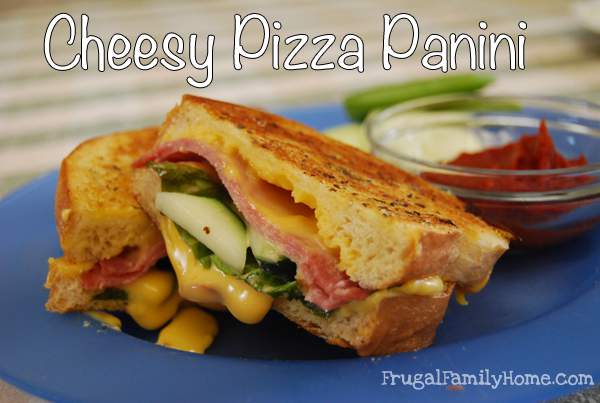 Grilled cheese sandwiches are something I love to eat. The warm melted cheese, just like liquid gold along with the crunch of the crisp bread. What's not to like? My mom used to make them for me and she always used Velveeta cheese.
My mom would make the grilled cheese sandwiches fairly often for myself and my sister. I knew if she bought Velveeta cheese we would be having grilled cheese soon. I also loved to cut my sandwich in half and lick the oozing melted cheese off my sandwich. They were just so good.
I never even knew, until I was an adult, that you could use other cheeses to make a grilled cheese sandwich. It's funny how kids think, isn't it? Now I still like plain grilled cheese made with Velveeta like my mom used to make, but as an adult, sometimes I want a little more added to my sandwich. That's how this new recipe for Cheesy Pizza Panini was born.
I like to build flavors into a recipe and this sandwich is no different. I tried to add flavor to each layer to make this sandwich taste as good as it looks. How could I really go wrong with a grilled cheese sandwich that tastes like pizza?
This first step is really important to building the pizza flavor  into this sandwich. I always butter my bread on a grilled cheese sandwich but I wanted to give the butter a flavor boost, so I added in some garlic and herbs. The garlic-herb butter only takes a minute to make but makes such a difference in the sandwiches flavor and the aroma is to die for.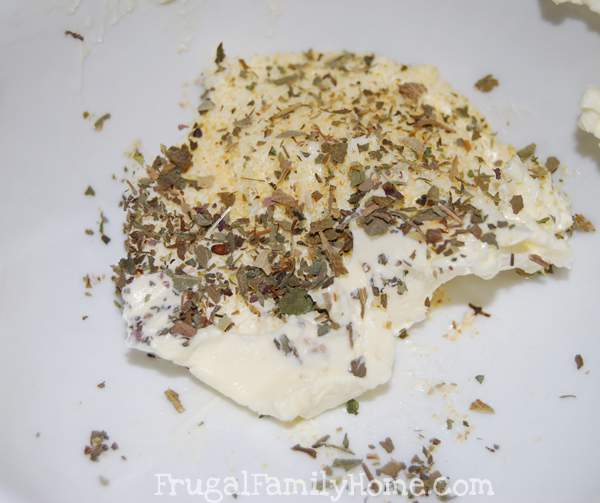 Garlic-Herb Butter
(enough for two sandwiches)
2 Tablespoons Butter Spread (you can use real butter just soften it first)
1/2 teaspoon of Garlic Powder
1/4 teaspoon of Basil
1/4 teaspoon of Oregano
Place all the ingredients into a bowl. Stir until well combined and set aside.
For Cheesy Pizza Panini recipe I used fresh french bread but any bread you like would work out really well. I sliced my bread a little thick, but thin slices work well too.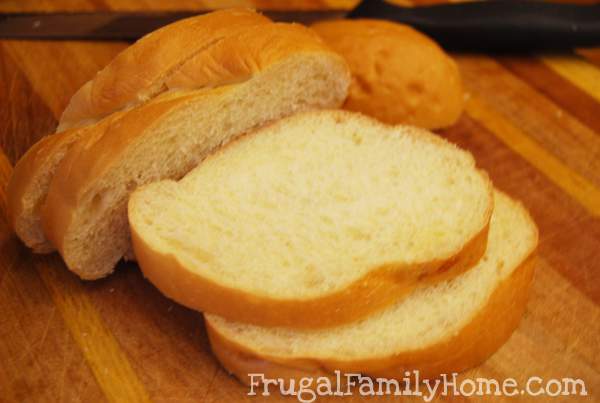 Now is the time to add in that great garlic herb butter you just made. I like to spread it fairly thin on each bread slice taking care to get all the way to the sides.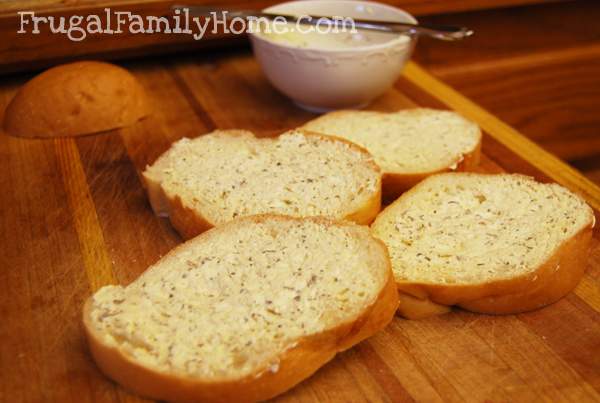 It looks great already doesn't it. Make sure to flip the buttered side down and now it's time to assemble the sandwich. I added a generous slice of Velveeta Cheese. I cut a little extra just to make sure to get the cheesy goodness all the way to the edge.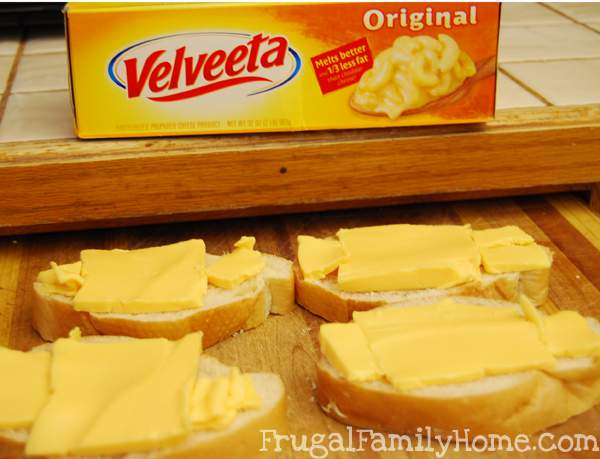 Now is the fun part. This is where you can make this sandwich your own. Just add whatever you like on your pizza. At our house I like to add pepperoni and salami to mine. But you could also add some mushrooms, grilled or fresh, or maybe some thin green pepper slices. I also like to add a little green to my sandwiches. It makes them seem more healthy, so I added in a few cucumber slices with salt and pepper sprinkled on top. Along with a nice leaf of romaine lettuce.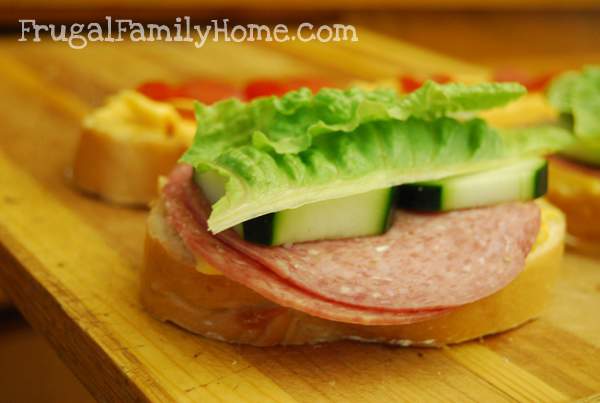 Then I carefully add the top to the sandwich. This is a little tricky as I like to have topping on each slice of bread.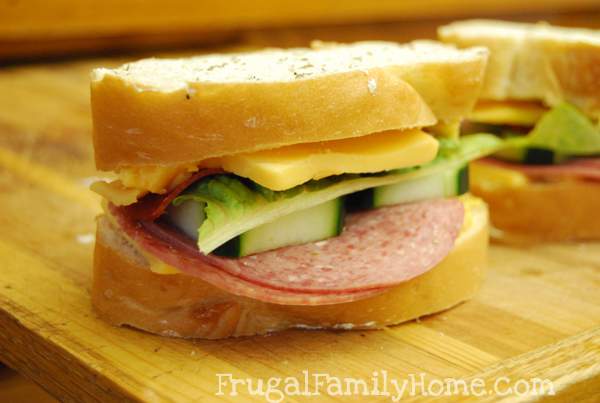 Now that's a tall sandwich. I like to cook mine on a griddle or skillet for about 3-5 minutes per side or until the bread is crisp and golden brown and the cheese is nice and melted.
Cheesy Pizza Panini
Makes 1 sandwich
2 slices thick French Bread (or whatever bread you prefer)
3 thick slices of Velveeta Cheese (I like the Velveeta loaf so I can cut the thickness I like)
3 slices Pepperoni
2 slices Salami
2-3 slices Cucumber
1 Romaine Lettuce Leaf
1 batch of Garlic Herb-Buttery Spread (recipe just above)
Butter one side of each slice of bread with the garlic-herb butter. Turn bread over so butter side is down against cutting board or plate.
Add onto the side without butter, a thick slice of Velveeta cheese. I usually add a little more to make sure the cheese covers the slice of bread.
On top of the Velveeta cheese on one slice of bread add the pepperoni, to other slice add the salami on top of the cheese.
Then stack on the cucumbers and sprinkle with salt and pepper. Finally add the lettuce.
Assemble the sandwich carefully, so you don't lose any toppings.
Grill on a preheated skillet or griddle for about 3-5 minutes per side. Until each side is golden brown.
Let sit just a minute, cut in half and serve.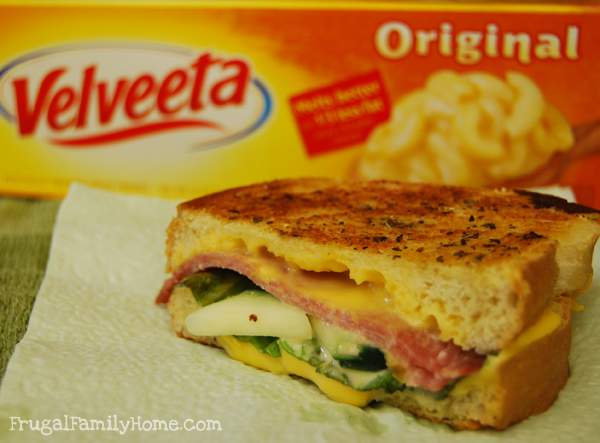 Now most pizza comes with pizza sauce on it. I didn't add the pizza sauce to the sandwich but made the pizza sauce as a dipping sauce for the side. You can purchase pre-made pizza sauce at the store or make some with my pizza sauce recipe below.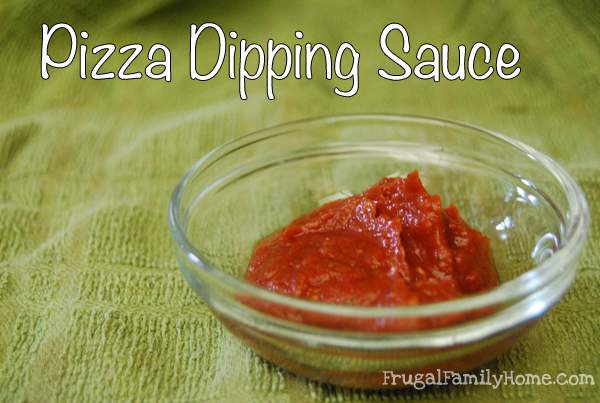 Pizza Sauce
1 small can Tomato Paste
3 oz Water
2 teaspoons of Pizza seasoning
1 teaspoon of Sugar
1/2 teaspoon of Salt
1/8 teaspoon of Pepper
1/4 teaspoon Garlic Powder
Place all ingredients into a bowl and stir well.
Warm and serve with the Cheesy Pizza Panini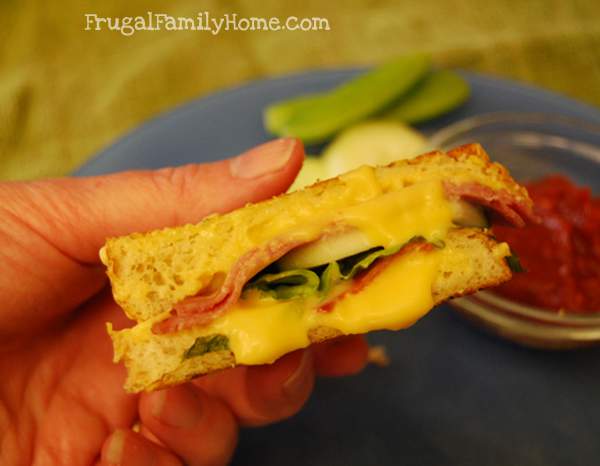 Look at that melted cheesy goodness!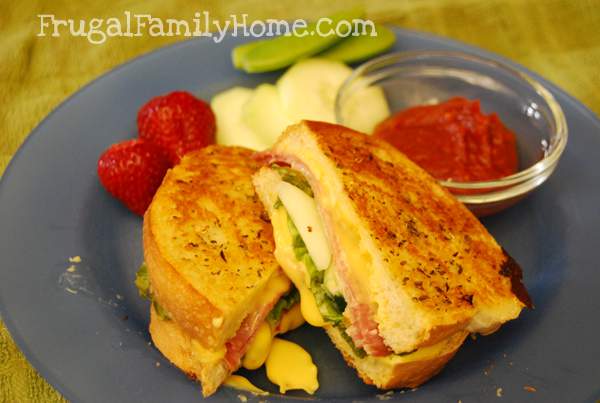 This recipe is so good. The mix of the garlic herb butter and the crunch of the bread is just the start. Then the creaminess of the cheese hits your tongue, along with the yummy spicy flavor of the salami and pepperoni. And lastly the coolness of the cucumber and crunch of the lettuce is just perfect to complete the sandwich.
Enjoy!
Want to see my shopping trip to Walmart to get the items to create this recipe? Check out my Google + Story. Learn more about Velveeta Cheese at their Facebook Page or Follow Them On Twitter.
Subscribe and you'll get Recipes
sent right to your inbox!
Click the button below and fill out the form.