If you love to bake cookies, but in the heat of the summer you don't like to heat the house, you'll love this easy no bake peanut butter cornflake cookie recipe. They are the best cornflake cookies, you'll ever try.
If you love easy recipes, you'll love these tasty cornflake cookies. They are so easy to make.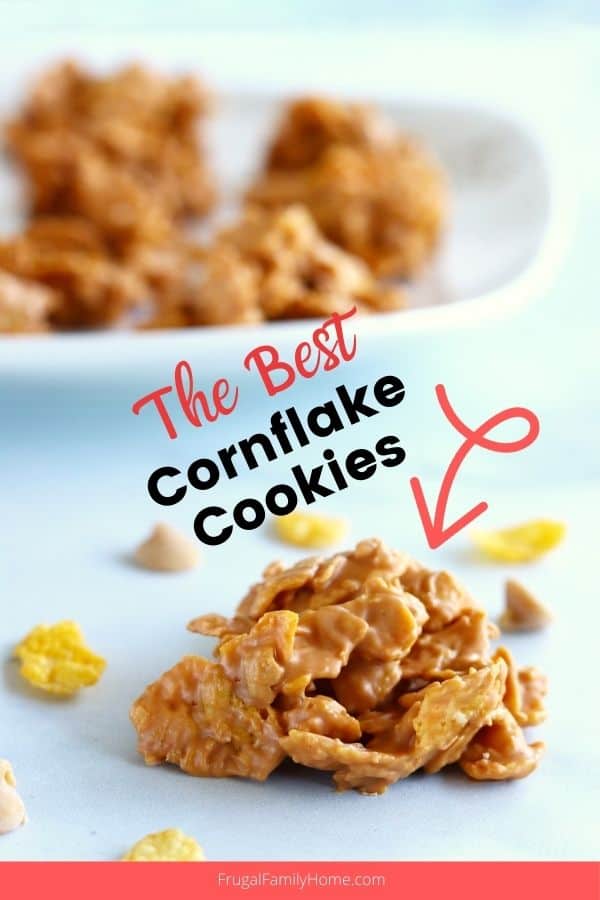 Cookie recipes can be quick and easy to make, no need to buy prepackaged cookies, oh no.
An Easy Salty Cookie Recipe, Made with Pantry Ingredients
My grandma made these crispy cookies and everyone loved them. And the best part of this recipe is the ingredients can be stored in the pantry.
You don't need eggs or butter, no brown sugar, or corn syrup. You just need 3 ingredients for this simple recipe.
They are such easy cookies to make. Even your kids can make them with little help. Which is great when they are complaining about what to do, during the summer or any time of year.
This cookie recipe is also a great one to make during the holiday season. I make a batch or two and add them to the cookie and candy plates I hand out during the holidays.
Everyone raves about them. These are the best cookies and I love they are so easy to make without too many ingredients.
Some of the links below are my referral links. Which means as an Amazon Associate I earn from qualifying purchases and when you purchase through them I can make a little money at no extra cost to you. Thanks! See my disclosure policy for more information.
The Simple Ingredients You'll Need for this Classic No Bake Cookie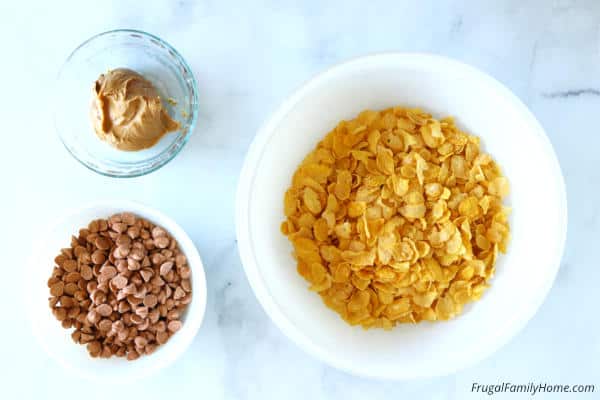 Crunchy Cornflakes, buy the name brand or store brand either will work.
Equipment You'll Need…
Baking Sheet or Cookie Sheet (whatever you call it you'll need one)
Large Bowl or Large Mixing Bowl, this needs to go in the microwave
Cookie Scoop, if you are concerned about making them all the same size but a spoon works well too.
Airtight Container, for storing the cookies
Now that you know what you'll need, let's get started learning how to make these easy cornflake cookies.
How to Make No Bake Cornflake Cookies
I've made a quick video to show you all the steps in this recipe but if watching a video isn't for you, keep scrolling for the written directions.
Cornflake Cookie Recipe (Step-by-Step Tutorial)
These steps will take you from start to finish through this recipe. They are quick and easy to make in just 6 steps.
1. Melt the Chips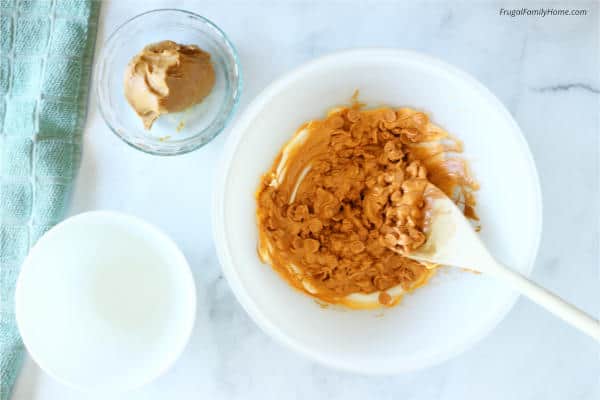 Place the butterscotch chips into a large mixing bowl that is microwave safe.
Microwave at one-minute intervals, stirring after each minute until the chips are melted.
Be careful not to overheat the chips, they will turn grainy and be ruined if you overheat them.
2. Add Peanut Butter
Once the butterscotch chips are melted, add the peanut butter to the bowl and mix the peanut butter into the chips.
3. Add Cornflakes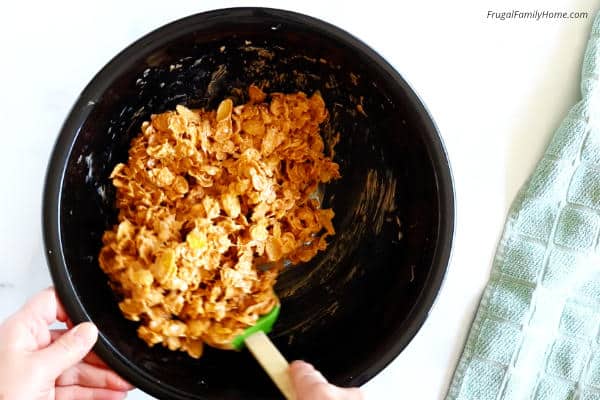 Measure the cornflakes in a separate bowl. Once the peanut butter is mixed in well. Add the corn flakes and fold them in. You want each cornflake coated so the cookies will stick together.
4. Drop Cookies onto Prepare Sheet Pan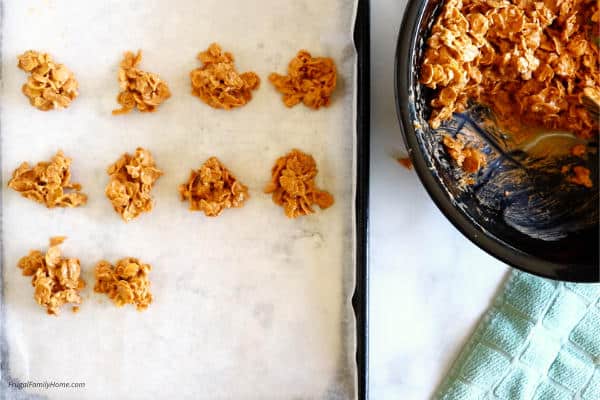 Line a sheet tray with wax paper or with a silicone sheet pan liner. Then drop cookie dough by teaspoonful onto the wax paper in small clusters.
5. Leave to Set
Let the cookie sheet sit at room temperature until the cookies are set.
If you want to quickly set them up, you can move the baking sheet to the refrigerator to cool them more quickly. Great for those times when you need your cookies now!
6. Remove cookies from Lined Sheet Pan
Once the cookies are set, remove them from the sheet pan and place in an airtight container for storage.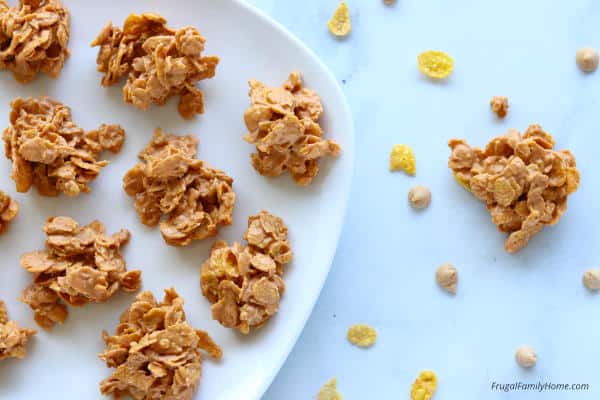 Variations for this Cornflake Cookie Recipe…
If you love chocolate you can add a few mini chocolate chips to the dry ingredients before stirring them into the butterscotch mixture. This will add a bit of chocolate flavor to the cookies. Remove 1/2 cup of cornflakes and replace them with mini chocolate chips.
Don't want to add chocolate chips but want to add chocolate flavor? After the cookies are set, you can melt 1/2 cup of chocolate chips and then drizzle it over your set up cookies. It adds even more flavor to them with a bit of chocolate on each cookie.
If you love dried fruit, you can add dry fruit to the dry ingredients before mixing with butterscotch mixture. Use 4.5 cups of cornflakes and 1/2 cup of dried fruit instead.
If you love marshmallows you can substitute 1 cup or cornflakes with 1 cup of mini marshmallows in the recipe. Just add them to the dry ingredients and stir to mix well. Before adding it to the butterscotch peanut butter mixture.
Can't wait to make this recipe? Be sure to print the recipe below to add it to your recipe binder. Or click on the heart in the recipe card to add it to your saved recipes.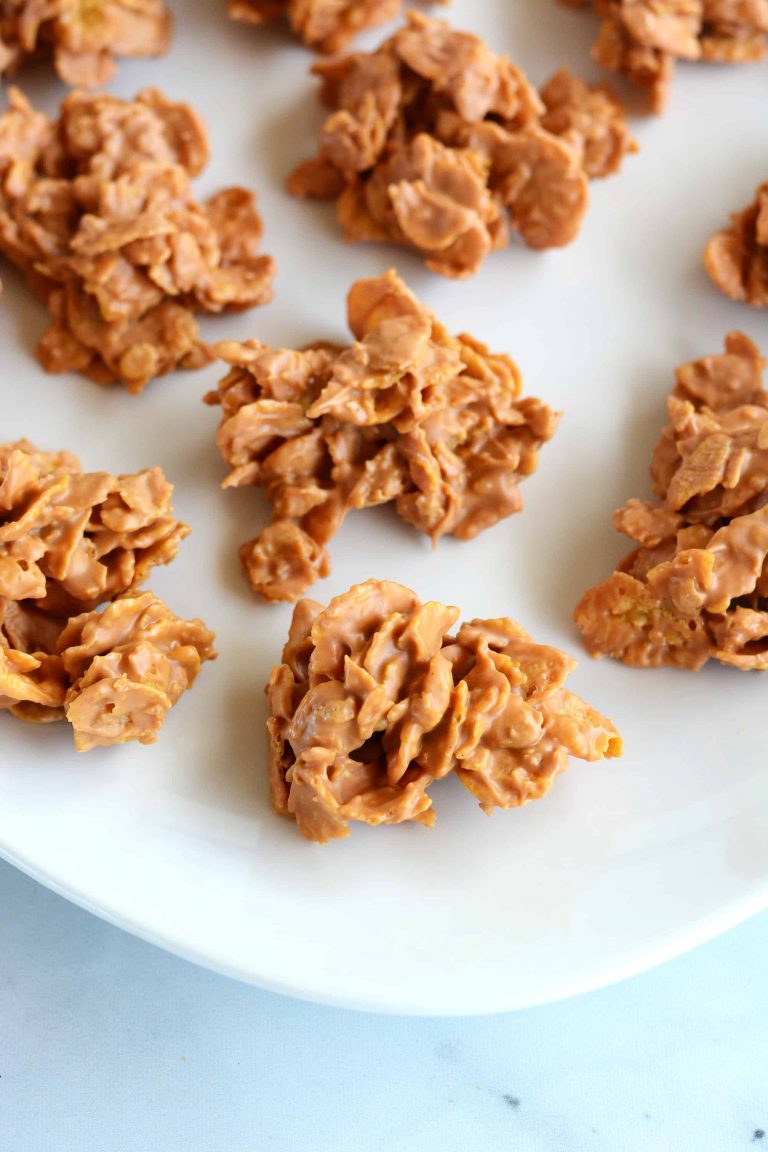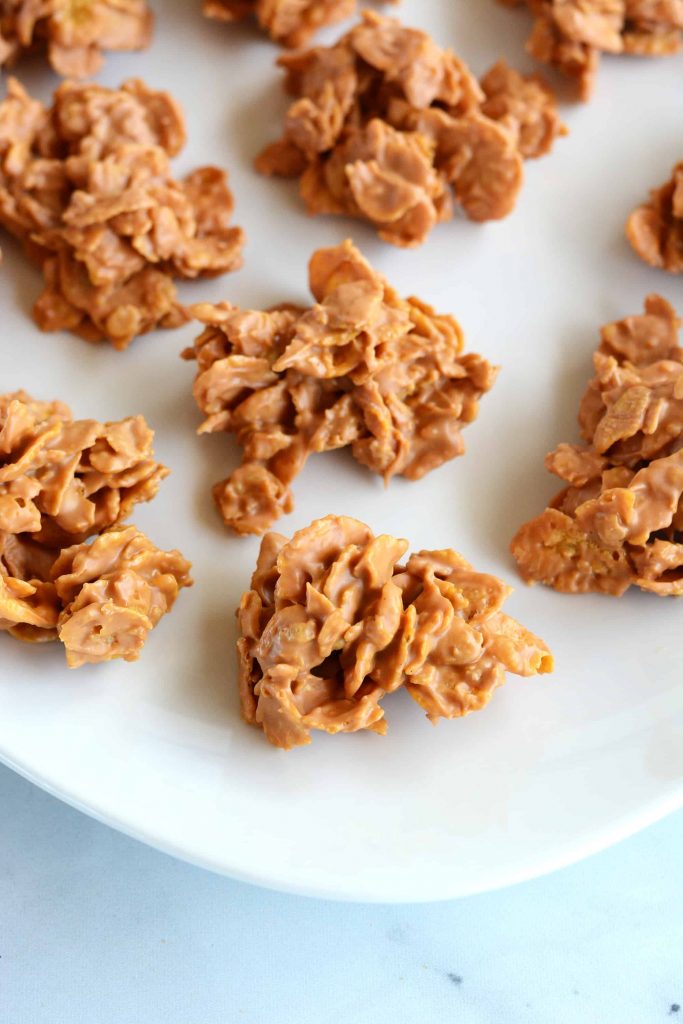 Grab the printable recipe below…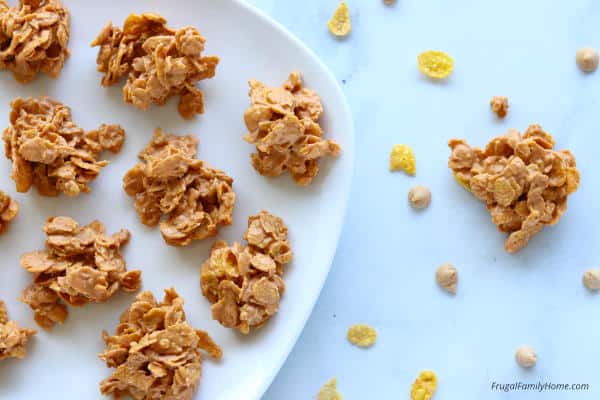 Easy No Bake Cornflake Cookie Recipe
If it's hot outside but you have a craving for a creamy and crunchy cookie, look no further. This easy no bake cookie recipe is sure to please with a peanut butter, butterscotch flavor that is hard to beat.
Instructions
In a large microwave-safe bowl, microwave the butterscotch baking chips until smooth. Microwave for one-minute stir then repeat the process until the chips are melted. Don't overheat or the chips could scorch.

To the melted butterscotch chips, add the peanut butter and stir well to mix in the peanut butter.

Add the cornflakes to the butterscotch mixture and fold in. Be sure each cornflakes are coated well so the cookies will stick together.

Drop by the teaspoonful onto a waxed paper-lined cookie sheet.

Leave them to cool and set up, once the cookies are set, enjoy.
Nutrition
Serving:
1
cookie
Calories:
101
kcal
Carbohydrates:
112
g
Fat:
5
g
Subscribe and you'll get Recipes
sent right to your inbox!
Click the button below and fill out the form.