This fudge recipe was inspired by a neighbor of mine while we were chatting about the different kinds of candy recipes I could come up with.
As I heard the words creamsicle fudge, I just had to try to make a frosting fudge in that flavor for my 31 days of Homemade Sweet Treats. So here's what I came up with.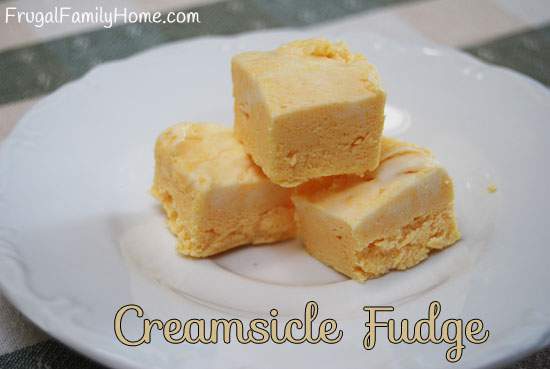 This recipe is a little sweet so it would be a great gift for someone with a sweet tooth. It's also a very easy fudge recipe only taking 3 ingredients. Isn't that great?
I like frosting fudge recipes because they are so quick and easy. They also turn out every time. Well, at least I haven't had one fail yet.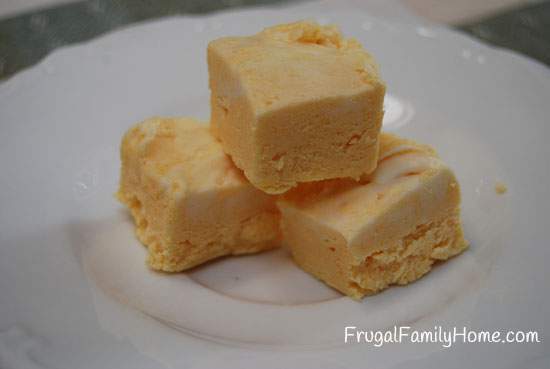 I like my creamsicle fudge to have a little swirl of white in the orange but you can skip it if you don't want to do the extra step of holding out some of the fudge mixture before adding in the Tang.
Yes, that's right this fudge is flavored with Tang. But if you don't like Tang you can purchase some orange flavoring and a little food color and everything should turn out great.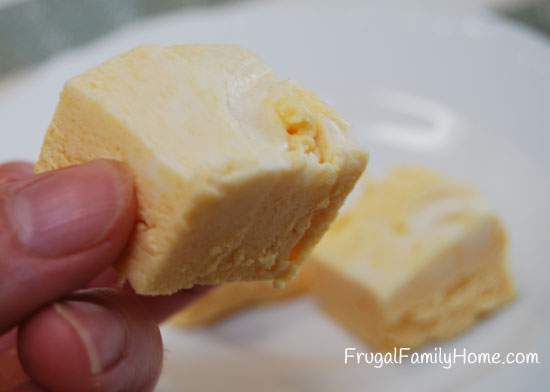 To make the orange color and flavor without the Tang,  I would use 6 drops of yellow food coloring and 4 red food coloring and 1 teaspoon of orange flavoring.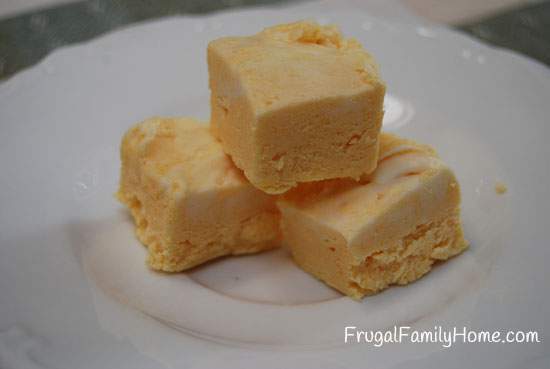 Creamsicle Fudge
Ingredients
1

jar of Vanilla Frosting

1

package of Vanilla Baking Chips

1/2

cup

Tang Drink Mix or 1 tsp of Orange Flavoring and Yellow and Red Food Coloring
Instructions
Melt the vanilla chips in the microwave or on the stove top. If you will using the microwave be sure to stir at 30-second increments. Be careful to not overheat the chips you just want them warm enough to be smooth after stirring.

Once the chips are nice and melted, stir in the frosting.

If you want a marbled look to the fudge take a heaping tablespoon or two of the frosting fudge mixture out and set it aside.

To the remaining frosting, mixture add in the Tang drink mix (or the orange flavoring and food coloring) and mix well.

Spoon into a greased 9-inch square pan and spread into the pan.

Drop the remaining white frosting mixture on top of the orange fudge in the pan and then using a knife swirl the fudge. Be careful not to over mix.

Chill until firm, then cut into serving sized pieces.
Does your family love the flavor of creamsicles? If they do you just have to give this recipe a try. What do you think of this fudge recipe?
This post is part of my 31 days of homemade sweet treats, see the rest of the posts in this series here.
SaveSave
SaveSave
SaveSaveSaveSave
Subscribe and you'll get Recipes
sent right to your inbox!
Click the button below and fill out the form.