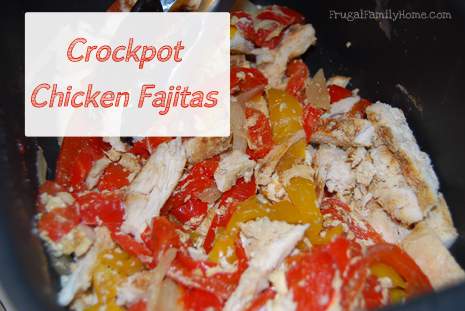 When I saw this recipe for Crock Pot Chicken Fajitas I knew I had to give it a try. Fajitas are a favorite at our house and the ease of making them in the crock pot sounded really good to me. After all anything that can make getting dinner ready easier I am all for.
I changed the recipe just slightly as I already had some chicken breasts in the freezer with seasoning on them for my usual fajita recipe so I used those in this recipe instead of adding extra taco seasoning. I also added a little lime juice to the veggies too.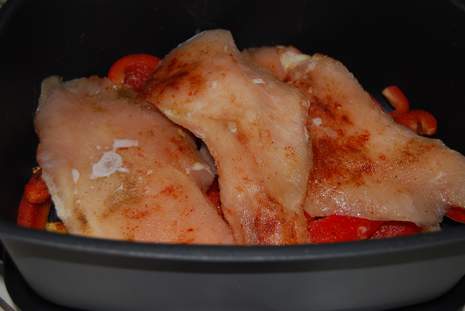 These turned out really well and I loved the ease of making them. All in all I would give them a 7 out of 10. The only thing about this recipe I didn't like was the veggies (peppers and onions) seemed a little too soft for our tastes. But even with that complaint we didn't have any leftovers.
This recipe only takes a few minutes in the early afternoon to put together to have them ready in time for dinner. I neglected to take a picture of the fajitas ready to eat. I guess we were all really hungry and I just forgot.
Crock Pot Chicken Fajita
slightly altered recipe from Eat at Home
1-lb Chicken breast sprinkled with garlic, cumin and chili powder
1 Onion, sliced
3 Bell Peppers, sliced
1 teaspoon Lime Juice
Flour or Corn Tortillas
Favorite Fajita topping (cheese, sour cream, salsa)
Place the onions and the bell peppers in the bottom of the crock pot. Sprinkle the lime juice on top of the vegetables. Place the seasoned chicken on top of the vegetables and cook on low for 6-8 hours. Shred the cooked chicken and mix in with the vegetables. Serve on warm tortillas with your favorite toppings.
I am thinking the next time I give this recipe a try I will try using the taco seasoning and not use any lime juice to see if the vegetables will turn out a little crisper.
Have you tried to make fajitas in the crock pot before?