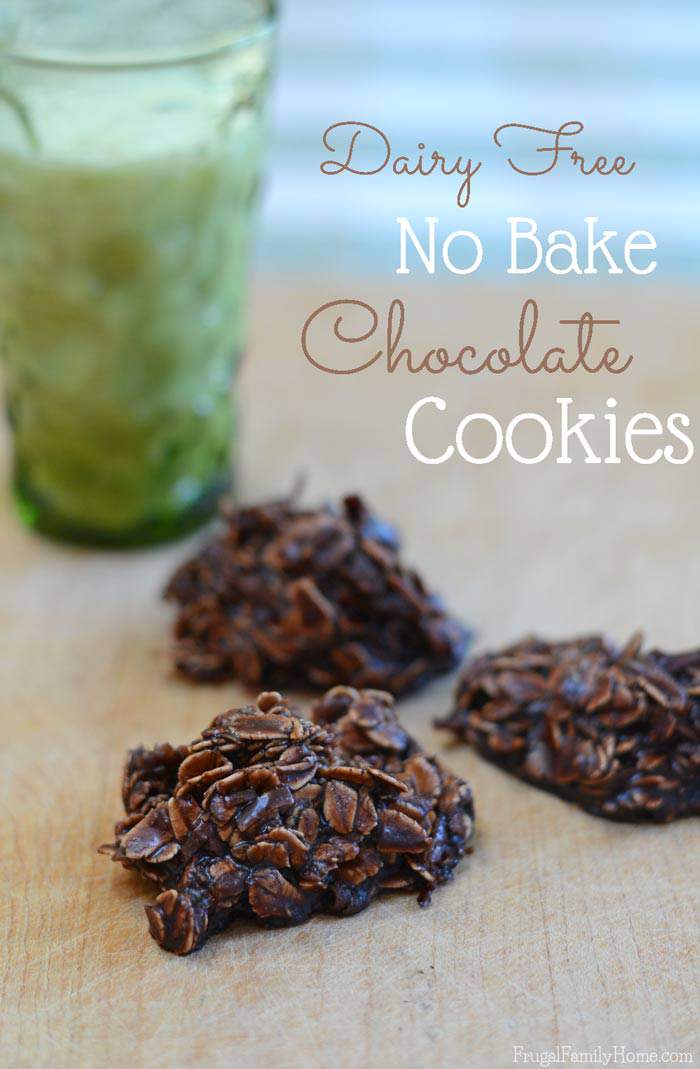 I love to make recipes for my kids that my mom used to make for me. There is just something about being able to share a moment, a recipe, and a memory with your kids that you experienced at their age. It's seems to stop time. This is one of those type of recipes for me, the no-bake cookie recipe.
My mom used to make no-bake cookies all the time, for myself and my sister when we were growing up. I just loved them. I think she made them often because they were so easy to make and delicious too. I mean a cookie that just takes measuring and stirring, it really can't much easier than that. No oven is involved at all for those hot summer days or those days when the oven is full of other food cooking.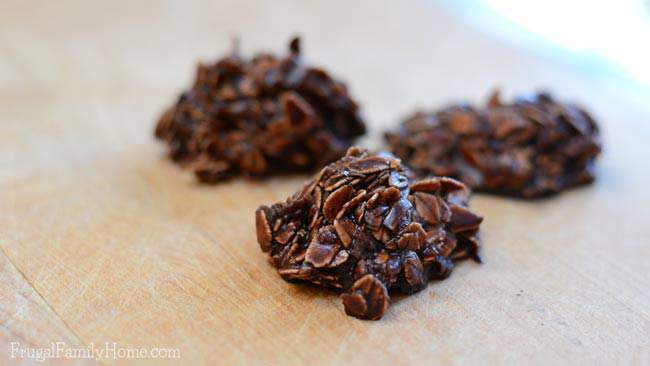 My only problem with this recipe was, it contained dairy. For my kids and husband, who are allergic to milk it was put on the shelf for quite some time. Until I tried to make them dairy free, which turned out to be more of a challenge than I thought.
When I tried to make them diary free, so my kids and husband could enjoy them too, they often turned out to be a sticky puddle like consistency. Not good for eating at all and definitely not fit for the cookie jar. They would almost ooze off your fingers if you held them too long. They always tasted good, it just was the consistency I couldn't get right.
Converting the No-Bake Cookie Recipe to Dairy Free
But then a light bulb went off one day, in my head. I make candy each year for Christmas gifts and I got the idea of cooking the sugar mixture to a soft ball stage (just like the fudge I make) and seeing if that would work to make this recipe set up right.
Recently my experimenting paid off and I was able to achieve a perfect Dairy Free No Bake Cookie. What I mean by perfect is it is very close to the original dairy version and puddle-free and ooze-free.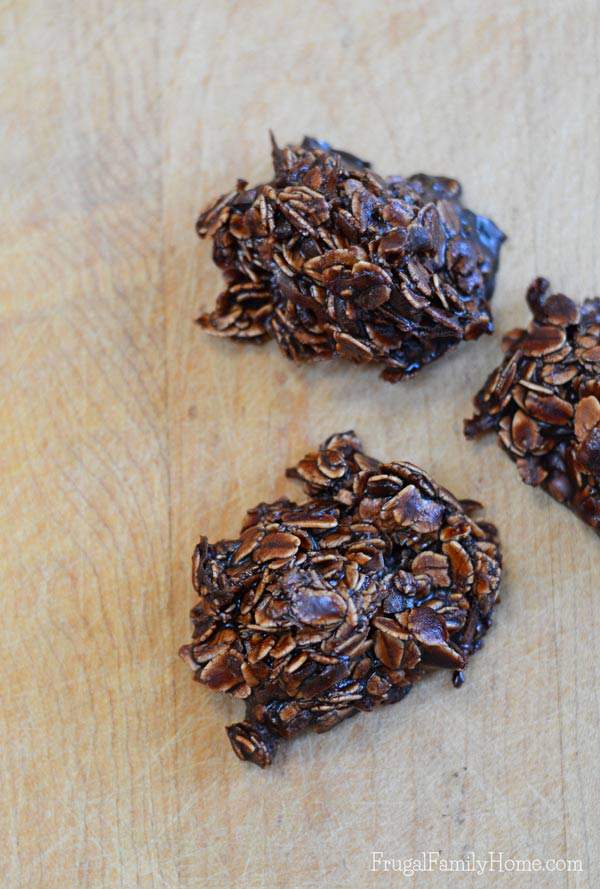 The main change I had to do was to adjust the cook time. My mom's recipe called to boil the sugar, milk, butter and cocoa mixture for 1 minute and then stir in the oats and coconut. With soy milk I got less than pleasing results. But when I increased the cooking time to two and a half minutes the set was fabulous and so a new dairy free recipe was born.
Sometimes it takes a little practice and trial and error to get an altered recipe right. Although eating the bad batches was fun too, just a little messy. But you don't have to worry about having your dairy free no bake cookies not set up for you. I've done all the experimenting and I'm sharing my perfect dairy free no bake cookie recipe with you. Print it off and give it a try, I'm sure your family will love it.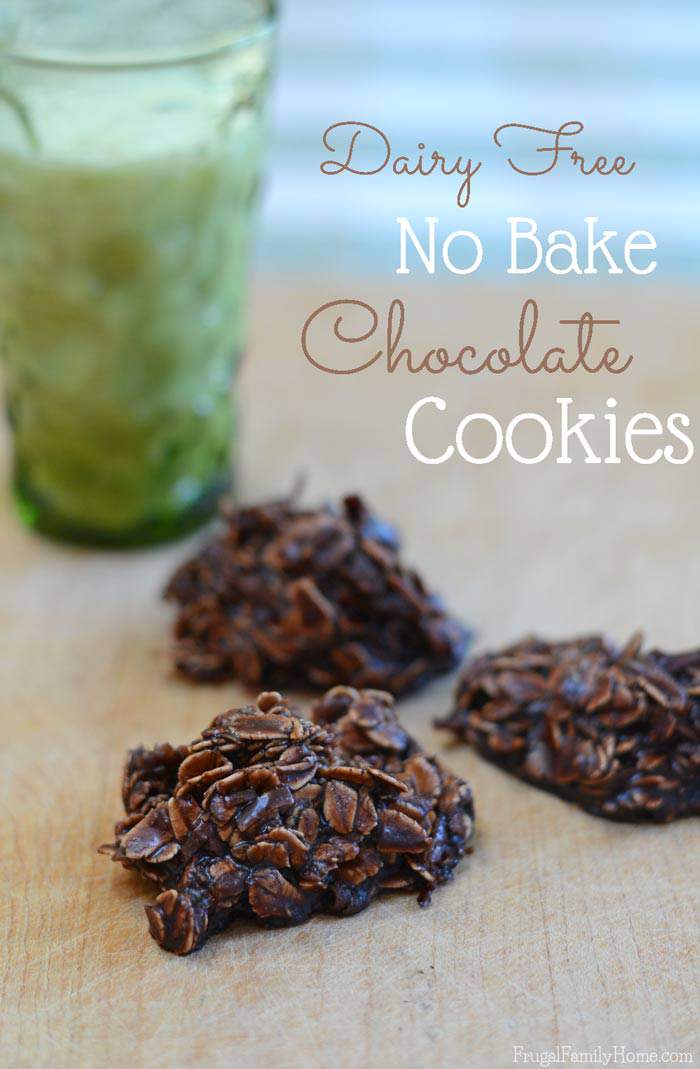 Dairy Free No Bake Cookies
A yummy no bake cookie that is dairy free.
Ingredients
2

cups

Sugar

5

Tablespoons

Cocoa Powder

1/2

cup

Nucoa Margarine

or another dairy free stick margarine

3

cups

of Oatmeal

1

cup

Shredded Coconut

1/2

cup

Soy Milk

1

teaspoon

Vanilla
Instructions
Combine the sugar, cocoa powder, milk and margarine into a sauce pan. Cook over medium-high heat stirring constantly to a boil.

Stir and boil for 2 1/2 minutes.

Remove from heat and stir in vanilla, oats and coconut.

Drop by the teaspoonful onto wax paper or a cookie sheet lined with a silicone mat.

Let cool until set

Enjoy.
What's your favorite cookie from your childhood days? Let me know in the comments below.
Subscribe and you'll get Recipes
sent right to your inbox!
Click the button below and fill out the form.