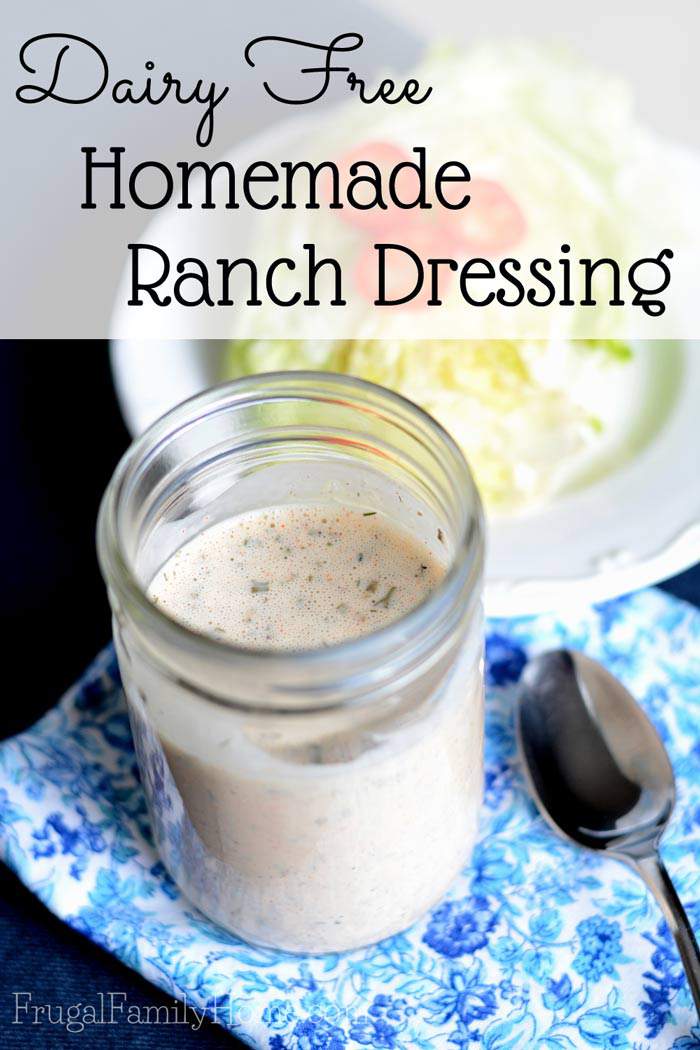 We eat a lot of salads and I've just recently decided I need to make my own salad dressings. One because so many of them contain dairy, which my family can't eat. Two, because they seem to be so expensive and have all these weird ingredients in them.
I decided to start with a recipe for ranch dressing. This is one dressing that we can't find dairy free, so making it at home is the only option. I already make a ranch type dip for chips and vegetables sticks. Making that recipe into a ranch type dressing I thought wouldn't be too hard.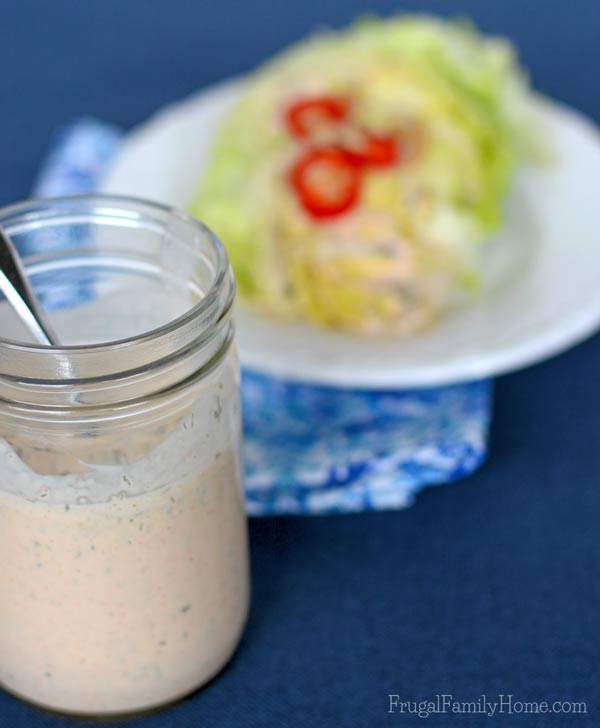 I searched Pinterest for a few recipes to see if the seasonings were similar to what I use in my dip recipe and in general they were. I did find the addition of paprika to a few recipes so I added that to my ranch dressing, to see if we would like it.
No Sour Cream, No Problem
Many of the recipes I found online used sour cream in them. I have a substitute for sour cream, we use Tofutti Sour Cream that's dairy free. I get it from Azure Standard. But since I don't order often from them I can't be certain I'll have it on hand. Plus the retailers in our area that used to carry it, no longer do.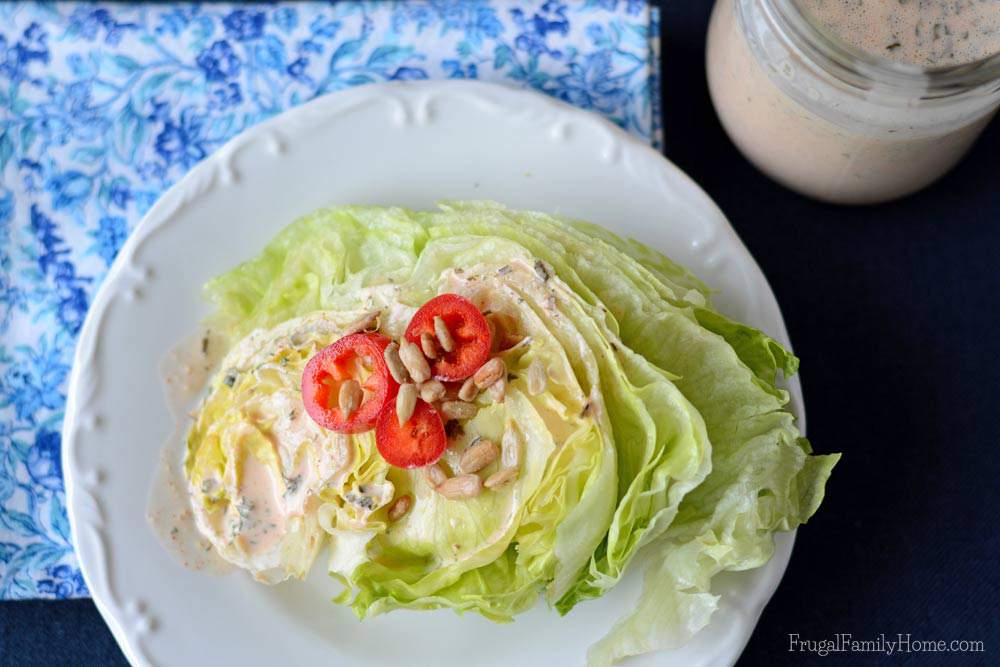 Instead of sour cream in my ranch dressing, I use sour milk. To make sour milk you add a half a tablespoon of vinegar to the half cup of diary free milk. It curdles it just a little, thickening it up. And giving the sourish taste, like sour cream. It's not perfect but does work well in the recipe.
Making the Dressing
I like to mix the herbs and spices into the mayo before adding the soured milk. It really helps to distribute the seasonings well and makes it so much easier to mix in. I usually use grated fresh garlic in this recipe but dried garlic will also work well, if that's what you have on hand.
I like to use a whisk to mix the dressing, but if you have a food processor or a stick blender. Either would work well too. I find the whisk is quick, easy and less clean up.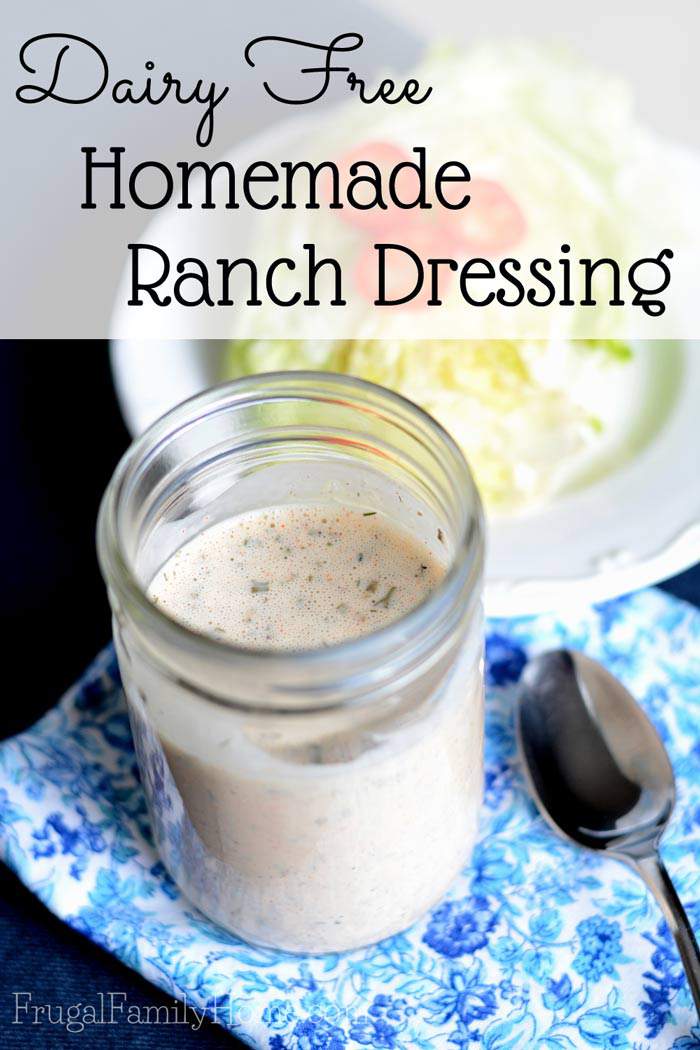 Dairy Free Ranch Salad Dressing
Delicious homemade ranch dressing that is dairy free. So simple and easy to make too.
Ingredients
1

cup

Mayonnaise

3/4

cup

Dairy Free Milk

1

tablespoon

Vinegar

1

teaspoon

Dried Chives

1

teaspoon

Dried Parsley

1

teaspoon

Dried Garlic or 1 Clove Garlic Finely Minced

1/2

teaspoon

Paprika

1/4

teaspoon

Onion Powder

1/2

teaspoon

Salt

1/4

teaspoon

Pepper

1/4

teaspoon

Dill Weed
Instructions
Mix the dairy free milk and vinegar. Set aside to thicken.

In a large bowl, mix mayonnaise and seasonings.

Add the milk mixture to the mayonnaise mixture and whisk until all the lumps are gone.

Store in a clean jar in the refrigerator.
If you don't have to eat dairy free you can use 1 cup of sour cream or yogurt in place of the milk and vinegar mixture. Then add enough milk to get the consistency that you prefer. If you have dairy free yogurt or sour cream on hand those would work too.
What's your favorite type of dressing? Do you have a good recipe for it?
Some of these links are my referral links. When purchase something through them I may make a little money, at no extra cost to you. Thanks for your support in this way. You can read my disclosure policy for more information.