I'm always on the lookout for frugal and easy dinner recipes. This recipe is one we had while visiting friends after church. It's an easy dinner recipe to make too. I love easy dinner recipes, don't you?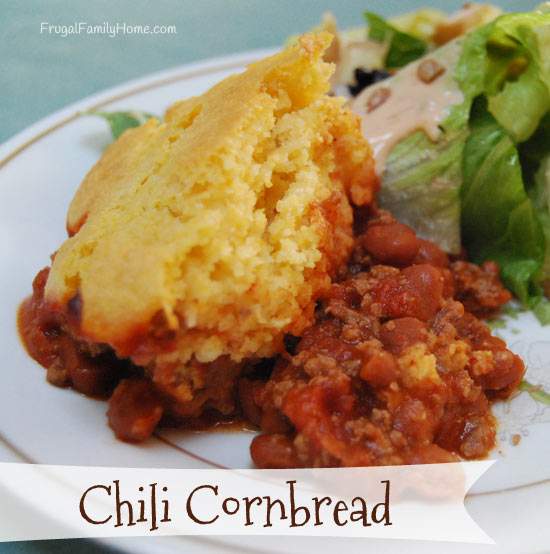 My kids really love this recipe. I really love it because it's so easy and quick to make. I usually will use a can of chili and a can of chili beans. But if you have leftover chili that will work well too. Just use what is easiest for you.
I sometimes will add in a diced pepper to the canned chili if we have them on hand. I try to sneak in extra vegetables into our diet as much as I can. Mushrooms would also work well.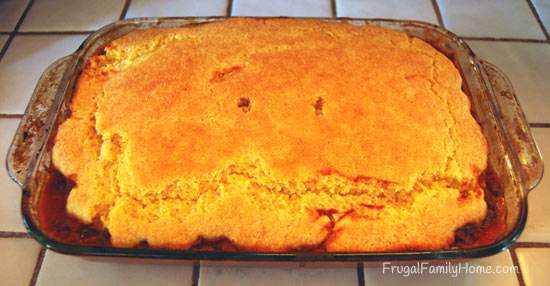 To assemble the dish, I mix the chili with the chili beans and any vegetables I want to add. Then I spread the chili mixture in the bottom of a 9 by 13 inch pan.
Then I stir up a batch of cornbread. I make mine from scratch but the box mixes would work well too. Once the cornbread batter is ready spoon over top of the chili mixture.
Bake at 375 degrees for 45 to 55 minutes. I always check the middle of the cornbread with a toothpick to see if the cornbread is cooked through. Sometimes it can take up to an hour to bake. Just make sure to bake it until the cornbread is cooked through.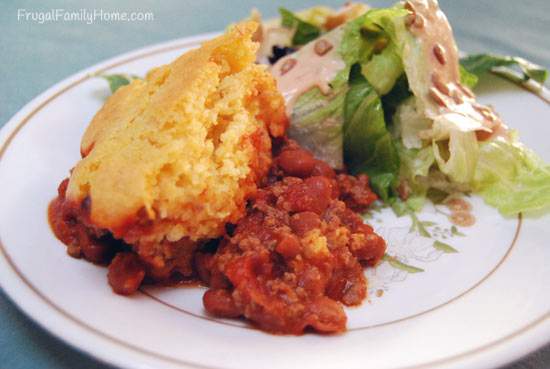 Once the cornbread is baked through. Cut into squares and serve. I usually serve salad and some cut up fruit as side dishes to this casserole. This recipe makes a simple and hearty meal.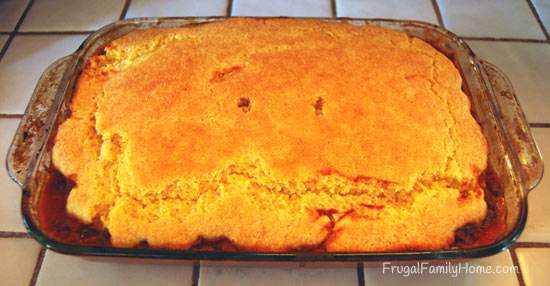 Chili Cornbread
Ingredients
1

can Chili or 2 cups Homemade Chili

1

cup

Chili Beans

1

batch Cornbread

1

Green Pepper

chopped (optional)

1

cup

Mushroom

chopped (optional)
Instructions
In a large bowl mix the chili, chili beans, green pepper and mushrooms if desired.

Spread chili mixture into a 9 by 13 inch pan

Mix the cornbread batter and drop onto the chili mixture.

Bake 375 degrees for 45 to 55 minutes or until cornbread is baked through.

Let the casserole sit for 5 minutes and then serve.
I think this recipe would also be great with a little cheese sprinkled on top when serving.
Do you have a favorite easy dinner recipe you like to make?
Subscribe and you'll get Recipes
sent right to your inbox!
Click the button below and fill out the form.