I can't believe the 4th of July is only a month away. That is when summer truly starts here, July 5th. We often have to have rain gear on the 4th to watch fireworks but so is how the weather goes in Oregon. 🙂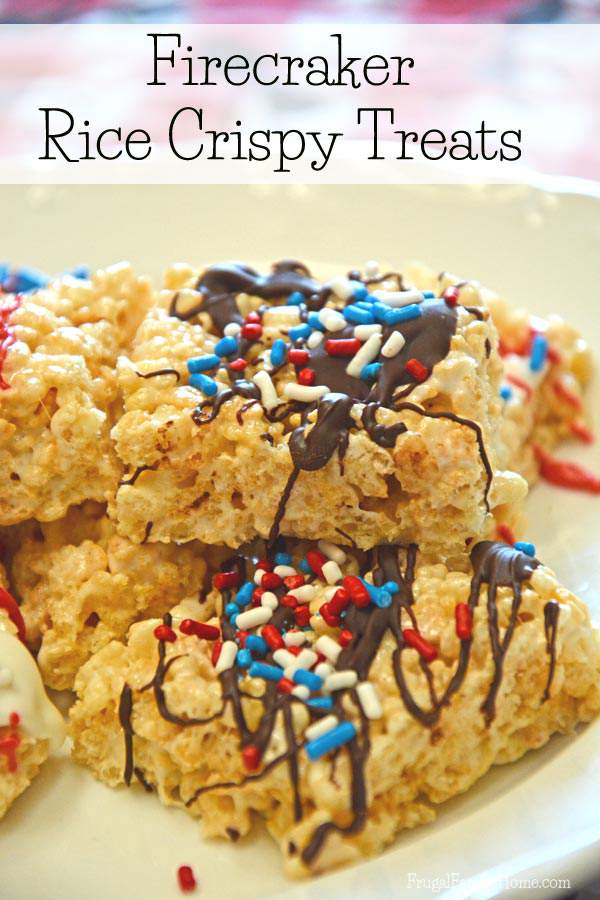 But I like making festive treats no matter what the weather is like. I could have just made some regular rice crispy treats but what would be the fun in that? I had the kids help me, since they are really good helpers in the kitchen.
We decided to decorate our rice crispy treats with some patriotic sprinkles and a little chocolate. Isn't everything better with chocolate?!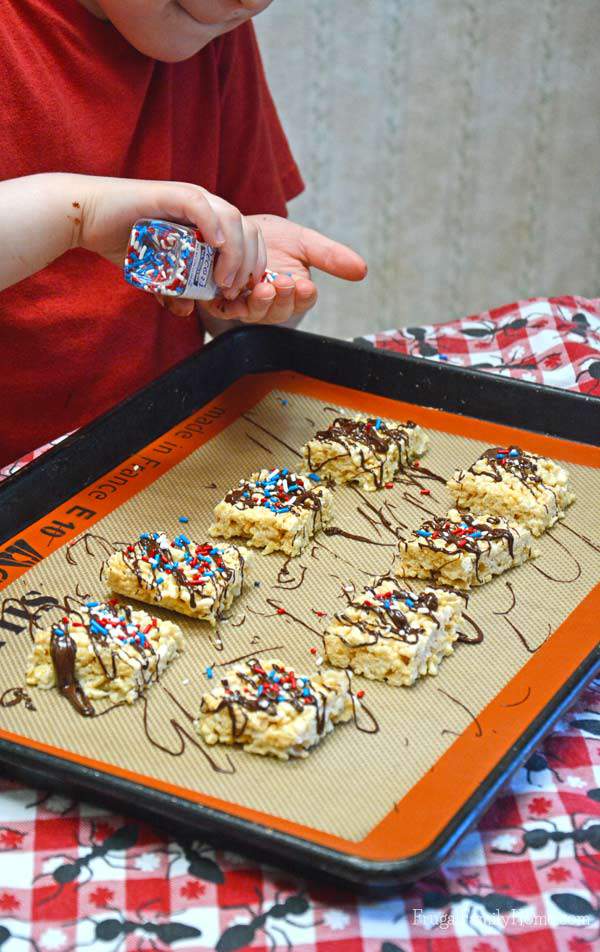 We made our rice crispy treats in the microwave. It was quite a sticky job getting all that marshmallow goodness into the pan. But we managed and got to lick a few fingers when we were done.
Then we had to wait for them to cool before we could decorate. We did do a little sampling though.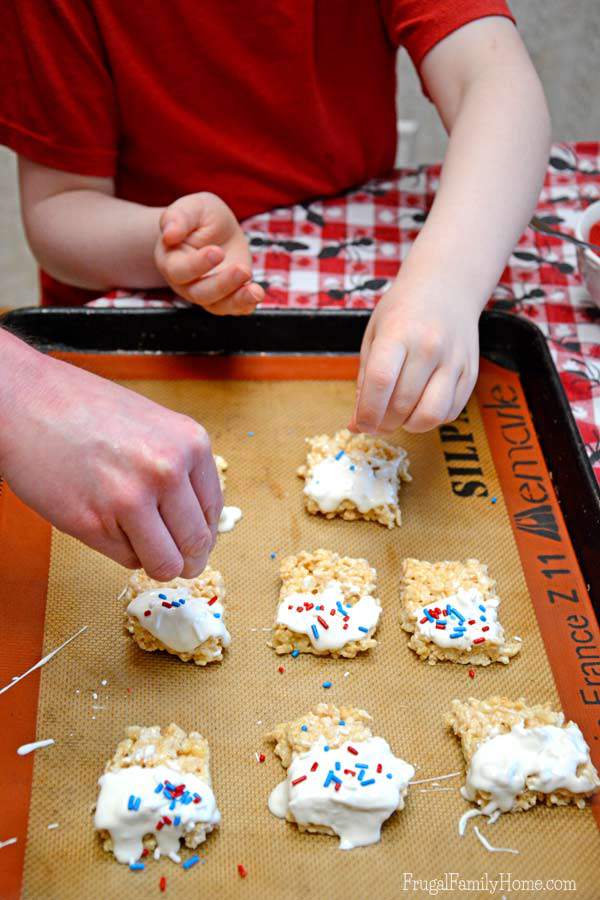 I had some red and white candy coating to add to the rice crispy treats, along with some chocolate chips to melt. I thought it might be nice to put the rice crispy treats on sticks, like I saw on Pinterest. (Be sure to go over and follow me if you don't already) But I guess ours had a little too much margarine or something.
I couldn't get the treats to stick to the popsicle sticks to save my life. They kept oozing off. 🙁 So we went decided to go with squares.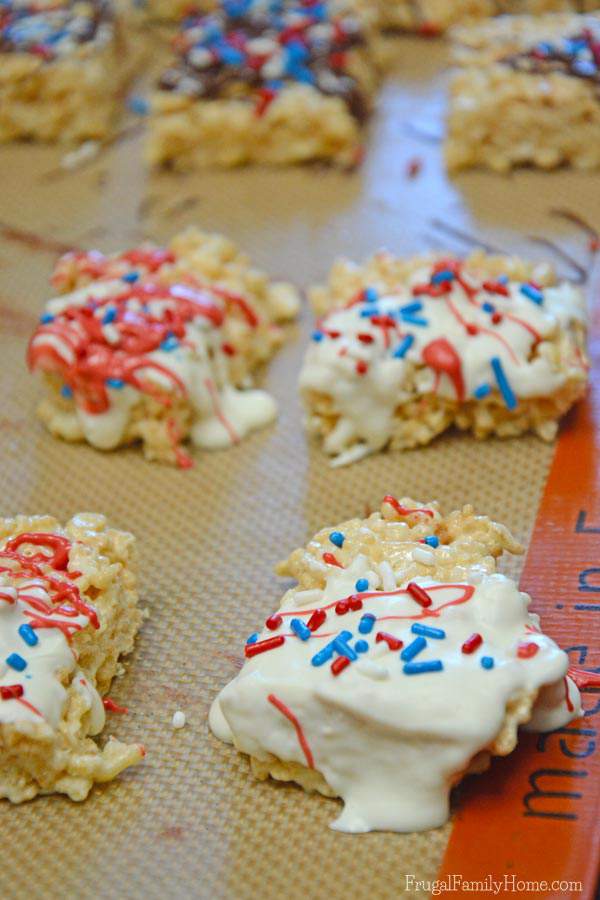 After I sliced them into serving sized squares and had the treats on the cookie sheets, we started to decorate them. I drizzled the chocolate and candy coating on them. Since I overheated both the candy coating and the chocolate a little and burned myself picking up the bowls. I didn't want my kids to get burnt.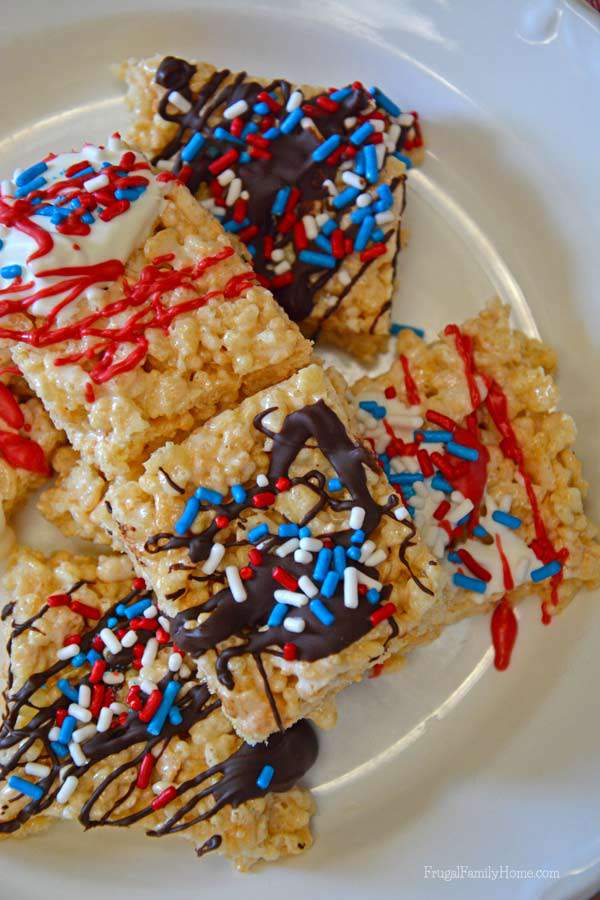 The kids had fun adding the sprinkles. My son loves lots of sprinkles. Some of the treats ended up with a bunch of sprinkles on them.
Here's the recipe just in case you don't already have one for rice crispy treats,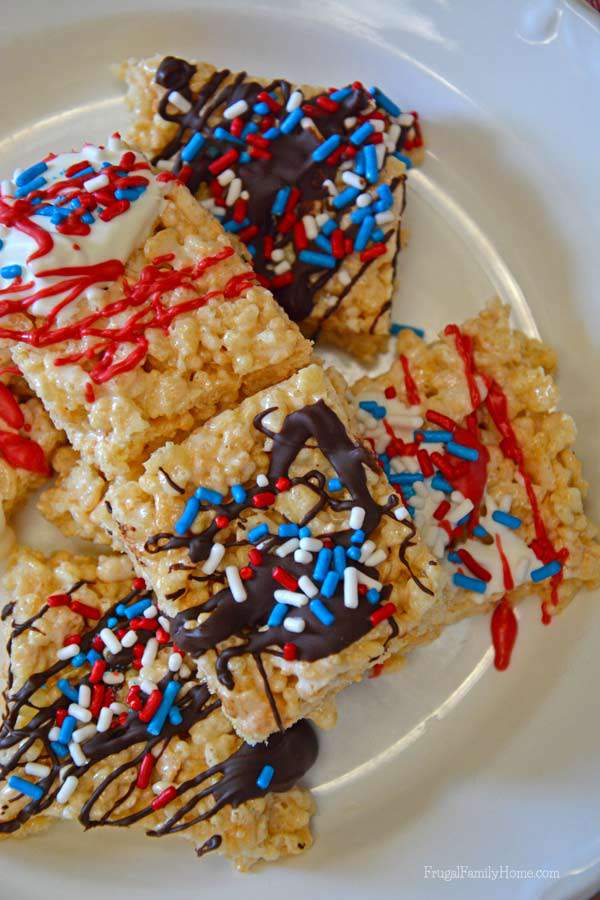 Fire Cracker Rice Crispy Treats
Ingredients
1

package of Marshmallows

10.5 oz

5

cups

Crispy Rice Cereal

4

tablespoons

Dairy Free Margarine or Butter

1/2

cup

Chocolate Chips or Candy Coating to drizzle

Sprinkles
Instructions
Grease a 9 by 13 inch pan and set aside.

Melt the margarine and marshmallows in a large bowl, I use the microwave and heat the mixture in one minute intervals, stirring after each minute until melted.

Add the cereal to the marshmallow mixture and stir well.

Press the mixture into the greased pan and let cool. Then cut into squares and place on a cookie sheet.

Melt chocolate chips or candy coating. Drizzle on top of the rice crispy squares. Sprinkle with sprinkles, if desired. Let cool until the chocolate or candy coating is set.

Enjoy!
Do you make rice crispy treats? What's your favorite way to make them?
Subscribe and you'll get Recipes
sent right to your inbox!
Click the button below and fill out the form.