My kids love Jello. My son loves the fruity flavor and how it jiggles. They also love it when I make Jello squares. But I don't like them to have so much sugar and artificial coloring. But did you know you can make your own gelatin squares with fruit?
I found this technique in the book, The Tightwad Gazette. (affiliate link) It has so many great ideas for living on the cheap, if you don't have this great book, check it out from the library or purchase a copy at Amazon.
Some of the links below are my referral links. Which means as an Amazon Associate I earn from qualifying purchases and when you purchase through them I can make a little money at no extra cost to you. Thanks! See my disclosure policy for more information.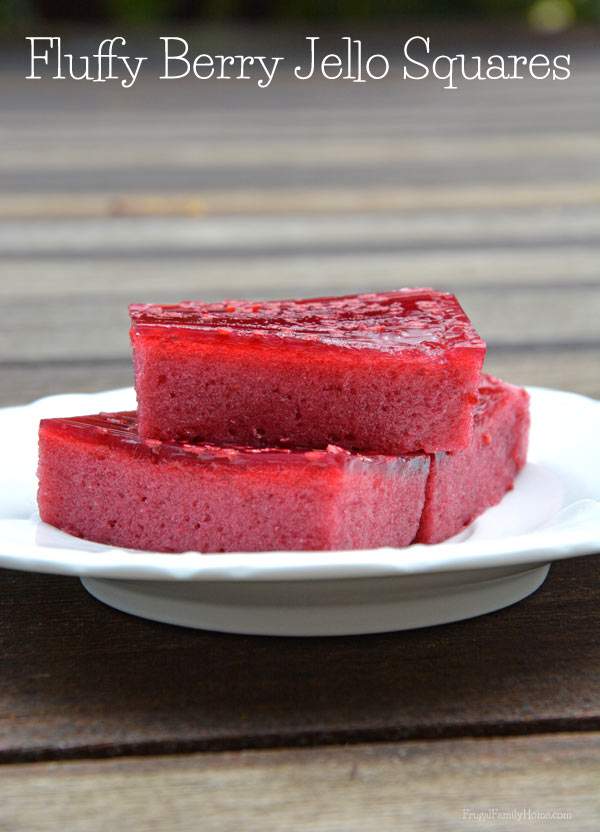 This time of year, I start to dream about all the great fresh berries I'm going to be picking soon. But that means I need to make sure to have room in the freezer for the berries.
I found I still have a good supply of berries in the freezer from last year. Partly because I picked quite a few and partly because I found some great sales last year. So, I needed to find  a way to use them in our menu plan.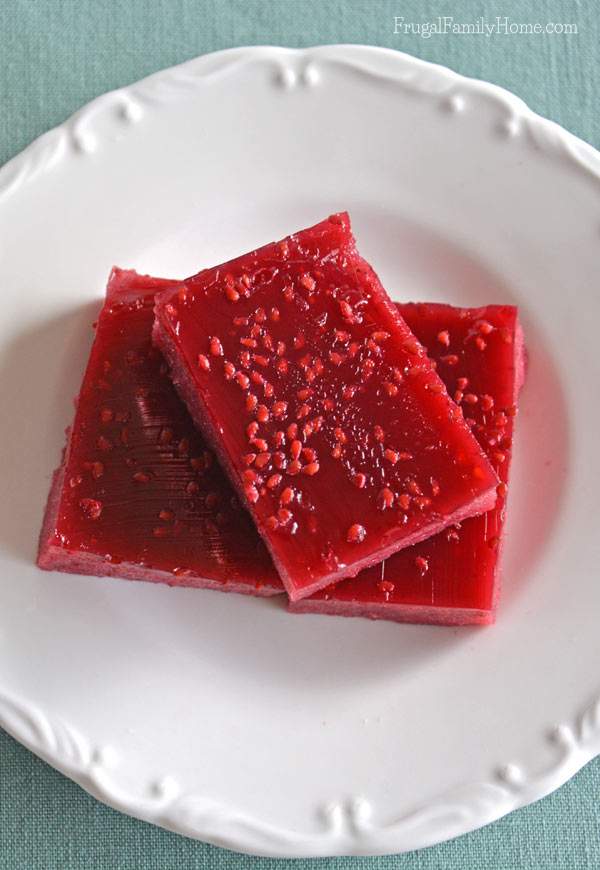 While pies, cobblers, and crisps are great to make, they also contain a lot of sugar and fat. But gelatin is a great way to use berries with just a small amount of sugar.
It is also pretty much fat free, so it's figure friendly too.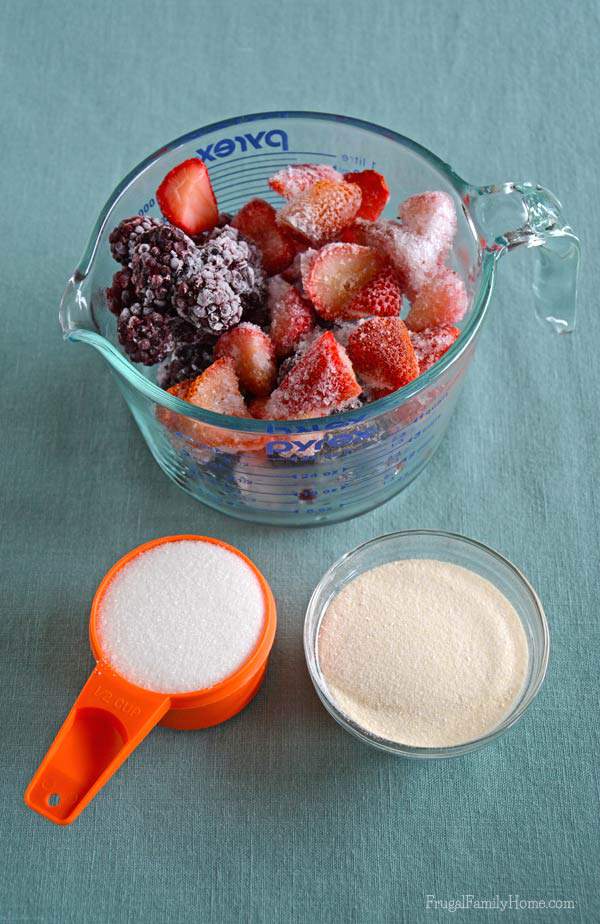 I make a blender gelatin with berries. Mainly because it's so quick and easy to make. I start with some thawed berries, about a quart. Then I whirl them in the blender until they are pureed.
Add a little sugar, I use about 1/4 to 1/2 cup. I added in 5 tablespoons of unflavored gelatin.(affiliate link) Be sure to look for it in bulk to save over all those little packets. The bulk gelatin is about half the price over the packets.
Then just fill the blender with hot water, up to 5 cups, and blend again. Be careful, the mixture expanded while blending and it ended up trying to pop the top off my blender. So keep an eye on it.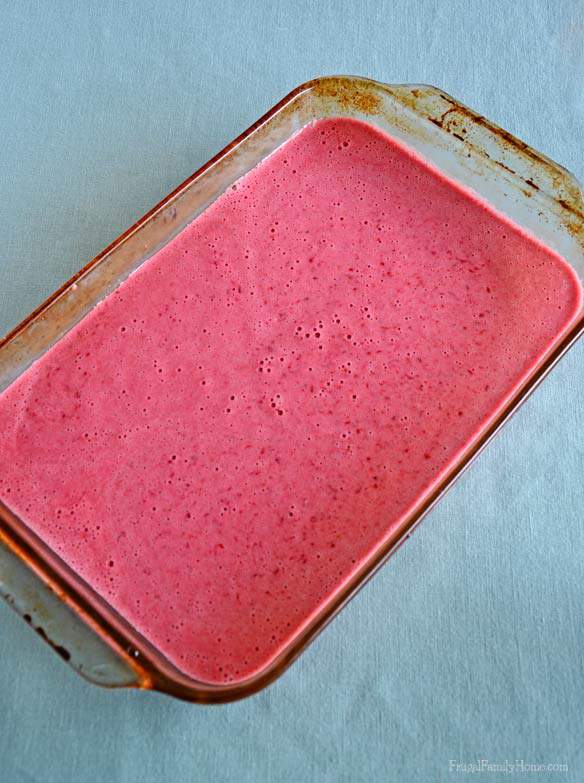 Then pour into a 9 by 13 inch pan and chill until cool and set. What you have in the end is a fluffy layer and a firm gelatin layer. If you like thicker gelatin squares, use a smaller pan.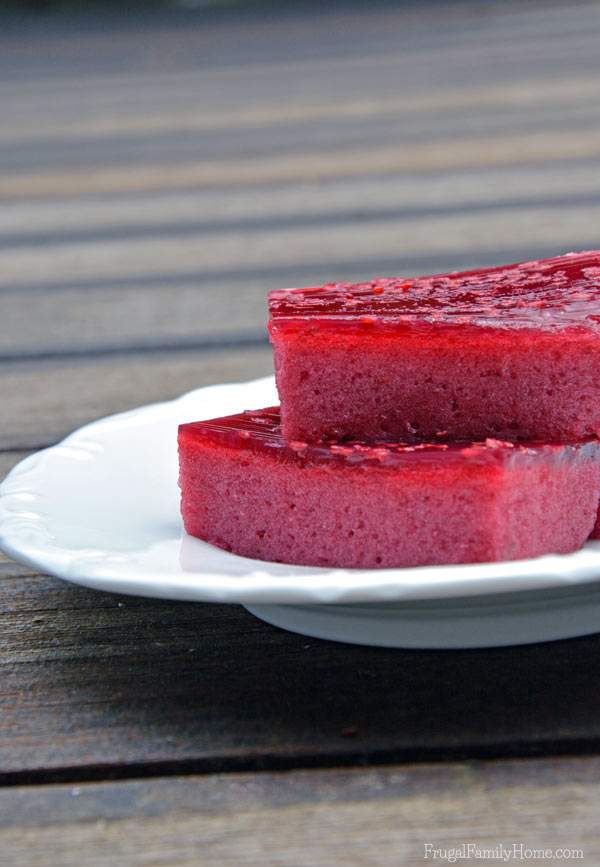 When ready to serve, just cut and serve. This is a yummy refreshing berry finger food no kid can resist. To make it even more fun, cut the gelatin into great shapes with small cookie cutters.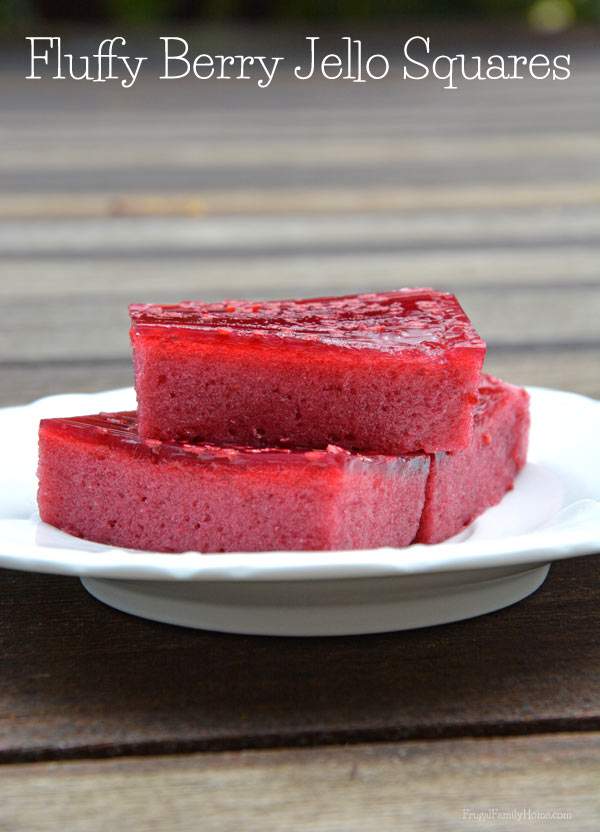 Fluffy Berry Jello Squares
Ingredients
4

cups

frozen Berries

thawed

1/2

cup

Sugar

5

tablespoons

Unflavored Gelatin

Hot Water
Instructions
Blend the berries in a 5 cup blender until they are pureed.

Add in the gelatin and sugar, blend again.

Pour in the hot water to fill the blender to the 5 cup mark, blend until mixed well. Be careful it might try to pop the top off the blender so be sure to watch it close.

Pour blended mixture into a 9 by 13 inch pan or a smaller square pan for thicker jello squares and chill until firm.

Cut into squares or use cookie cutters to make interesting shapes.

Enjoy!
What's your favorite flavor of jello?
Subscribe and you'll get Recipes
sent right to your inbox!
Click the button below and fill out the form.