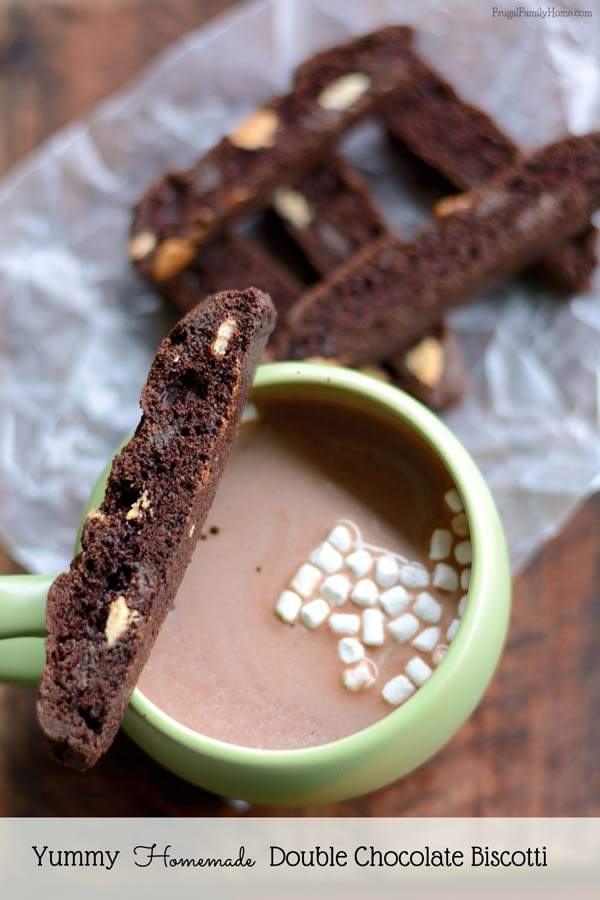 Do you love cookies to dunk in coffee, tea or hot cocoa? If you do this sweet treat is definitely for you. The first time I made this cookie recipe was when I was married, just a few years, probably 19 years ago. At the time of making them, I didn't even know what a biscotti was, but I have always been adventurous when it comes to baking and cooking.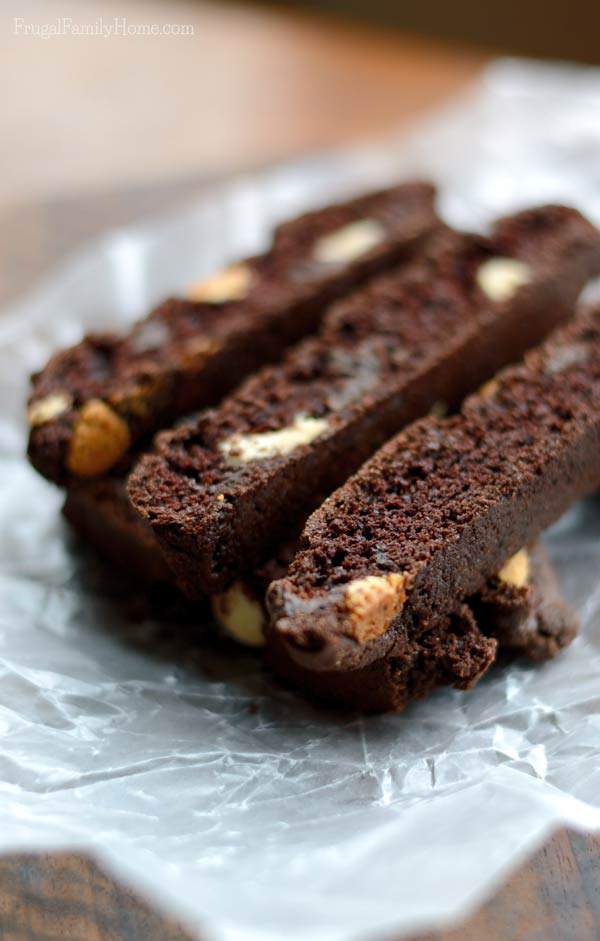 Making Biscotti really isn't hard all. Other than baking a second time, they are pretty much like making any other cookie. Also the homemade biscotti is so much fresher than the store bought ones.
The blend of the dark chocolate dough with the semi sweet chips and vanilla chips in this cookie, is so good. I have made these with vanilla chips and butterscotch chips, with the chocolate dough. They turned out really good. I'm getting hungry just thinking about them.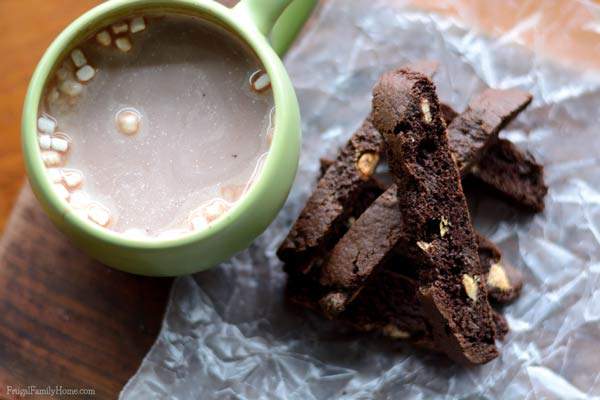 Biscotti cookies need to baked twice, once to set the dough in a loaf shape and a second baking to crisp them up. Be sure to let them cool after the first baking, that will help them slice easier and keep them from crumbling while you are cutting them.
But don't be sad, if a few crumble a little. Just make sure to include any crumbled cookies in the second baking, they are great for sampling. 😉
My kids really like to dip these cookies in soy milk or hot chocolate. They are nice and crisp and really stand up to dipping. Even my son who is really against soggy food items, will dip these crisp cookies.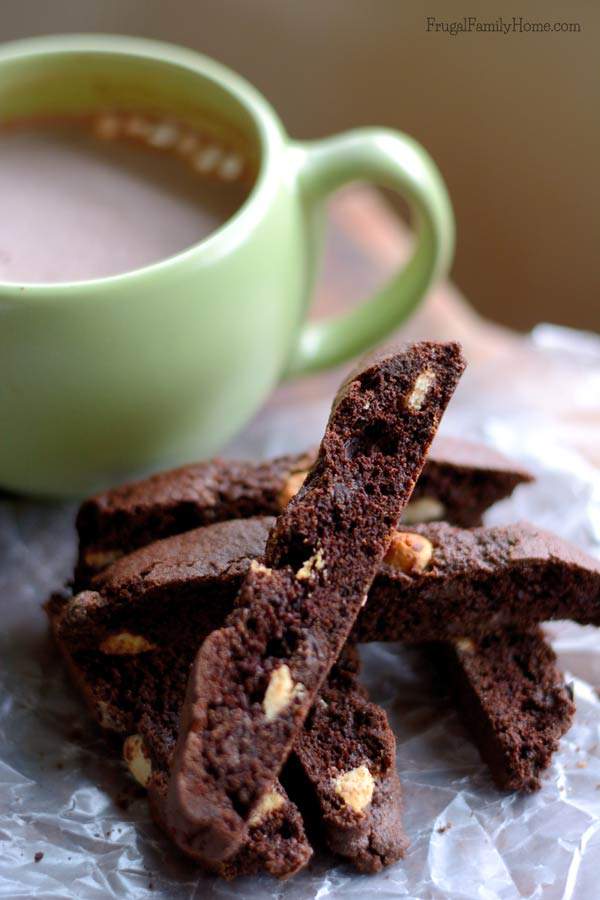 These would make a great gift too. Wrap up a few biscotti, in cellophane wrapping. Then make a batch of hot cocoa mix or include some of the recipients favorite coffee, to make a nice homemade gift.
If you're giving a whole batch to someone, place the biscotti in a nice gift box lined with tissue paper. Include a bag of coffee and wrap the box. By packaging it in a box makes it more elegant and keeps them from breaking too.
Here's the recipe so you can make some for yourself,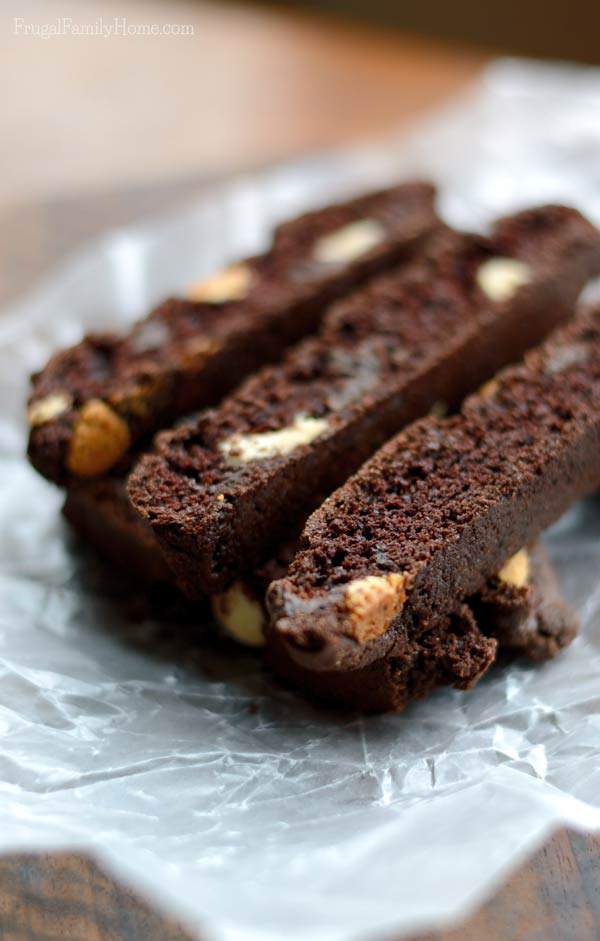 Double Chocolate Biscotti
A crisp cookie that is great for dipping in coffee or hot cocoa.
Ingredients
2/3

cup

Sugar

1/3

cup

Butter

1/4

cup

Cocoa Powder

2

teaspoons

Baking Powder

2

Eggs

1 3/4

cup

Flour

1

cup

Vanilla Baking Chips

1

cup

Semisweet Chocolate Chips
Instructions
In a bowl beat butter with a mixer.

Add to the butter the sugar, baking powder and cocoa powder and beat until well combined.

Beat in the two eggs. Then add in one cup of flour and beat. Add in the rest of the flour and stir to combine.

Stir in the vanilla and chocolate chips.

Roll the dough into two logs about 8-9 inches long. Place on a lined or greased baking sheet.

Flatten the dough slightly. Then bake 375 degrees for 20-25 minutes. Test for doneness by inserting a toothpick in the center, if it comes out clean they are done baking.

Cool on the cookie sheet for 45 minutes to 1 hour.

Cut each roll on the diagonal, into 1/2 inch slices. Place cut side down on cookie sheet.

Reduce oven temperature to 325 degrees and bake 7 minutes. Turn each cookie over and bake another 7 minutes.

Cool on a wire rack.
Notes
There is one hour of cooling time included in the total time for these cookies.
Have you ever tried making your own biscotti before?
Read more posts in this 31 days of Homemade Sweet Treats series.
Subscribe and you'll get Recipes
sent right to your inbox!
Click the button below and fill out the form.