I love sweet things to eat, but when you mix sweet and salty it is all that much better. Add in a little tart too and you have the start of something delicious. That's exactly what you get with today's sweet treat. Sweet, salty and just a hint of tart too.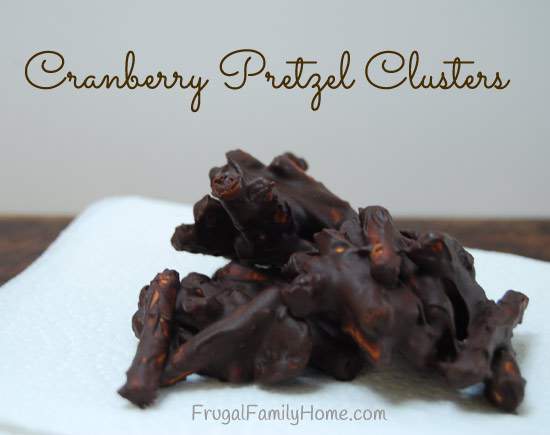 I have made chocolate covered pretzels before so I thought making crunched up pretzel sticks into a cluster would be just as good maybe even better. But when I spotted some dried cranberries in the cupboard I knew I needed to add some of them in too.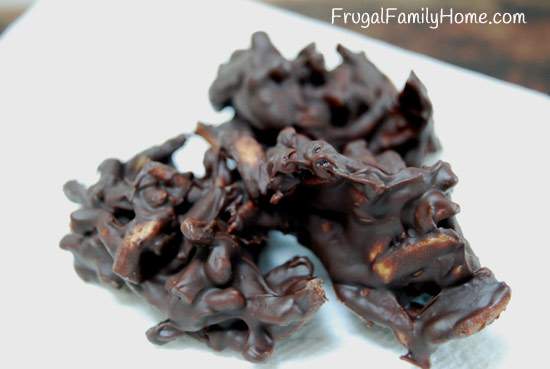 Today's recipe is another very easy recipe. It takes just a few steps and you have a great treat. I found that breaking the pretzel sticks into half or thirds works best. It makes it easy to drop them into mounds. If the pretzels are too long they don't mound up very well.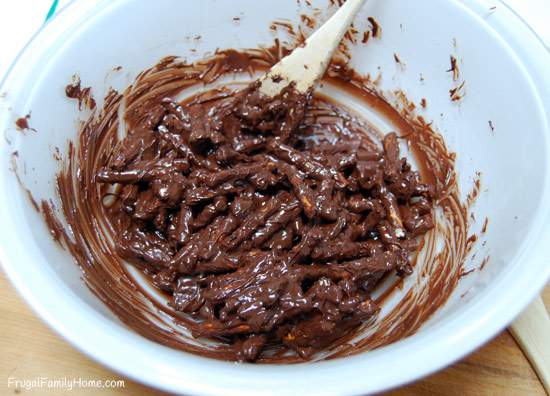 I melted the chocolate chips in the microwave. I always microwave for one minute to start then stir. Then I microwave for 30 seconds and stir. I repeat the 30 seconds then stir interval until all the chips are melted and smooth. If you microwave for too long of an interval you can end up scorching the chocolate chips and nobody wants that.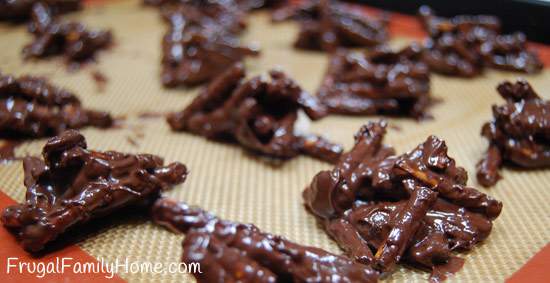 Stir in the cranberries and broken pretzel sticks into that delicious melted chocolate. I make sure to stir it well to distribute the chocolate well. I like to line a cookie sheet with a Silpat and drop them onto it. But if you don't have a Silpat wax paper works just as well.
After the chocolate is set they are ready to eat. I hope you enjoy these sweet-salty and slightly tart treats.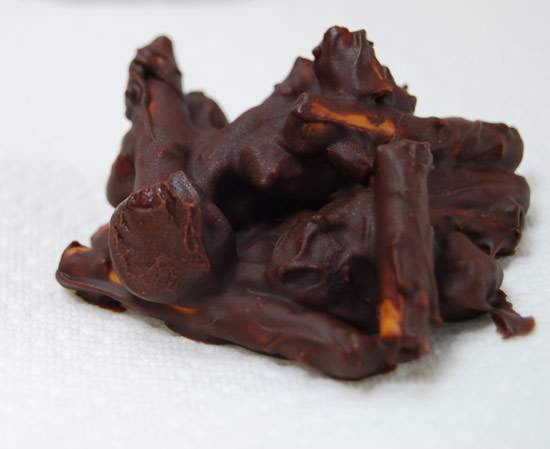 Chocolate Cranberry Pretzel Clusters
Ingredients
12

oz

Chocolate Chips

3

cups

Pretzel Sticks

broken in half or thirds

1/2

cup

dried Cranberries
Instructions
Place the chocolate chips into a microwave-safe bowl and microwave one minute and then stir. Microwave 30 seconds and stir again. Continue the 30 second then stir, intervals until the chocolate is smooth and melted.

Stir the broken pretzel sticks and dried cranberries into the melted chocolate and stir well.

Drop by the teaspoonful onto a Silpat or wax paper lined cookie sheet.

Cool until set and then enjoy.
What do you prefer, sweet or salty things to eat?
See more sweet treat in this series on the 31 days of Homemade Sweet Treats page.
Subscribe and you'll get Recipes
sent right to your inbox!
Click the button below and fill out the form.