This is a recipe my husband just loves. He could eat the chow mein noodles all by themselves and when I add chocolate to them he really likes them.
Our neighbor, that used to live across the street from us, first introduced us to these yummy treats. My husband likes to call them Cliff Cookies in honor of our neighbor.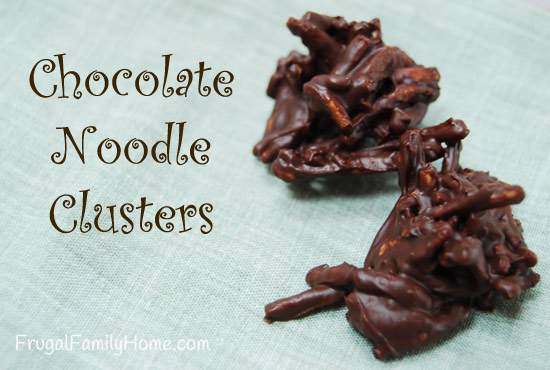 This is another easy peasy recipe. I think it only takes 15 to 20 minutes to make this recipe, not including the chilling time.
I usually purchase the smaller thinner noodles to add to these but I have used the thicker ones too. So whichever kind you can find will work just great.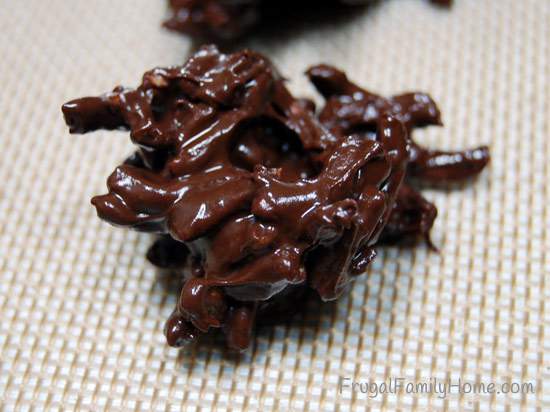 This is a great recipe for your kids to help with as it's easy enough for older kids to tackle themselves and also good for little ones to help with.
I melt the chocolate chips in the microwave in intervals, so the chips don't get scorched. So you might need to monitor the kids during the melting process just in case they get a little impatient. I've scorched the chocolate chips before being too lazy to stop and stir. 🙂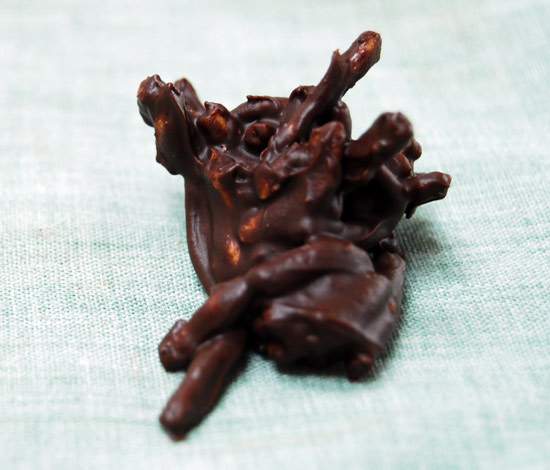 Chocolate Noodle Clusters
Ingredients
12

oz

Chocolate Chips

3

cups

Chow Mein Noodles
Instructions
Place the chocolate chips into a microwave-safe bowl and microwave for 1 minute. Then stir and microwave another 30 seconds and stir. Continue to microwave 30 seconds and stir until the chocolate chips are smooth.

Once the chocolate chips are melted and smooth, stir in the chow mein noodles.

Mix well to make sure all the noodles are covered in chocolate.

Then drop the mixture by the teaspoonful onto a wax paper lined cookie sheet or onto a cookie sheet lined with a Silpat.

Let sit until set and firm. These can be chilled in the refrigerator to speed up the process.

Enjoy!
Do you have a favorite sweet treat recipe? Share your favorite with me in the comments below.
See more posts in this series on the  31 Days of Homemade Sweet Treats page.
Subscribe and you'll get Recipes
sent right to your inbox!
Click the button below and fill out the form.