Today's homemade sweet treat is an easy recipe to make. These little balls of peanut butter dipped in chocolate are very much like peanut butter cups but just in a ball shape.
This recipe is a good one to get the kids to help with, they can roll the peanut butter mixture into balls.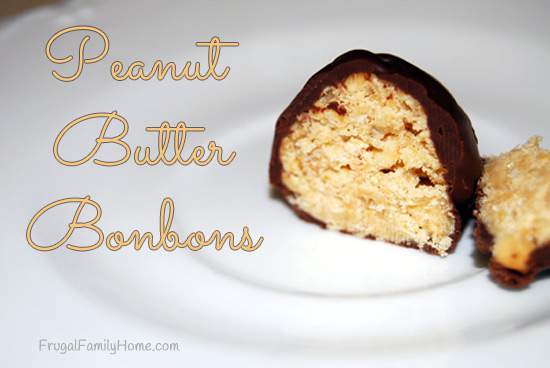 These have an extra little crunch to them because they have rice cereal added. I used to make them without the rice cereal but when I had a similar candy at a Christmas party I knew that the rice cereal would be a great addition to my usual peanut butter balls recipe.
After adding the cereal the mixture can be a little dry and hard to stir with a spoon. So I usually stir as long as I can and then I use my hands the make sure everything is mixed in well.
Once the mixture looks good then I roll them into balls and place them on a wax paper lined cookie sheet.
Whenever I will be dipping a candy I like to freeze it first just so it will hold up to the heat better.
So I will pop these yummy peanut butter balls into the freezer for at least 30 minutes to an hour, or at least until they are firm.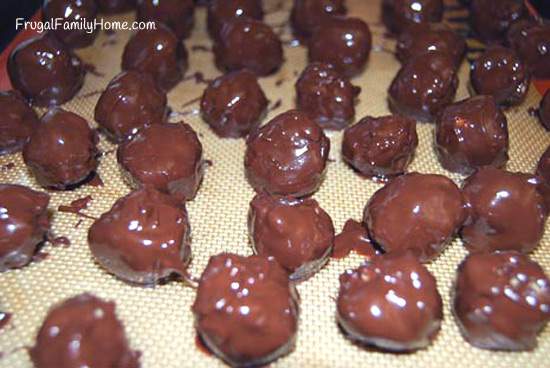 While the balls are chilling in the freezer, I will get the chocolate ready. I like to use a mix of candy coating and chocolate chips.
For this recipe, I mix in a bag of semisweet chocolate chips with about 4 oz of chocolate candy coating. By mixing in the chocolate coating I don't have to worry so much about tempering the chocolate.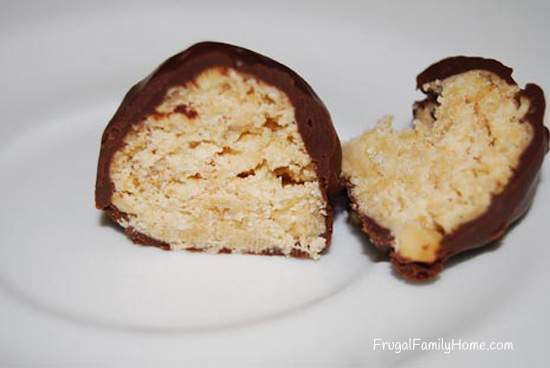 I melt the chocolate in a small pan over low heat, but a double boiler works well if you have one.
To dip the chocolate I use a fork and let the excess chocolate drip off before returning the candy to the wax paper lined sheet. Once the chocolate has set, they are ready to enjoy.
Here's the printable recipe…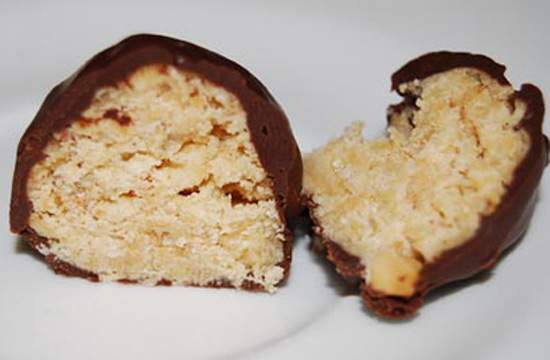 Peanut Butter Bonbons
These peanut butter balls have some rice cereal added which give them a little extra crunch.
Ingredients
1

cup

Peanut Butter

6

tablespoons

Butter or Margarine

2

cups

Powdered Sugar

1

cup

Crispy Rice Cereal

optional

12

oz

Semisweet Chocolate Chips

4

oz

Chocolate Candy Coating
Instructions
Beat the butter and peanut butter together with a mixer.

Gradually add in the powdered sugar and mix well.

Stir in the crispy rice cereal with a spoon. You may need to use your hands to get the cereal all mixed in well.

Shape the peanut butter mixture into 1 inch balls and place them on a wax paper lined cookie sheet. Freeze for 30 minutes to one hour.

In a saucepan over low heat or in a double boiler melt the chocolate chips and candy coating.

Using a fork dip the peanut butter balls into the melted chocolate. Let the excess chocolate drip off and then return to the wax paper lined cookie sheet.

Let the bonbons sit until the chocolate coating is set.
What is your favorite candy to make as a treat?
Read more posts in this 31 days of Homemade Sweet Treats series.
Subscribe and you'll get Recipes
sent right to your inbox!
Click the button below and fill out the form.