I really like the combination of peanut butter and chocolate like in Reese's peanut butter cups.
So I thought it would be great to be able to make a bark recipe that was similar to those great peanut butter cups. That is how this recipe came about.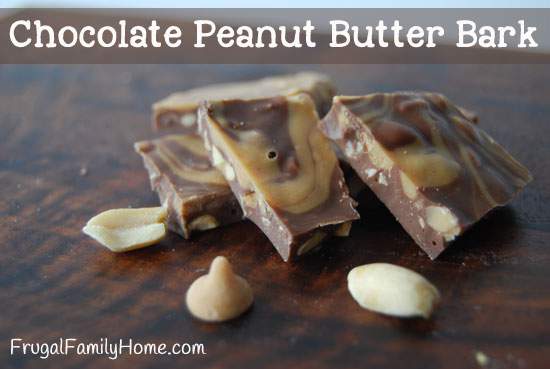 I started with the chocolate almond bark as the base of this recipe. I think you could also use milk chocolate chips too if you can't locate any of the almond bark.
I stirred in some chopped peanuts. But you could use any nut you like.
For the peanut butter in the recipe, I used peanut butter chips. I thought they would be a good consistency to mix in with the chocolate and it turned out great.
I like to swirl the melted peanut butter chips in with the chocolate so you get a bit of chocolate and peanut butter flavor in each bite.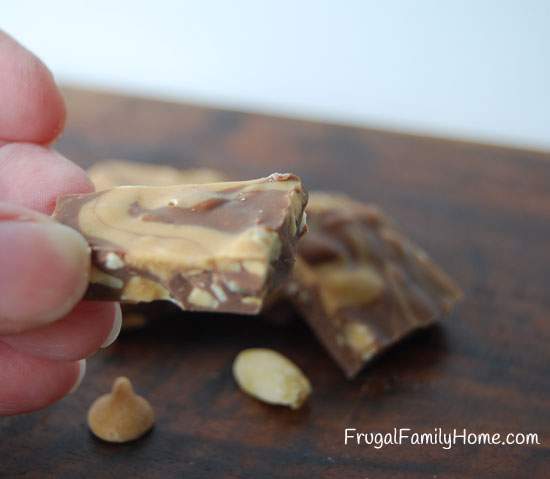 Doesn't that just look so good? This is an easy recipe with only three ingredients.
It's also a quick recipe with the most time spent waiting for the bark to cool. You can speed up the process of cooling by placing the cookie sheet with the bark into the refrigerator.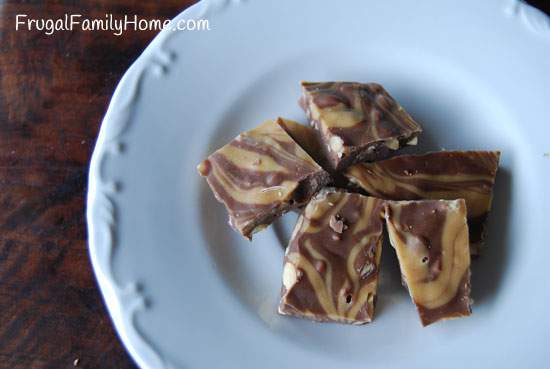 Chocolate Peanut Butter Bark
Ingredients
12

oz

Chocolate Almond Bark or Milk Chocolate Chips or a mix of both

1/3

cup

Peanut Butter Baking Chips

1/2

cup

chopped Peanuts
Instructions
In a microwave-safe bowl, microwave the chocolate bark or chocolate chips for one minute and then stir. Microwave for another 30 seconds, then stir. Repeat the 30-second interval with stirring until the chips are melted and smooth.

Add the chopped peanuts to the melted chocolate and stir well.

Spread the chocolate mixture onto a wax paper lined cookie sheet and set aside.

Melt the peanut butter chips as you did the chocolate in the microwave.

Drop the melted peanut butter chips by the teaspoonful onto the chocolate bark. Then swirl in using a knife.

To swirl just make two or three passes through the candy with the knife horizontally then vertically. Be careful not to over mix.

Let cool until hardened, you can chill the bark in the refrigerator to speed up the cooling process.

Once the candy is firm, break into serving sized pieces.
I hope you enjoy making this recipe. It would be great to give as a gift. I know I will be including it in my Christmas cookie and candy plates this year.
What's your favorite cookie or candy to make?
See more posts in this series on the  31 Days of Homemade Sweet Treats page.
SaveSave
Subscribe and you'll get Recipes
sent right to your inbox!
Click the button below and fill out the form.