Today's homemade sweet treat recipe is another super easy fudge recipe. I have just recently discovered frosting fudges and I love how easy it is to make your own recipe.
I had a few neighbors and friends taste test this new recipe out just to make sure it was good enough and they all agreed it was yummy.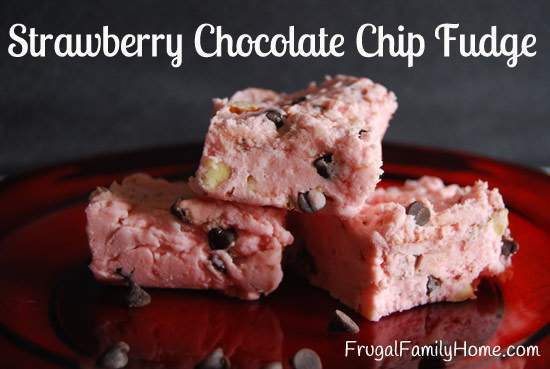 Even if you have never made any kind of candy before you have got to give this frosting fudge recipe a try. It is so very easy, but so yummy. It takes just a few ingredients that you might already have in your cupboard, right now.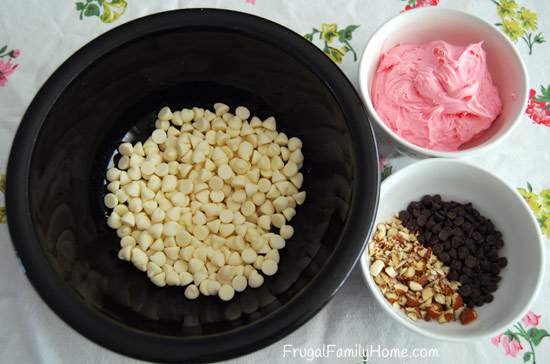 To make the strawberry almond chocolate chip fudge you will need some vanilla chips, strawberry frosting, chopped almonds and some mini chocolate chips. I didn't try this recipe with regular chocolate chips but if that is all you have on hand I would chop them up a bit.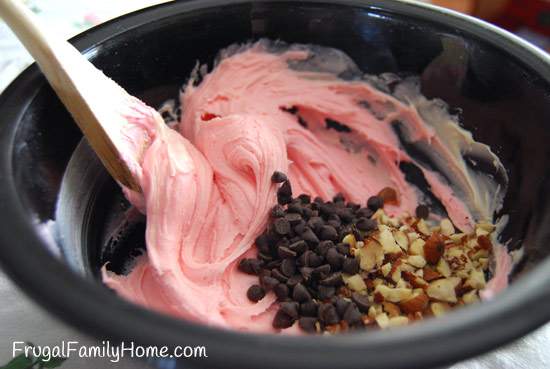 After melting the vanilla chips in the microwave, I stirred in the strawberry frosting.
Once those were well incorporated and the mixture had cooled just slightly, I added the chocolate chips and the almonds. I didn't want to add them too early, as I was afraid the chocolate chips would melt and streak my fudge.
So if you think the fudge is a little warm let it sit for a minute then add in the chocolate chips.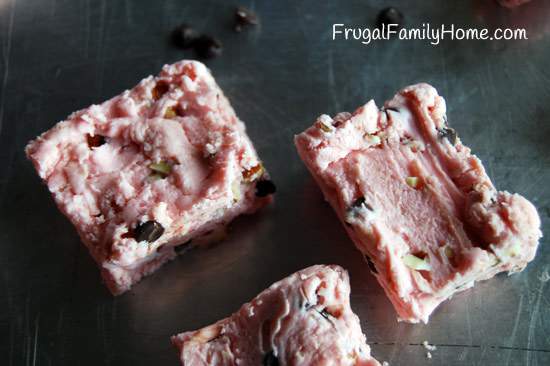 If you want thicker fudge then spread the strawberry fudge mixture into an 8 or 9-inch square pan that has been greased. If you would like thinner pieces then use a 9 by 13-inch pan. I went with the thicker fudge look.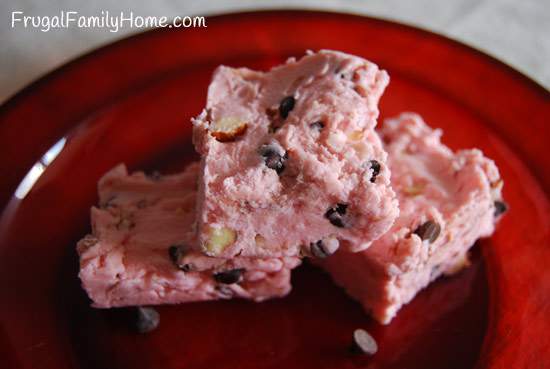 Now comes the hard part, waiting for the fudge to cool so you can cut it and enjoy some. I did chill mine in the refrigerator but it will set up at room temperature too, although it will take quite a bit longer. 🙂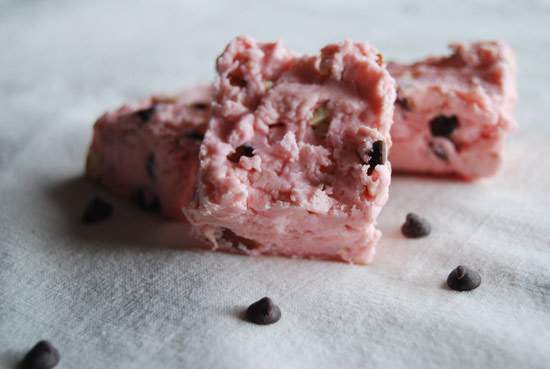 Strawberry Almond Chocolate Chip Fudge
An easy frosting fudge that has a delicious strawbery flavor with almonds and chocolate chips.
Ingredients
1

container of Strawberry Frosting

12

oz

Vanilla Baking Chips

1/3

cup

Chopped Almonds

1/3

cup

Mini Chocolate Chips
Instructions
Place the vanilla baking chips into a bowl and microwave on high one minute. Then stir, microwave 30 seconds and then stir. Keep repeating the cycle for 30 seconds and stirring until the chips are melted and smooth.

Stir in the frosting into the melted vanilla chips and mix well.

Add the chopped almonds and chocolate chips and stir to combine.

Spread into a greased 9 by 13-inch pan or 8 by 8-inch pan depending on the thickness you want.

Let cool until firm. To speed up the cooling process place the fudge to cool in the refrigerator.

Cut into serving sized pieces.

Enjoy!
Nutrition
Have you ever made frosting fudge before? How did it turn out if you did?
Subscribe and you'll get Recipes
sent right to your inbox!
Click the button below and fill out the form.