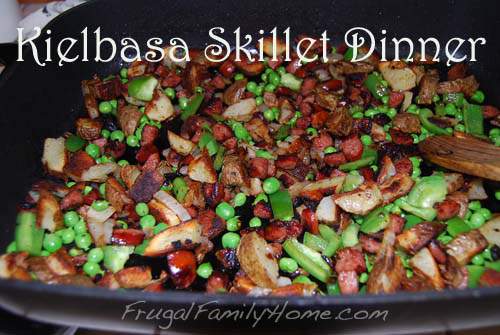 I like to have good dinner recipes that don't require heating up the oven to make in the summer. We do eat a lot of salads because we grow our own lettuce and salad fixing in our garden. We grill often during the summer too. I make up freezer packages which contain marinated meat so all I have to do is thaw and grill or drop them into a crock pot. Today I wanted to share a recipe I made up on a whim when I had some Hillshire Farm Rope Sausage. It turned out so well that I make it regularly for us at home now.
Here is how I make it
I cut up a baked potato per person. I bake the potatoes in the microwave to keep from heating up the house. I cut up one onion and one green pepper.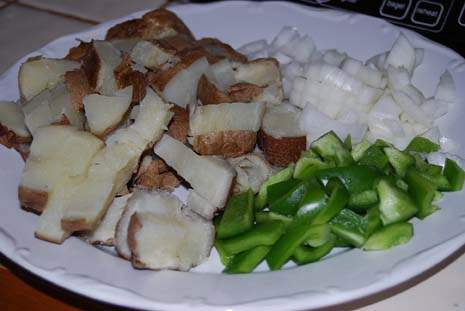 Then I cut up the sausage into bite size pieces. I heat up my electric skillet and put the sausage in. I cook it on med-high for a few minutes and then add the onions. I then cook them until the onions are soft and the sausage is browned.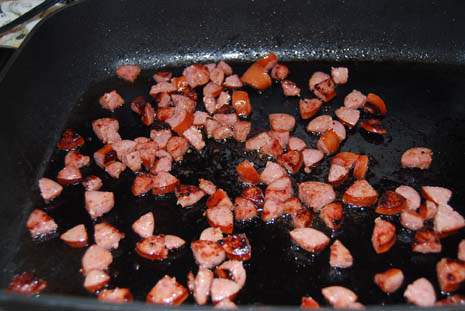 Once the sausage and onions are done cooking I remove them from the pan. I leave the fat that has rendered in the pan and add the potatoes. I cook them on each side until browned. I had to add a little oil to the pan as there was not enough fat from the sausage but depending on your sausage you may not need the extra oil.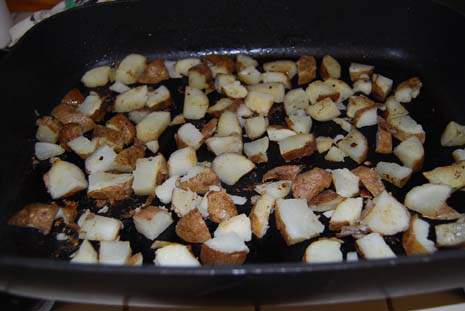 Once the potatoes are almost done cooking add your green pepper. I also added some shelled peas from our garden to this recipe but if you don't have peas just use the peppers. You can also add other vegetables you like at this point. Cook until the vegetables are tender crisp.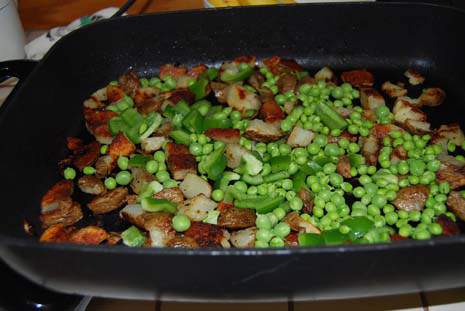 After vegetables are done add back in the sausage and onion. Then heat through and serve. We eat this dish with some fruit and a few cut up vegetable sticks. The kids and adults in our family equally like this dish. It is a quick and easy dinner on a hot summer night.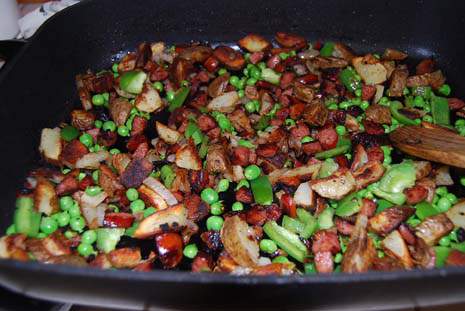 I hope you enjoy this summer skillet dinner as much as we do.
Kielbasa Skillet Dinner (serves 4-5)
1 Kielbasa Rope Sausage cut up into bite sized pieces
4 baked potatoes cut up
1 onion chopped
1 green pepper chopped
Other vegetables you need to use up (optional)
Oil (only if needed)
In a skillet on med-high heat cook sausage for a few minutes. Add in onion and cook until sausage is browned and onions are soft. Remove the sausage and onions from the skillet. Leave the fat rendered from the sausage in the pan and add the baked potatoes. Cook on each side until browned. Then add green peppers and optional vegetables and cook until vegetables are tender crisp. Add back to the pan sausage and onions and heat through. Serve and enjoy.
 
Subscribe and you'll get Recipes
sent right to your inbox!
Click the button below and fill out the form.