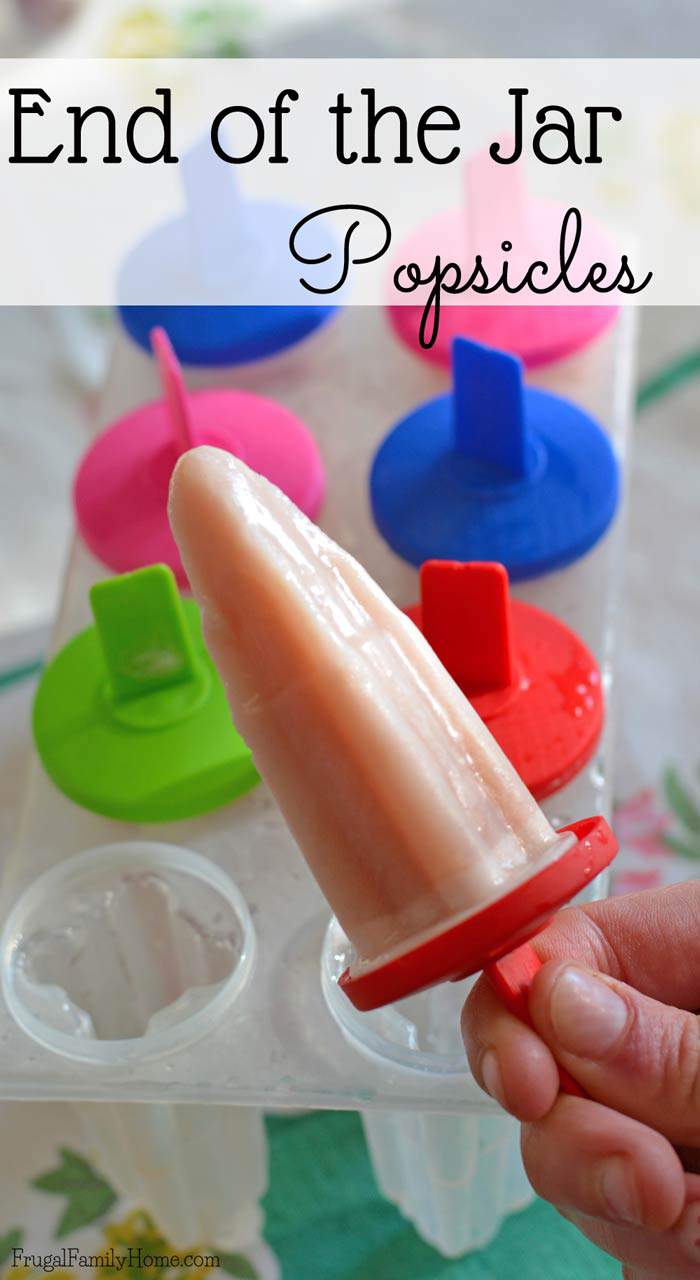 Popsicles are one of those items I have a hard time buying at the store. I know it's nice to have them on hand for a quick and easy dessert in the summer. They are not that expensive and they are dairy free, all good things for our family. But I have a hard time paying so much money for sugar, water and food coloring. Which is what most of them are made of.
Instead of purchasing the store bought popsicles we made our own with the small bits of leftover jam in the bottom of the jar. Or in our case, bottom of the box jam, since I freeze our jam in square freezer containers.
I don't like to waste even the littlest amount of our homemade jam. When we just have a very small amount in the box. I will have the kids help me make end of the jar popsicles.
I made a quick video to show you just how to make them. If you prefer to read the direction scroll on down.
How to Make End of the Jar Popsicles
Making the popsicles is super simple. Fill the jar or container with milk, soy milk, water, juice or even tea. Give it a shake to remove all the jam stuck to the sides of the container.
In the video above our jam didn't want to let go of the side of the container, it was really stuck. My son tried to shake it up really well, he even tried shaking his head along with the jam but it still wouldn't come lose for him. I gave it a try and then it squirted out the top a little. Be sure to shake over the sink or over a pan, like a cookie sheet.
Once all the jam is mixed in with the liquid, add it to the popsicle mold. Be sure to pour a little more slowly than I did so they don't overflow. Mine went up and over in the video.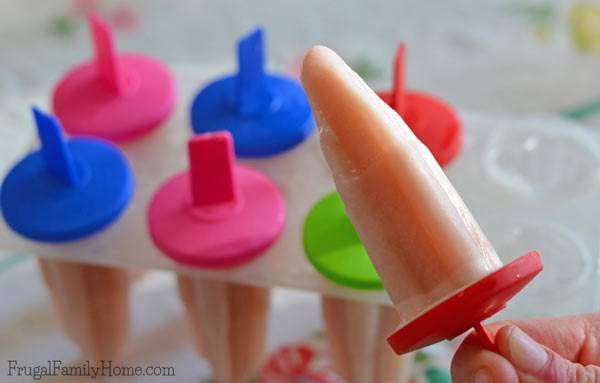 My family really enjoys these cream jam popsicles. They end up with a nice flavor and a lot less sugary than the ones from the store.
My kids are not used to the sugary ones from the store. But if your kids are used to eating the ones from the store, you might try adding in a little sugar or use juice to mix with jam. That will give them more flavor like the store-bought one.
Making these with water can work well, but you need to make sure to have a little extra jam leftover in the jar. Or add a small amount of water, so they aren't too watered down.
I like that these are really easy to make and I know just what is in them too. The next time you have some jam left over in the jar, give this recipe a try and see how your family likes them. If you don't have popsicle molds you might try adding the milk mixture to a smoothie , I am sure that would be good.
Variation
Peanut Butter and Jelly Popsicles
If you have just a little peanut butter at the end of the jar, add a scoop of jam and some milk(or milk alternative) and shake. Then add to popsicle molds to make a yummy peanut butter and jelly version of these popsicles.
Subscribe and you'll get Recipes
sent right to your inbox!
Click the button below and fill out the form.