Convenience foods are great to have on hand for a busy day or busy morning. Because of my family's allergy to milk most convenience items are out for us. I usually cook from scratch or search out brands that I know are safe for my family, but those can also be a little more spendy.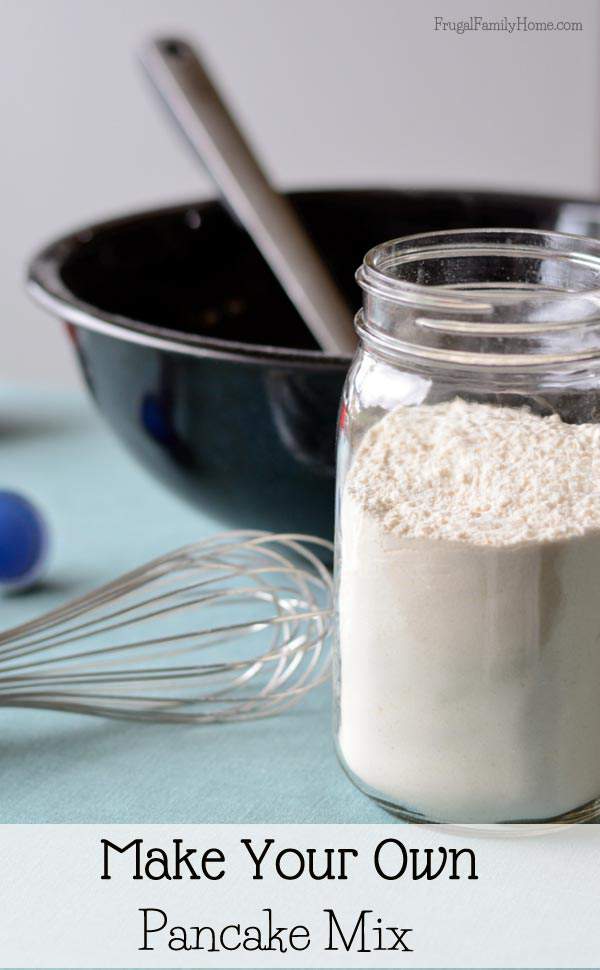 You may be thinking I don't have time to cook from scratch. But what if you could have everything already and just dump, stir and cook. Wouldn't that be easy?
Over the years, I've come up with a few Make Your Own recipes and mixes. They help me to save time and money. We eat pancakes often. I'll make a double or triple batch almost every Saturday morning. To make cooking from scratch easier, I will make my own pancake mix.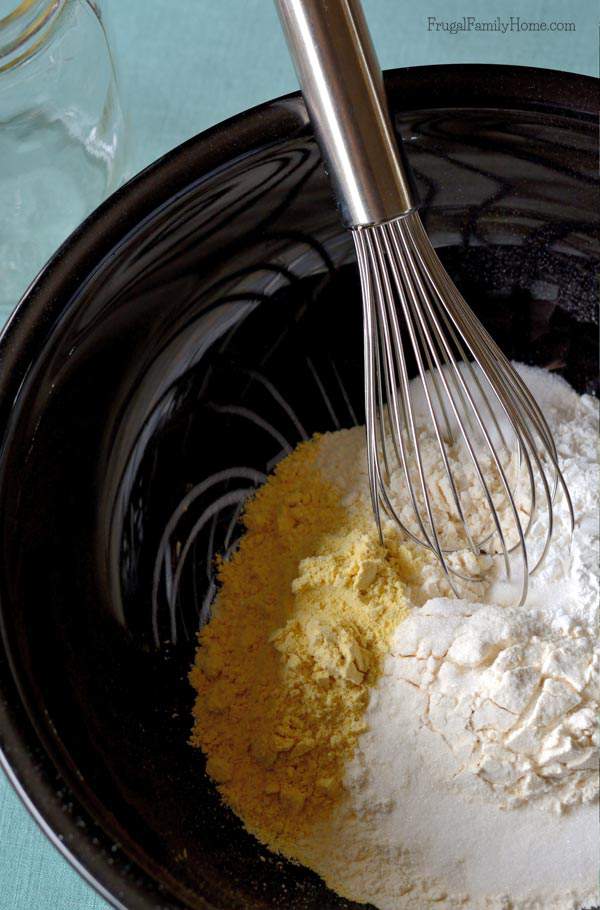 In my pancake mix, I don't use powdered milk. It's more expensive for the dairy free powdered milk, so I just use the fresh dairy free milk we have on hand. To make the pancakes more frugal, because even on sale the soy milk can be $4 a gallon, I will use half water for half of the milk.
I've been watering down the milk for years now and it doesn't seem to affect the pancakes at all. I also use soy flour in place of the eggs in my mix. But if you don't want to use soy flour, you could always purchase powdered eggs to add to the mix or just add the eggs to the liquid when mixing the batter. Either way will work well.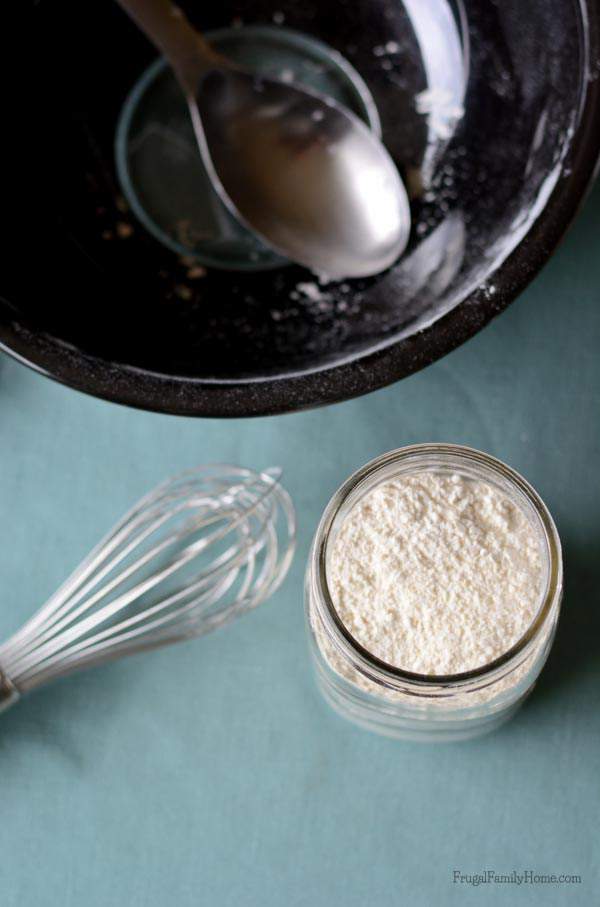 The recipe below is for one batch of pancakes. If you just want to dump and stir, it's best to store the pancake mix in jars, containers or zip baggies. If you want a big container you can just dip out of as needed then double or triple the recipe below and store it in a large jar. When you are ready to make pancakes all you have to do is measure out the amount you need and add the liquid ingredients.
I find storing the mix in meal size portions easier. I also like to write on the container what other ingredients to add to the mix. That way there is no searching for the recipe.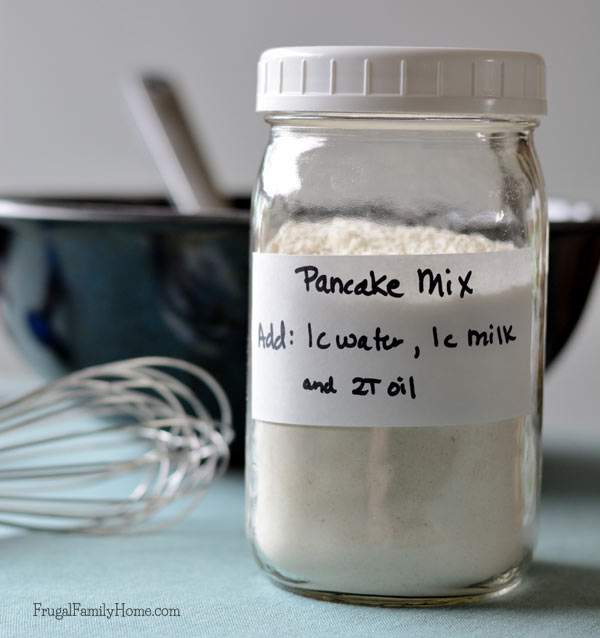 When mixing the pancake mix, it's important to make sure you mix it well. This is especially important if you are making a big batch to store in a large container. You don't want all the baking powder in the bottom so you end up with flat pancakes.
To mix the pancake mix well, I find that using a whisk works really the best. The whisk seems to distribute the ingredient nice and evenly, much better than a spoon. Here's the recipe so you can make some pancake mix of your own.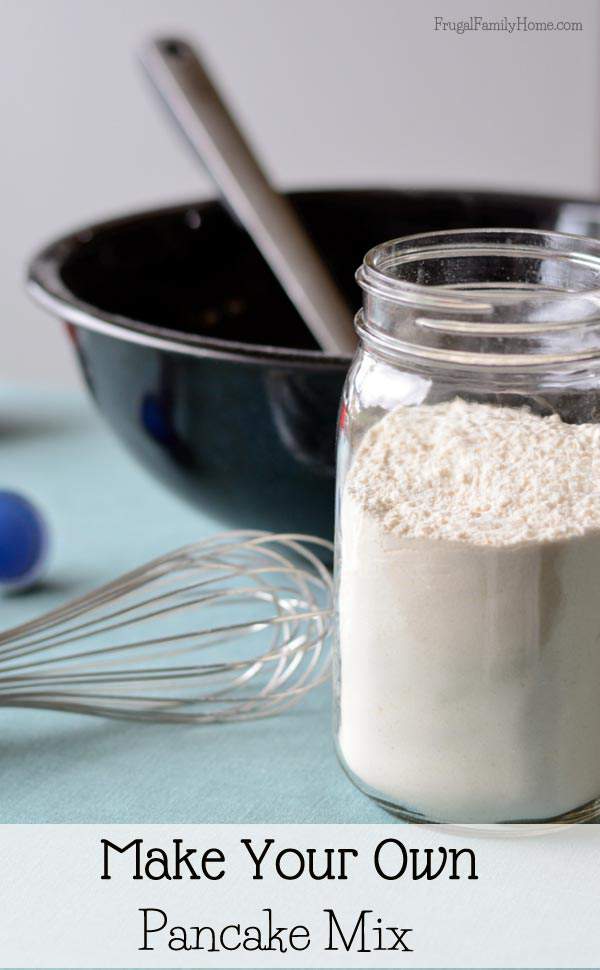 Pancake Mix
This recipe is for one batch of pancake mix. Double or triple it to have more on hand and ready to go.
Ingredients
2

cups

Flour

2

tablespoons

Sugar

2

tablespoons

Baking Powder

2

tablespoons

Soy Flour

or leave it out and add two eggs to each mix

1

teaspoons

Salt
Instructions
In a large bowl combine the ingredients and with a whisk, mix the dry ingredients well.

Store in an airtight container.

Make sure to label the container so you know which mix it is.
To Prepare
Add 1 cup of water and 1 cup of milk (or dairy free milk) to a bowl. Add in 2 tablespoons of oil and 1 teaspoon of vanilla. Now is the time to add the 2 eggs if you didn't use the soy flour in the mix.

Add the mix package to your wet ingredients and just stir to combine. Being careful not to over mix.

Spoon batter onto a hot griddle or skillet and let cook on one side until golden brown. Flip and cook on the other side until cooked through.
What kind of mixes do you make yourself instead of purchasing them?
See all the posts in this series,