My great grandma used to make the most yummy egg noodles for me when I was young. She would make a huge pot and have it simmering on the stove when we came to visit. They were so good, egg noodles are definitely a comfort food for me. Partly because of the memories and partly because of the wonderful flavor of them.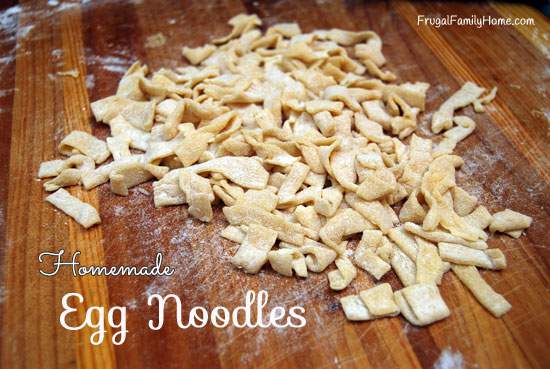 You don't need any fancy kitchen accessories to make these egg noodles. All you need is a place to roll them out, I use my cutting board. A rolling-pin and large sharp knife or pizza cutter. They are really quite easy to make and so worth the effort.
I love this recipe because it is so simple. Just three ingredients which you probably have on hand in your kitchen, eggs, flour and salt.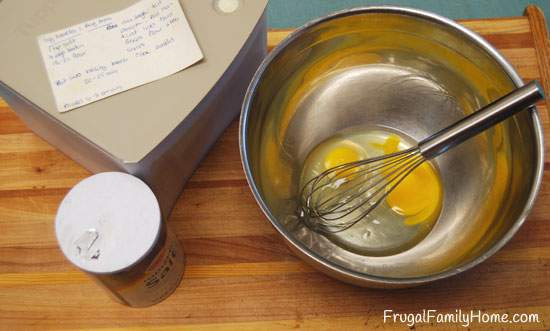 I start out making the recipe by whisking the eggs with the salt and then stirring in the flour until most of the flour is moistened. To get the dough to come together more I kneaded it just a few times (3-5) on a well floured board. The egg dough can tend to be sticky so be sure to use enough flour to keep it from sticking to your board.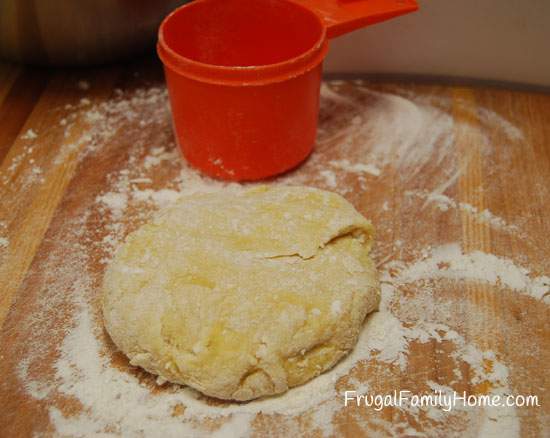 Before you start to roll out the dough be sure to cut the dough ball in half and work with just one ball at a time. By working with a smaller amount of dough you can get it really thin, which is so important as these homemade noodles really plump when you cook them.
Make sure to use lots of flour to keep the dough from sticking to the board. I have so many times been too light on the flour and when I go to pick up the cut noodles they are stuck to the board and I have to scrape them off and try again.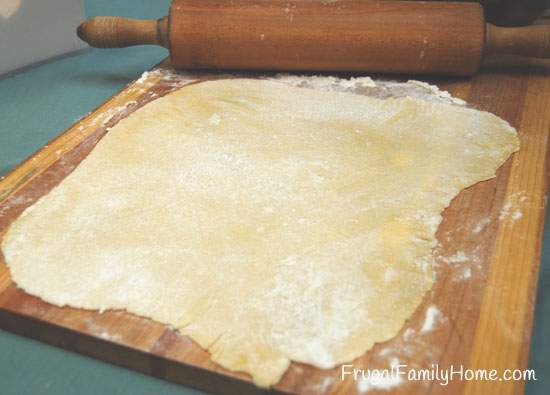 I like to use my pizza cutter to cut the noodles not too wide and then into smaller lengths. See the photo below to see the size I like to make my noodles. I'm not very good at cutting them straight but no one seems to mind when they are eating them up.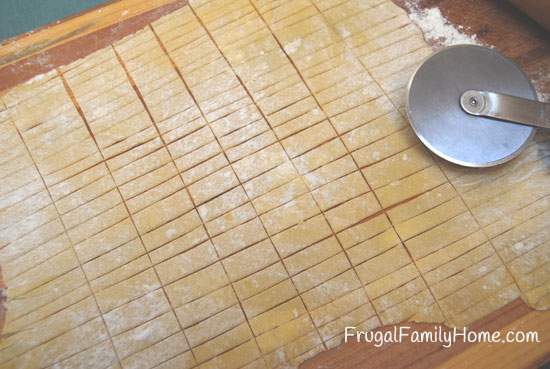 Once the noodles are cut before you pick them up, dust them with flour. Also be sure to toss them with a little flour to keep them from sticking. If you don't you will end up with a ball of noodles.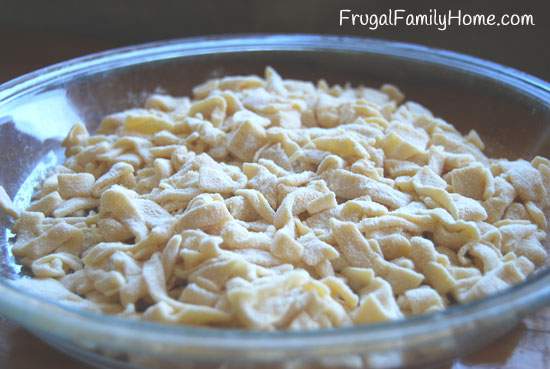 To cook the noodles I place them in boiling broth and cook them for about 20 to 25 minutes, until they are plump and cooked all the way through.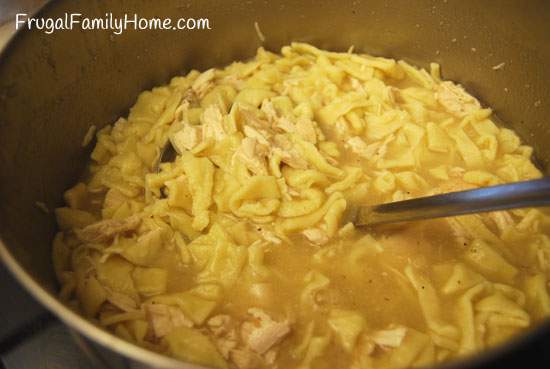 For this batch I thawed some of my homemade chicken broth and cooked the noodles in the broth. Then I added some cooked chicken breast to the noodles. These noodles were so good, we didn't have any leftovers at all. My son, who can at times be a picky eater, ate two bowls.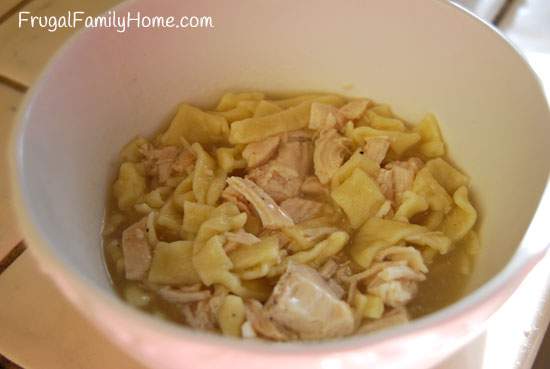 In the past, I have made these noodles with beef broth and leftover beef roast. Any leftover meat added to the noodles and broth makes for a nice hearty meal.
When I was growing up my mom always served these with mashed potatoes. I would spoon the yummy noodles over my mashed potatoes and eat them up. Now I usually just serve them in a bowl with a salad and fruit on the side. These noodles are a great meal for a cold and rainy fall day.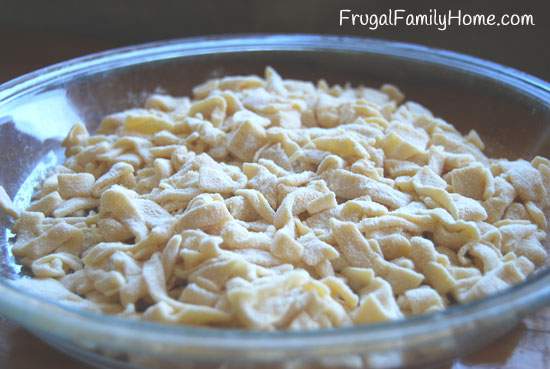 Homemade Egg Noodles
This recipe comes from my great grandma and brings back so many wonderful memories for me. I would love going to my great grandma's house and smell the wonderful aroma of these noodles simmering on the stove.
Ingredients
2

Eggs

slightly beaten

1/2

teaspoon

of Salt

1

cup

Flour

plus more for rolling out the noodles

4

cups

of broth for cooking the noodles
Instructions
Making the Noodles
Mix the eggs and salt.

Stir in the flour then turn the dough out on a well floured board.

Knead the dough 3-5 times, then cut the dough in half.

Roll the first piece of dough out very thin. Then cut into strips about 1/4 inch wide and then cut the strips crosswise about one inch long.

Sprinkle the cut noodles with flour and then toss with flour.

Repeat for the second dough ball.
To Cook Noodles
Bring the broth to a boil.

Drop the noodles into the broth and stir.

Simmer for about 20-25 minutes or until cooked through.

If you have leftover meat add it to the noodles and heat through.

Serve hot, enjoy!
Have you ever tried making homemade noodles before?
This post is part of the Make it from Scratch Challenge hosted by Crystal of Money Saving Mom.