Homemade potato chips is something I've been wanting to give a try but just hadn't taken the time to actually do it. So I decided today was the day.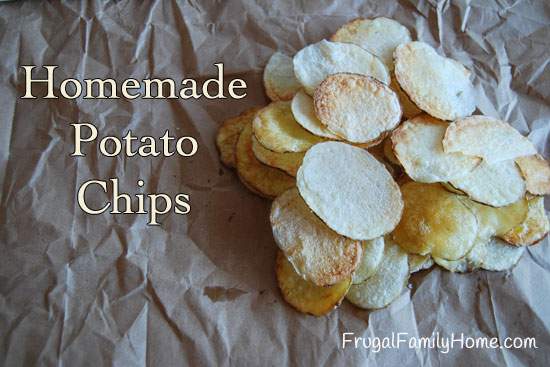 I had seen quite a few recipes for microwave potato chips, so I took the common elements of each recipes and made up my own technique. One of the steps included in most of the recipes I found was to cut the potatoes thin. So I made sure to use my mandolin (affiliate link) to slice them up.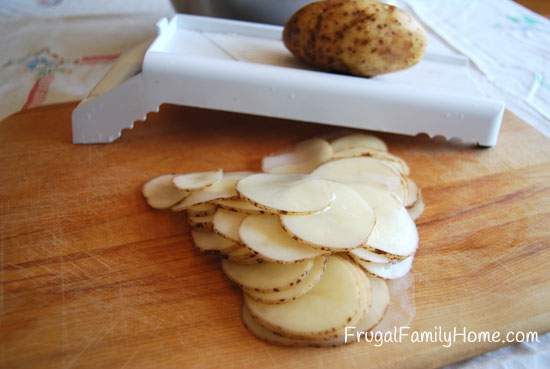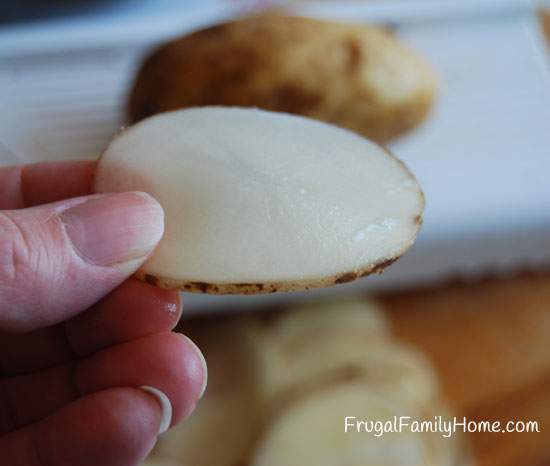 I also found that not only soaking the potatoes but soaking them in ice water really helped. The first two batches I just had in cold water but after I added ice to the soaking water the chips seemed to crisp up a little better.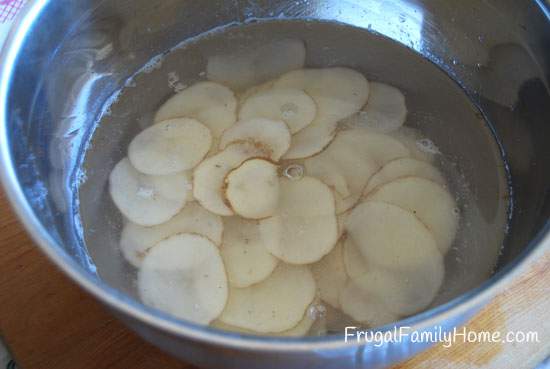 I also noted a few of the recipes called for spraying each batch of the chips and others recommended turning the chips half way through and then cooking on half power. I opted for the easier route of full power for 4-5 minutes and no flipping. I also oiled the pie plate I was cooking them in, instead of spraying each batch of chips. I did need to add a little more oil to the pan after a few batches but used much less oil than traditional store-bought chips I'm sure.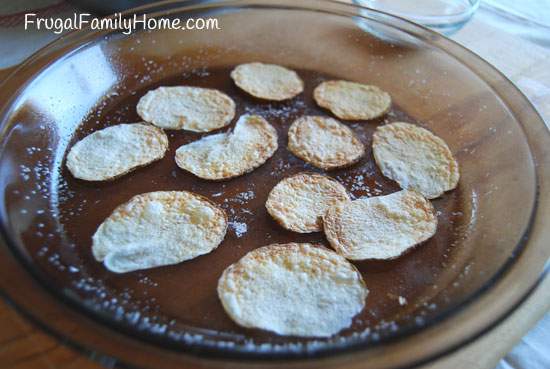 How did they taste?
These chips were delicious. I sliced up two potatoes and cooked up about 3/4 of them in quite a few batches. That is one problem with microwave chips is you can only prepare about 8-12 at a time, so this technique isn't really that good for a big party, but for a snack or lunch side dish it's great.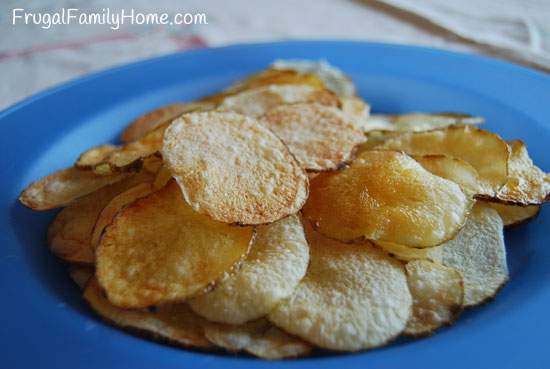 The chips had a nice potato flavor and were very nice and crisp. So much fresher tasting than the bagged chips from the store. We will definitely be making these again. I might even try to figure out how to make a big batch in the oven, if I do I will be sure to post about it.
Want to make some for yourself? Here's the recipe or well maybe I should say technique, I used to make our yummy crisp homemade microwaved potato chips.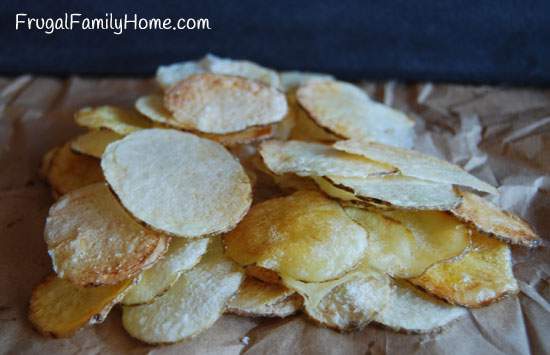 Homemade Potato Chips
These microwaved potato chips are really crisp and have a nice fresh potato flavor.
Ingredients
2

Potatoes

sliced very thin

Salt or other Seasoning to taste

Olive oil
Instructions
Slice the potatoes very thin, I used a mandolin to slice mine.

Place the sliced potatoes into a bowl of ice water and chill for about 10 minutes.

Take out 8-10 slices of potato and press dry between paper towels or a clean towel.

Grease a casserole dish with olive oil. I used a glass pie plate and it worked well.

Place the dry potato slices into the pie plate and sprinkle with salt or other seasonings.

Microwave on high for 4-5 minutes until the potatoes get crisp and slightly golden in color.

Repeat the process until all the potato slices are cooked.You may need to add more olive oil after about 3-4 batches.

Enjoy!
Do you think making your own potato chips is something you will give a try?
This post is part of the Make it from Scratch Challenge hosted by Crystal of Money Saving Mom.
Subscribe and you'll get Recipes
sent right to your inbox!
Click the button below and fill out the form.