It's pumpkin season, there nothing better than the great smell of pumpkin, baking in the oven on a cool fall day. Those two things just seem to go together, don't they?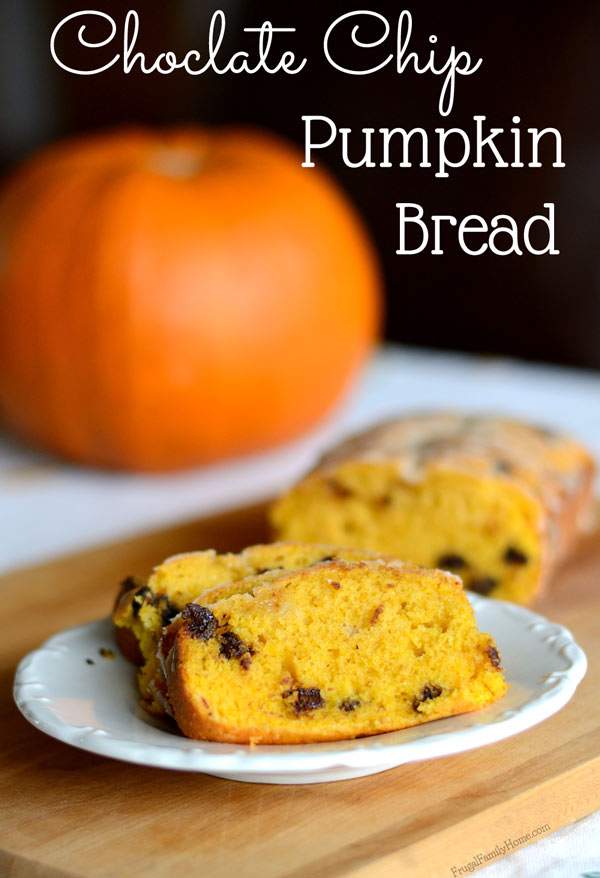 I have to confess, I don't make too many things that are pumpkin flavored. My husband has an aversion to anything squash. But lately he has been enjoying the pumpkin items I've made. Maybe he is coming around. Even though my husband usually avoids pumpkin he really liked this bread.
Chocolate Chip Pumpkin Bread, Dairy and Egg Free
I had never made pumpkin bread before, so I thought I would give it a try. I was going to search out a recipe to try, but then I thought, I could just alter my great grandma's banana bread recipe to use pumpkin.
I wasn't sure if it would work but it turned out great. I substituted the mashed bananas for the fresh pumpkin puree I had made. I probably should have made one big loaf of pumpkin bread but I split it up into two regular loaf pans. I think the better way to go next time would be to use one of my large loaf pans. But the bread still tasted divine, just not as tall.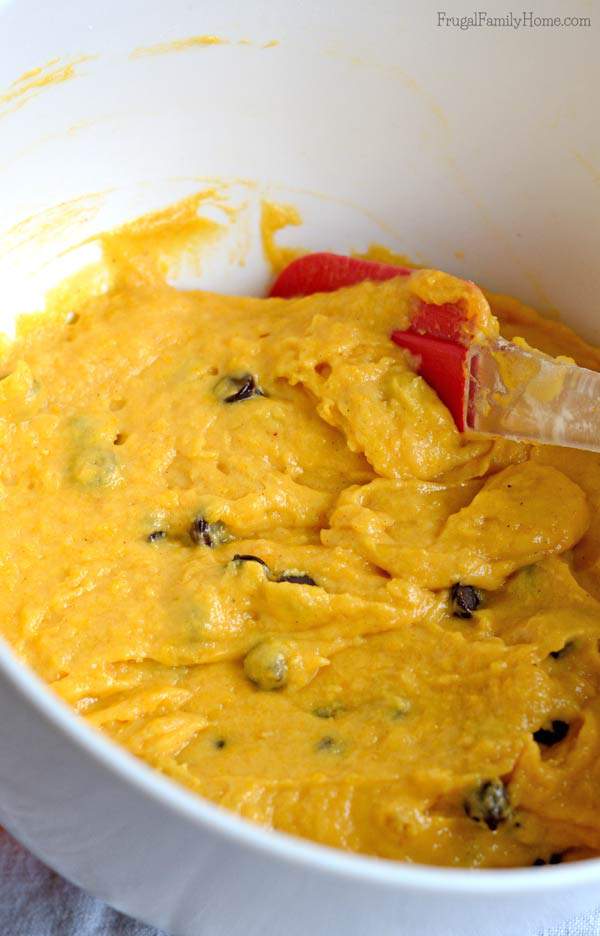 I added a few chocolate chips to the batter before baking, after all it tastes great in my banana bread, so why not try it in the pumpkin. I also found that the pumpkin bread didn't stick as much as the banana bread does. Maybe it because the pumpkin bread had less sugar?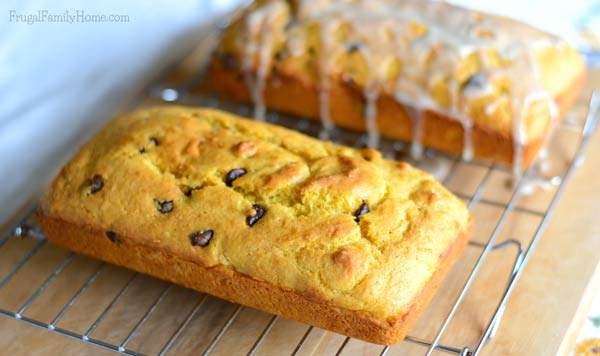 As the bread was getting close to being done it filled the house with a wonderful chocolate pumpkin smell. Makes me hungry for it just thinking about that smell. I wish I could bottle it up to enjoy later.
Perfect Topping, Maple Glaze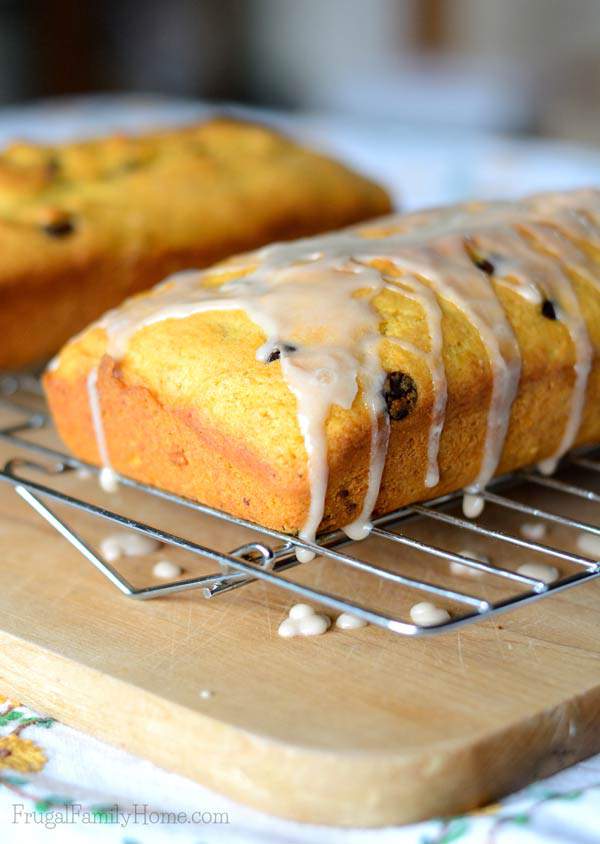 While the pumpkin bread was cooling on a rack, I made some maple glaze for the top. I used powered sugar, maple flavoring and a little almond milk. It added just a little extra flavor the bread, making a good tasting bread great.
I was a little conservative on the spices I added to the bread. If you want more spice flavor go ahead and double the measurements in the recipe. I could taste them all, but if you want more of a pumpkin pie flavor go a little heavier on the spice.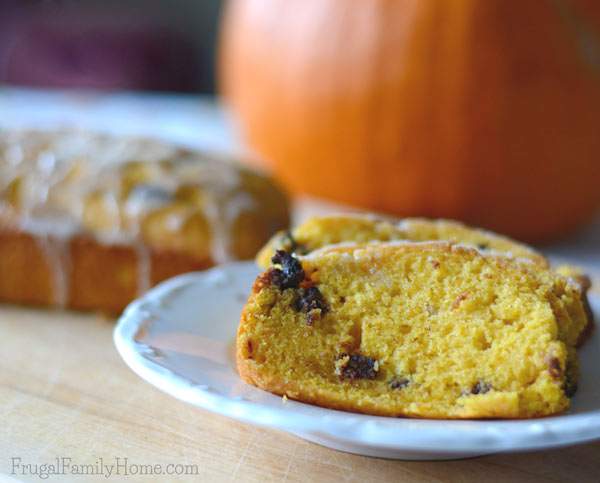 The pumpkin bread recipe is dairy free and I also included an egg free option too.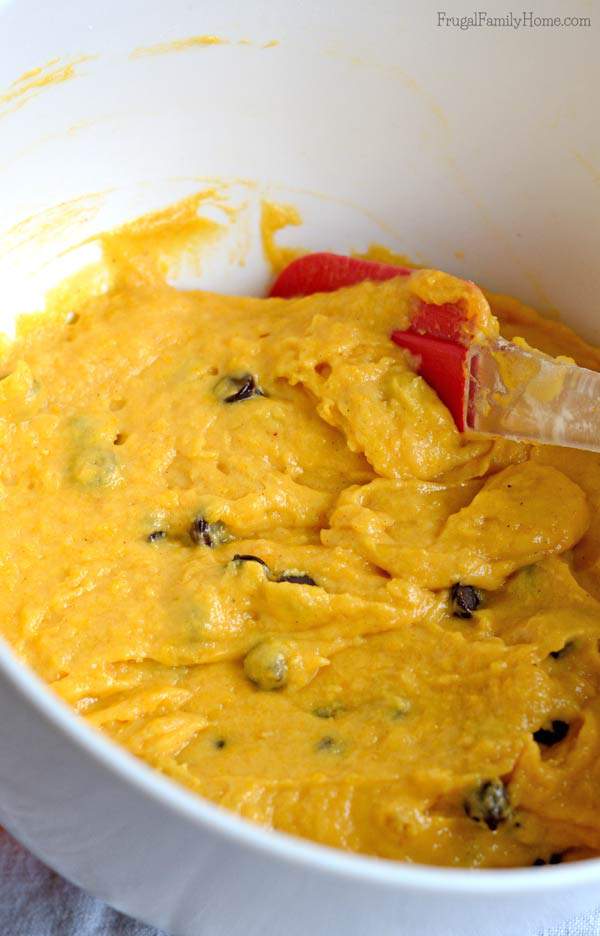 Maple Glazed Chocolate Chip Pumpkin Bread
A yummy twist on classic pumpkin bread with dairy free and egg free options.
Ingredients
1

cup

Sugar

1

cup

Pumpkin Puree

1/2

cup

Oil

2

Eggs or 2 tablespoons Soy Flour plus 2 tablespoon Water

2

cups

Flour

1

tablespoon

Baking Powder

1

teaspoon

Salt

1/2

teaspoon

Cinnamon

1/4

teaspoon

Nutmeg

1/8

teaspoon

All Spice

1/8

teaspoon

Ground Cloves

1/2

cup

Chocolate Chips

optional
Maple Glaze
1/3

cup

Powdered Sugar

2-4

drops Maple Flavoring

1

tablespoon

of Almond Milk
Instructions
In a large bowl, mix the pumpkin puree, sugar, oil and eggs together. If using the soy flour just add the water at this point. Stir to combine.

In another bowl, mix the flour, baking powder, salt, spices and soy flour (if using).

Combine the flour mixture with the pumpkin mixture and mix until just combined.

Stir in the chocolate chips if using.

Spoon into a large greased loaf pan and bake at 350 degrees for about 60 minutes or until an inserted toothpick comes out clean.

Let cool in pan on a rack for about 10 minutes, then remove from pan and cool on rack.

While bread is cooling. In a bowl combine, powdered sugar, maple flavoring and almond milk.

Mix with a whisk until all clumps are mixed in and mixture is smooth. The glaze should be a little runny, if too stiff to drizzle add a little more almond milk, if too runny add a little more powdered sugar.

Drizzle over cooling pumpkin bread.

Slice and enjoy!
What's your favorite way to enjoy pumpkin?
Subscribe and you'll get Recipes
sent right to your inbox!
Click the button below and fill out the form.