Need a side dish everyone will love quickly? Making creamy mashed potatoes in the instant pot can be quick and easy. This recipe can be fixed in about 20 minutes.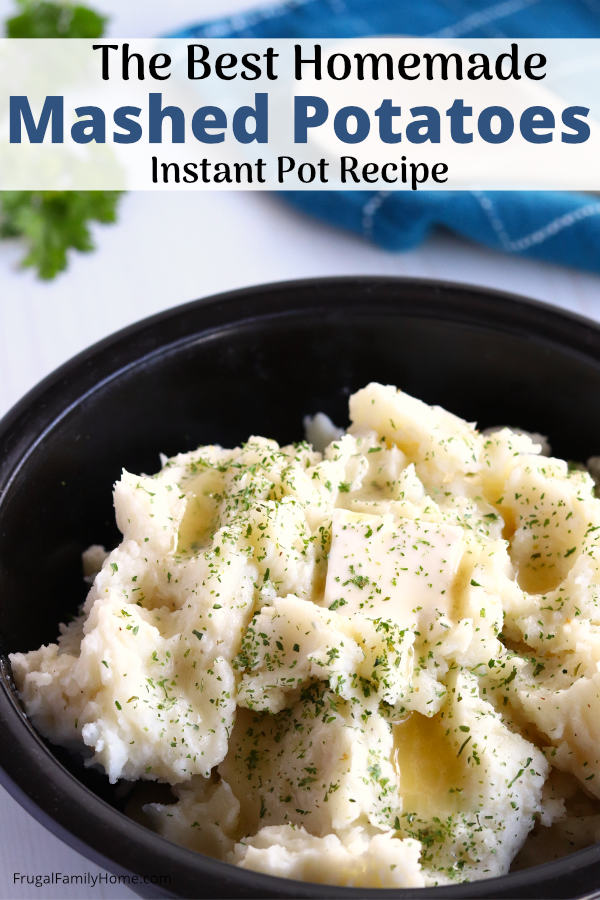 We love potatoes and mashed is our favorite. Probably because you can dress them up or down so easily. And who doesn't love mashed potatoes?
If you have an instant pot sitting around, waiting to be used. This recipe is simple, easy, and perfect to start your pressure cooking journey.
Grab your instant pot, potatoes, and let's get to making mashed potatoes in the instant pot.
How to Make Mashed Potatoes in Instant Pot (Video Tutorial)
Now I've made a quick video for you to follow along. But if watching a video isn't for you, I get it. Keep scrolling for the photo tutorial and written instructions.
Step by Step Instant Pot Mashed Potatoes
You're going to love mashed potatoes from the instant pot. They are so simple to make. If you eat mashed potatoes often, this is the perfect way to make them quickly.
What's the best potatoes for mashed potatoes?
The potatoes we love for mashed potatoes are russet potatoes. But Yukon gold work great too.
Ingredients for Instant Pot Mashed Potatoes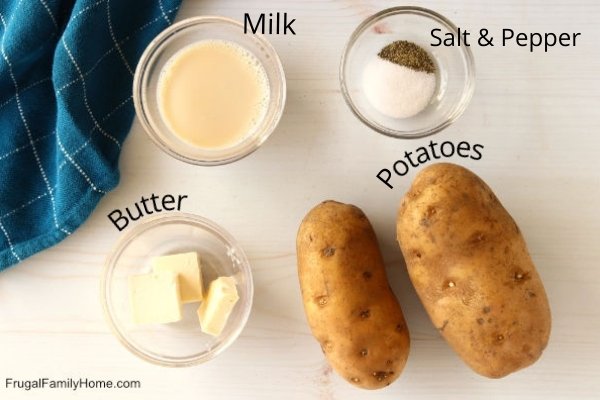 Potatoes
Butter or Dairy free butter
Milk, Soy Milk, Almond Milk
Salt and Pepper
Step 1 Prepare the Potatoes
Decide how many potatoes you'll be cooking. Peel them if desired. We prefer the potatoes peeled, but you do what you like the best.
After peeling, cut them into thick slices. There is no need to dice them. The thick cut slices will cook easily in the instant pot.
How many potatoes do you use per person for mashed potatoes?
It's hard to determine how many potatoes to cook and mash. But a good rule of thumb is to prepare 1/2 pound of potatoes per person. Since the average potato in a bag of potatoes weighs about 6 ounces, you'd prepare 1 1/2 medium-sized potatoes per person. If you have large potatoes, you can prepare one potato per person.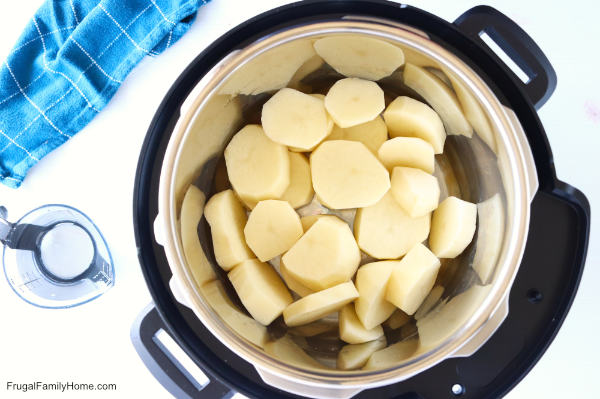 Step 2 Add water to your Potatoes
Now you have your potatoes prepared, place them in the bottom of the instant pot liner. Add 1 cup of water to the potatoes.
Step 3 Pressure Cook the Potatoes
Place the lid on the pressure cooker. Set to seal if needed on your model. Place pressure on high and cook 6 minutes. Once the time is done, do a quick pressure release.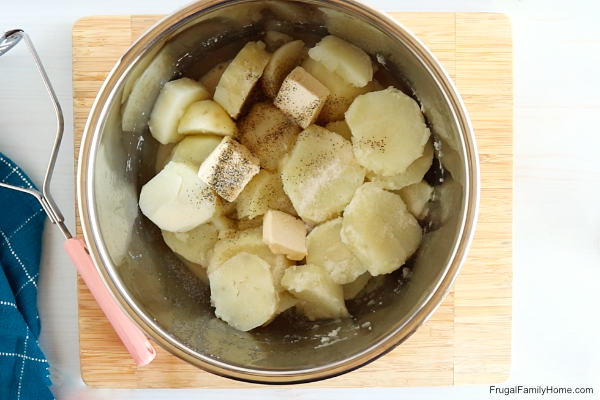 Step 4 Mash Your Potatoes
Once the pressure has bled off. Carefully open the instant pot away from you. Remove the pressure cooker pot and drain off the extra water. Add butter, milk, salt, and pepper.
With a potato masher, mash the potatoes until all ingredients are combined. Being careful not to overwork the potatoes.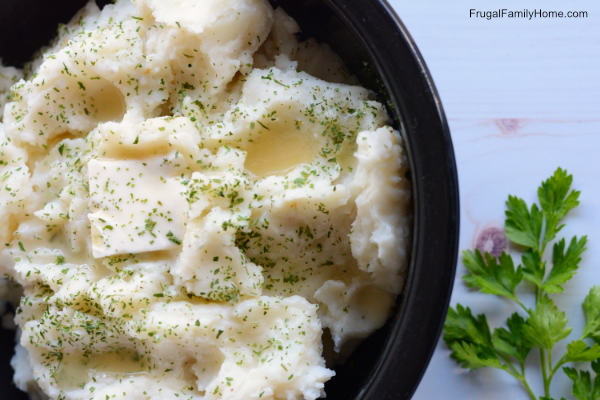 Why do mashed potatoes get gummy?
It's all about the starch, that's why mashed potatoes get gummy. When you mash the potatoes, the more you work with them, the gummier they will get. To keep your potatoes light and fluffy, don't overwork them.
Make sure your potatoes are fully cooked, and you have added enough milk and butter with them. Then mash as little as possible.
Just like overworked dough, potatoes can be overworked too.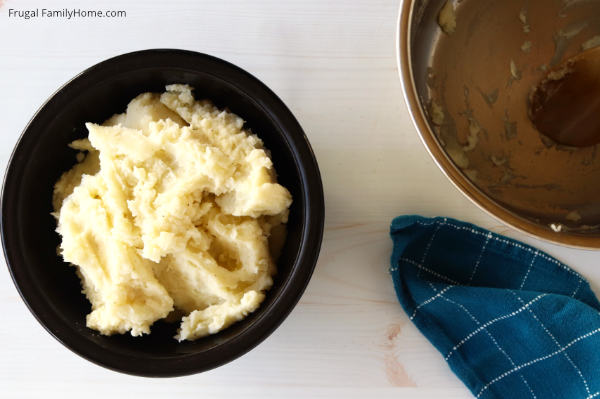 Step 5 Serve or Keep Warm Until Ready to Eat
Now your mashed potatoes are ready, but if you are waiting on the rest of dinner, you can keep your mashed potatoes warm in the instant pot.
Can I keep mashed potatoes warm in the instant pot?
Yes, once your mashed potatoes are done, you can keep them warm while you are making the rest of the dinner. They will keep an hour or two. You may need to add a little milk to moisten them and give them a stir before serving.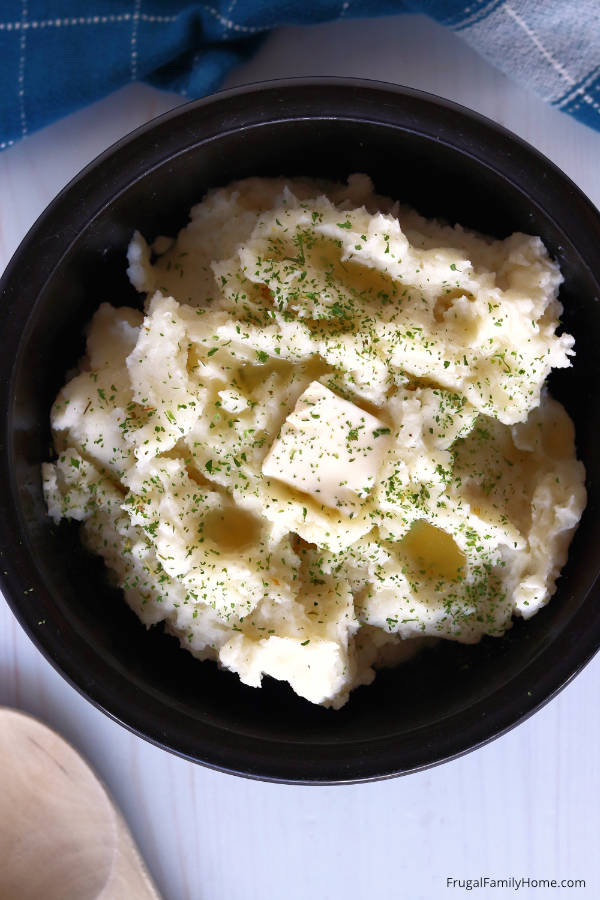 Grab the printable recipe…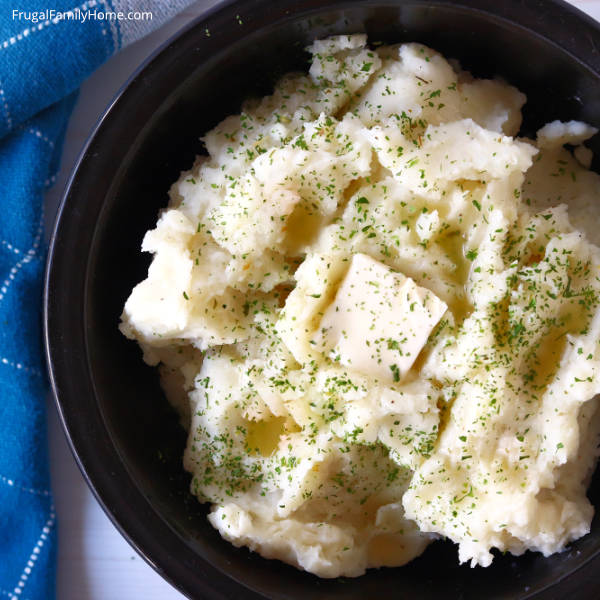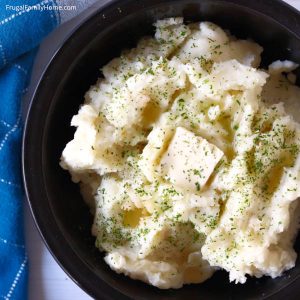 Perfect Mashed Potatoes in Instant Pot
Don't wait for a whole pot of water to boil to cook your mashed potatoes, cook them in the Instant Pot instead. It's quick and easy to do. This recipe makes the best mashed potatoes quickly and easily.
Ingredients
3

pounds

of Potatoes

russet or Yukon gold

1

cup

Water or Broth

3

tablespoons

Butter or Dairy Free Margarine

1/4

cup

Milk or Soy Milk or Almond Milk

1

teaspoon

Salt

1/2

teaspoon

Pepper
Instructions
Peel (if desired) and slice your potatoes into 1-inch rounds.

Place the potatoes into the instant pot liner and add 1 cup of water or broth.

Place lid and set to seal. Press pressure cook, set to high, set timer for 6 minutes. Let cook, once done, do a quick pressure release.

Remove the lid carefully and drain off the water.

Add the butter, milk, salt, pepper.

Mashed with a potato masher until ingredients are combined.

Serve or place back into Instant Pot and set to keep warm.
Notes
If the potatoes are too dry, add more milk or butter. 
Want more flavor? Mix in dried chives, dried parsley, onion powder, or garlic powder with the salt and pepper. 
Nutrition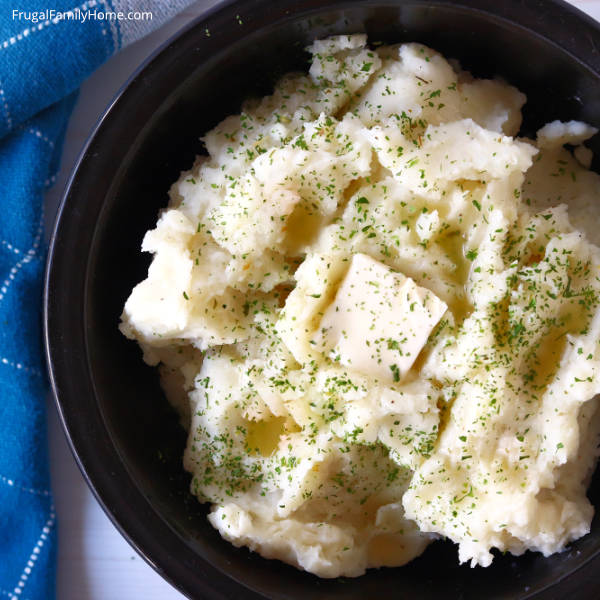 Subscribe and you'll get Recipes
sent right to your inbox!
Click the button below and fill out the form.