Have you ever tried pear jam? It's so good, I could eat it with a spoon. And this easy pear freezer jam recipe can give you the yummy flavor of fresh pears in a jam all winter long.
Scroll down to watch the recipe video and grab the printable recipe too.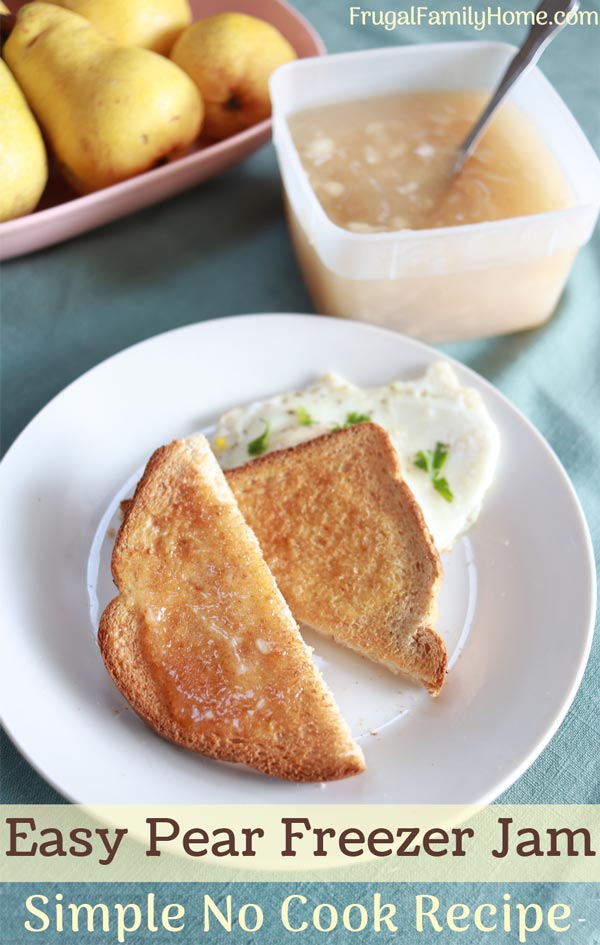 Simple and Easy Pear Freezer Jam
As the gardening season wraps up the Tuesday in the Garden gardeners are sharing some of their recipes to keep your harvest for the winter.
Today I'm sharing this easy pear freezer jam. To see what the other gardeners are sharing go to the bottom of this article. I'm sure you won't be disappointed.
I've made pear jam in the past. But I've only made the cooked pear jam that is canned. I thought why can't you make pear freezer jam?
I looked at the recipes that come with my pectin and realized there is no pear freezer jam. But I thought it would turn out. So I tried it.
This pear freezer jam tastes just like sweetened fresh pears. It's fantastic and so easy too. No cooking, well you have to boil the pectin in water, but other than that, no cooking.
No prepping jars or boiling water canners. Just freezer containers and a few items below…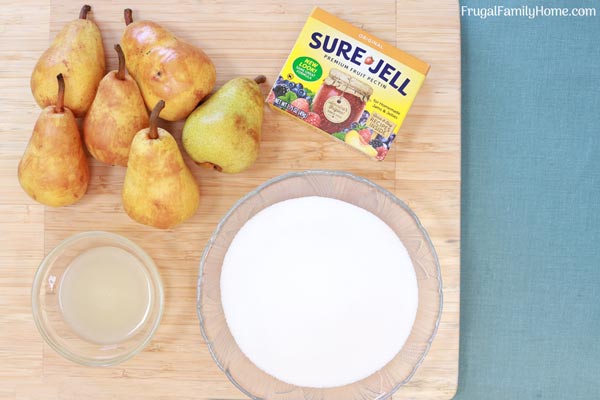 Ingredients Needed to Make Pear Freezer Jam
Pears
Sugar
Pectin
Lemon Juice
What Kind of Pears to Use
I like to stick with good canning pears for this recipe. Because some other pears might make the jam watery or not, let it quite set up well.
In this batch of pear jam, I used Bartlett pears. They are easy to come by. Great for canning, drying or eating. But also great for pear freezer jam.
Another one I'd try if you can't get Bartlett pears is Anjou pears. These are also good, cooking and canning pears so I'm sure they would work out well in this pear jam recipe.
The one pear I'm not sure of is Asian pears. They can be a little watery when cook so I'm not sure they would hold up well in the pear jam. It would be best to use one of the other pears.
Watch the Pear Jam Recipe on Video…
This video will show you all the steps to make your own pear freezer jam. It's a simple process and so delicious too. Watch the video then grab the printable recipe below.
Be sure to Print the No-Cook Pear Freezer Jam Recipe,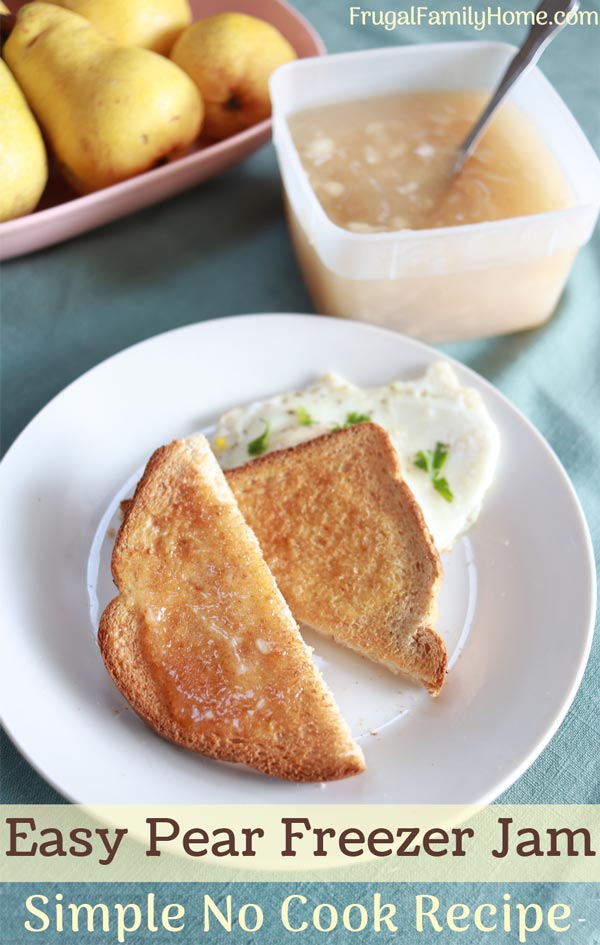 Easy Pear Freezer Jam
An easy pear jam that you don't have to can.
Ingredients
3

cups

Pears

finely chopped

2

tablespoons

Lemon Juice

1

box

Sure Jel Pectin

3/4

cup

Water

3 1/2

cup

Sugar
Instructions
Place your finely chopped pears into a large mixing bowl. Add the sugar and lemon juice and stir to moisten all the sugar. Set aside and stir a couple times during the next 10 minutes.

While your pear sugar mixture is sitting place the water into a small saucepan.

Once the 10 minutes is up, stir the pectin into the water and heat on high stirring constantly.

Boil for 1 minute then remove from heat.

Add the pectin mixture to the pear mixture and stir for about 3 minutes or until the sugar is dissolved.

Put your pear jam into clean and sterilized freezer container. Leave a little space at the top for expansion when freezing.

Place lids on top and let the containers sit at room temperature for 24 hours.

After 24 hours, place in the refrigerator if you'll be using your jam right away. Or into the freezer for longer storage.
Notes
This jam has a softer set than most freezer jams. 
Nutrition
Serving:
1
tablespoon
Calories:
43
kcal
Carbohydrates:
11.4
g
Sodium:
2
mg
Potassium:
9
mg
Fiber:
0.3
g
Sugar:
10.4
g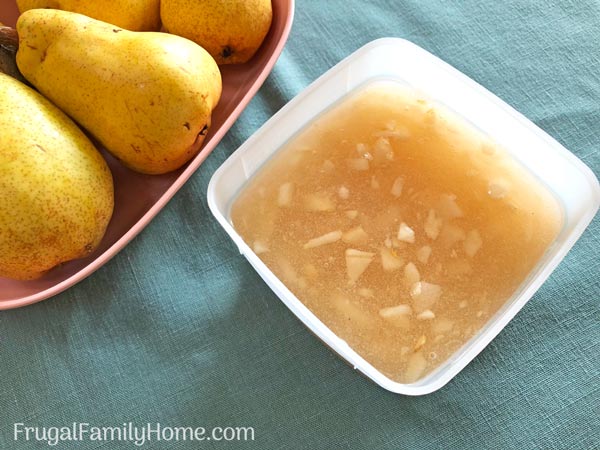 Tips for Making Freezer Jam Recipes
Just a few tips I've found that makes this recipe or any freezer jam recipes turn out great each time.
The Pectin…
I've made many types of freezer jam with different brands of pectin. I've found that Sure Jel works the best. That's why I recommend using it in this recipe.
I've had no trouble with my freezer jam setting when using Sure Jel but I've had very soft sets with other types of pectin.
Some other brands of pectin need corn syrup added to set correctly. So be sure to add that if you use a different brand of pectin.
Measuring Accurately…
You need to measure each item accurately. If you use less sugar, the jam may not turn out. If you'd like to have a lower sugar jam, try the low sugar Sure Jel it works great and you don't have to use as much sugar.
If you use too many pears, it may be runny. Be sure to use measure the amounts needed carefully to ensure your jam turns out.
Stir, Stir, and Stir more…
After adding the pectin be sure to stir well to dissolve the sugar well. To test to see if the sugar has dissolved. Pull the spoon out of the jam and wipe the jam off the back of the spoon with your finger.
If there are only a few sugar crystals, you can feel then it's mixed enough. If it still feels very grainy keep stirring.
I usually set my timer for 3 minutes and stir the whole time. By the time the timer goes off, the sugar is dissolved.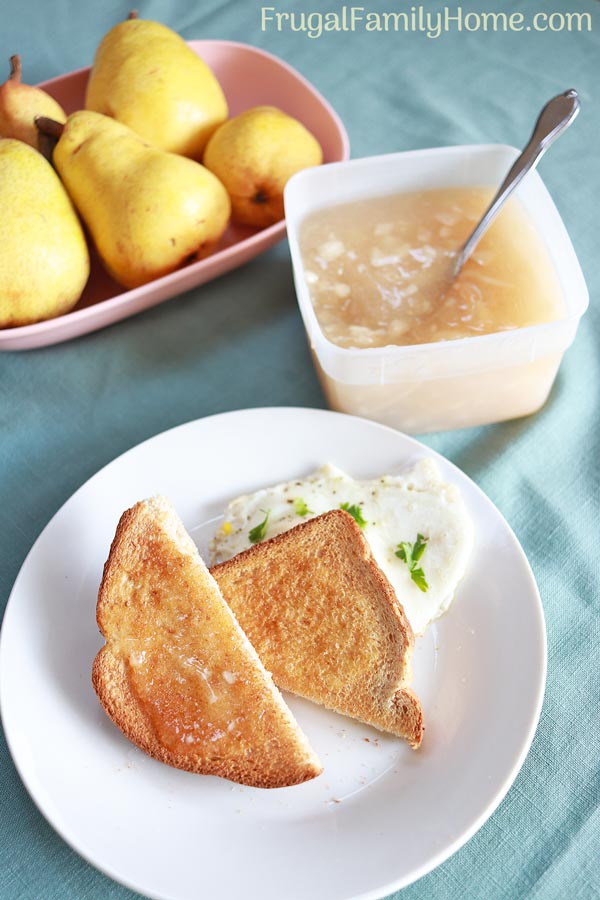 That's my best tips for making pear freezer jam. It's a quick and easy jam that you don't need to can or cook and has a wonderful fresh pear flavor too.
If you make it be sure to come back and let me know how it turned out for you.
But don't leave yet.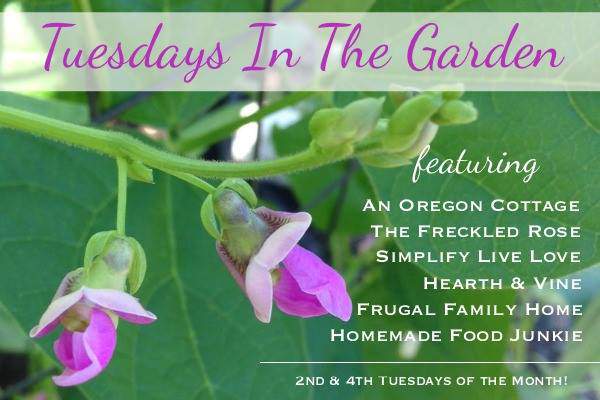 The other Tuesday in the Garden ladies have more preserving recipes for you below. Just click on the photo to be taken to their article. I know you won't be disappointed. They all have great recipes and tips to share…