I make candy each year and usually when I make that candy most of it my kids and husband can't eat because it contains dairy products. Most items that I need to use in my baking and cooking I  have been able to find good substitutes for but there were a few ingredients I needed to make candy that I just didn't have a good substitute. One of these was evaporated milk. So I decided to give a Pinterest a look for some alternatives.
I was pleasantly surprised to find a recipe to give a try and that is just what I did. I need evaporated milk to use in the two fudge recipes I make. I have in the past used evaporated goats milk but it is so expensive I was glad to try something else.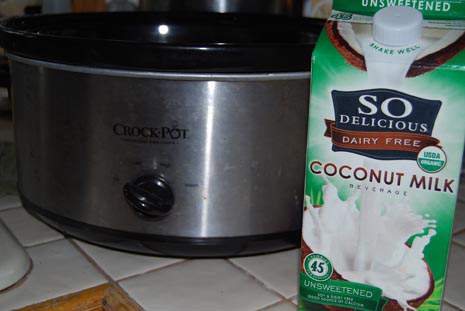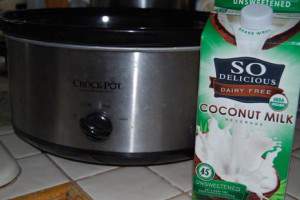 To make the diary free evaporated milk you only need a few things, a crock pot, unsweetened So Delicious Coconut Milk and time.
I needed quite a bit of evaporated milk so I used the whole half-gallon in my 7 qt crock pot. If you are making a smaller amount then be sure to use a smaller crock pot.
I just poured the milk into the crock pot and set the crock pot on high. After about 4 hours I poured the milk into a measuring cup to see if it had reduced by half. I still had quite a bit of milk so I poured it back into the crock pot and let it go longer. After another 4 hours I had one quart of evaporated milk. It is a little different from regular evaporated milk as it has a little gel like consistency. But it still works great.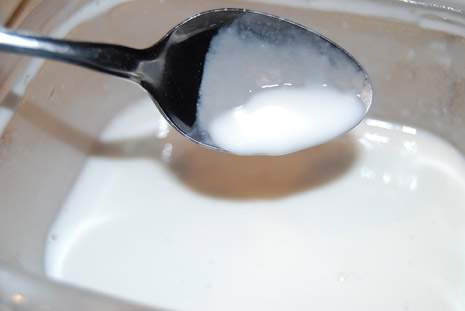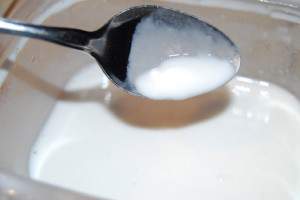 This was so easy to make and when I used it in my fudge recipe and it turned out wonderfully. Now the recipe I found said they had only tried it with coconut milk but I am thinking I may give this a try a different type of dairy free milk next time.
For a quart of evaporated milk it cost me $2.99 which is so much better than the $3.49 a 12 oz can or more for the evaporated goats milk that I used to buy. So not only do I have a new substitute but I also ended up saving some money too, which always makes me happy.
Have you tried a new recipe or idea off Pinterest lately? How did it turn out?
Subscribe and you'll get Recipes
sent right to your inbox!
Click the button below and fill out the form.