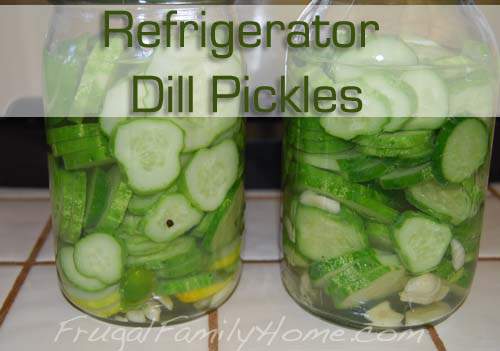 I was looking for a recipe for some refrigerator dill pickles as I had another couple of pounds of cucumbers out of my garden. I saw this recipe over at Food.com and thought I would give it a try. I did change the recipe a little to have more vinegar and I used cider vinegar instead of white vinegar because that is what I had on hand.
Here is the recipe with the changes I made
Refrigerator Garlic Dill Pickles
6 cups water (filtered water)
1/4 cup of canning or pickling salt (you can use kosher salt too)
4 Tablespoons Cider Vinegar (you could use white vinegar)
2 pounds pickling cucumbers
1/3 to 1/2 cup chopped fresh dill
8 cloves of Garlic sliced
8 whole peppercorns
1. Wash the cucumbers very well. I soak them then scrub them and remove any dark spots on the skin. I don't peel them so it is very important that you clean the cucumbers well. Also wash your 2 quart jars in the dishwasher or with hot soapy water.
2. Mix water, vinegar and salt in a saucepan and bring to a boil. Remove from heat and let cool to room temperature.
3. Pack the cucumbers and other ingredients into 2 clean quart jars. Pour cooled brine over them and refrigerate.
4. The pickles will be ready in 7-10 days. But the longer they sit the better they will be. These pickles will keep refrigerated for months if they last that long.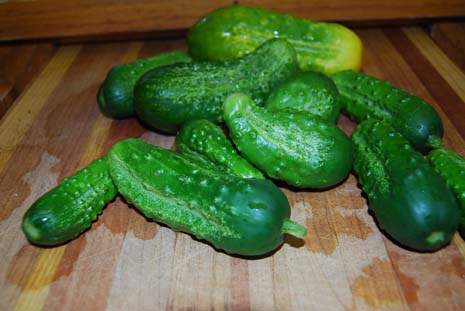 Clean your cucumbers very well.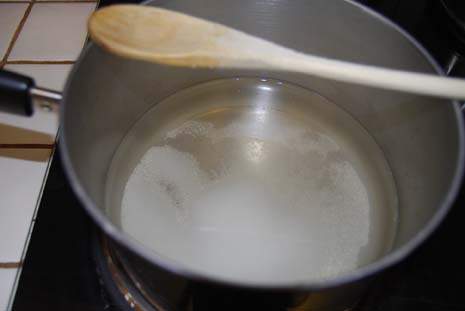 Brine before boiling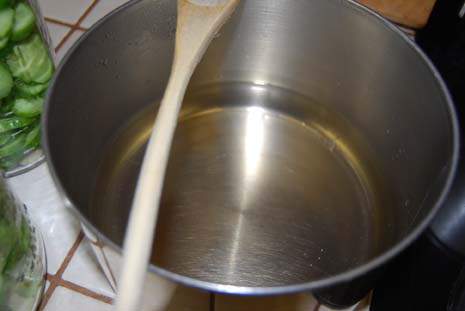 Brine after boiling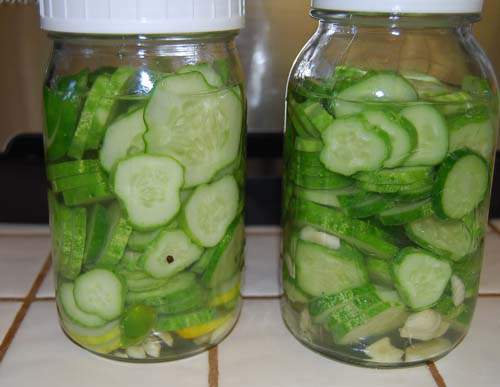 Ready for the refrigerator
I have to admit I forgot the dill for these dill pickles. How can you have dill pickles without the dill. But then I remembered I forgot the dill and added the dill after a trip out to my garden. This is another good reminder to gather all your supplies you will need for canning before starting. That way nothing can be left out by accident. Lucky for me I remember just about 10 minutes after putting them in the refrigerator. 😉
Update after 10 days of sitting in the refrigerator:
We let this pickles sit for about 10 days and then gave them a try. This recipe is much too salty for my tastes. When I make this recipe again I will increase the vinegar to 6 tablespoons and reduce the salt to 2 tablespoons. I think the vinegar/salt flavor would be a better balance.
If you like a salty pickle the recipe above will suit your tastes well. If you like a more balance of vinegar and salt in your pickle flavor I would give the updated changes a try.
Subscribe and you'll get Recipes
sent right to your inbox!
Click the button below and fill out the form.