Thanks to Good Cook for providing me with these kitchen tools to review.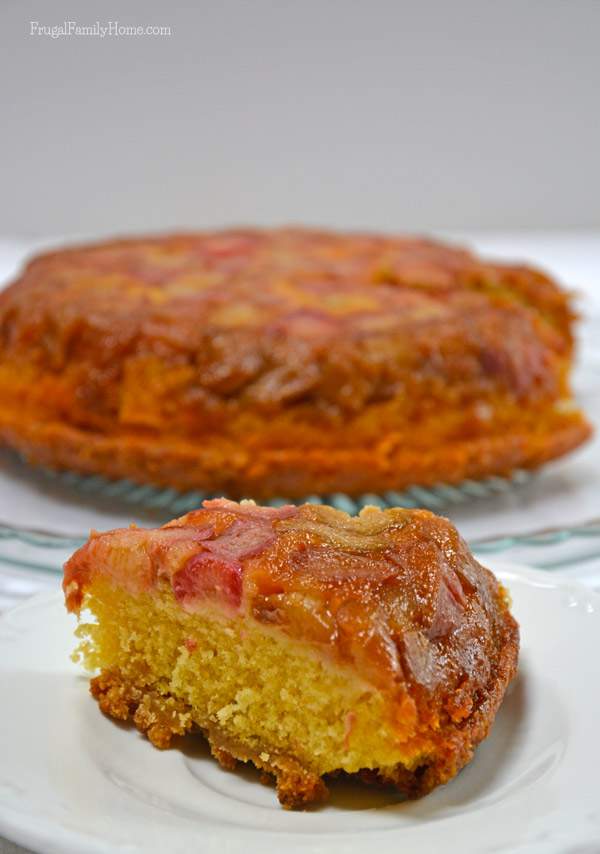 The rhubarb is really growing well this year in our garden. With the first harvest from our garden, I decided to make a new recipe, Rhubarb Upside Down Cake. I used rhubarb instead of pineapple and added a little crumb topping to it too. Which made a great crumb bottom once I flipped it over.
I made this recipe using some of the tools I added to my Ideal Kitchen Drawer. So I thought as I share the tutorial I would share about the tools I selected for my drawer. Just in case you need some ideas of items to select for yourself.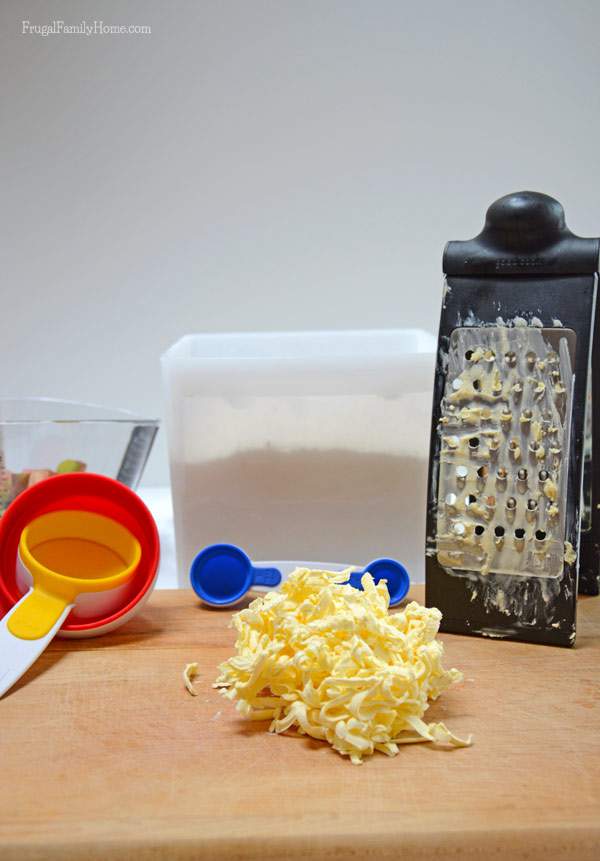 Some of the links below are my referral links. Which means as an Amazon Associate I earn from qualifying purchases and when you purchase through them I can make a little money at no extra cost to you. Thanks! See my disclosure policy for more information.
I love having crumb topping on muffins or quick breads. So I thought why not add it to the cake too. I'm not very good with a butter cutter so I opted to use my folding grater to grate the margarine.
It makes it so much easier to mix up with the sugar and flour for the crumb topping. I love the double sided flip measuring cups for measuring the flour and sugar. The two cup set covers all the common measurements.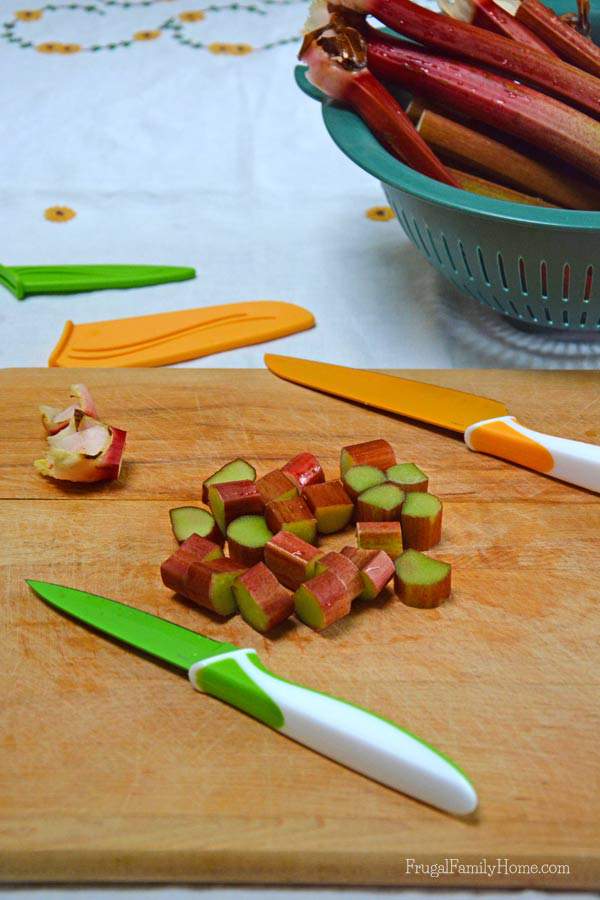 Rhubarb can be a little stringy. So be sure to use a nice sharp knife. I usually use a paring knife and a chopping knife. The nonstick paring knife is nice to cut the rhubarb into chunks and the nonstick Santoku knife is nice to cut it in half so it's easier to handle.
I used the Measure From Above, Liquid Measuring set to measure out my liquids. I have to say, I'm in love with this set. It's so easy to see how much you are adding to the measuring cup without having to look at the side.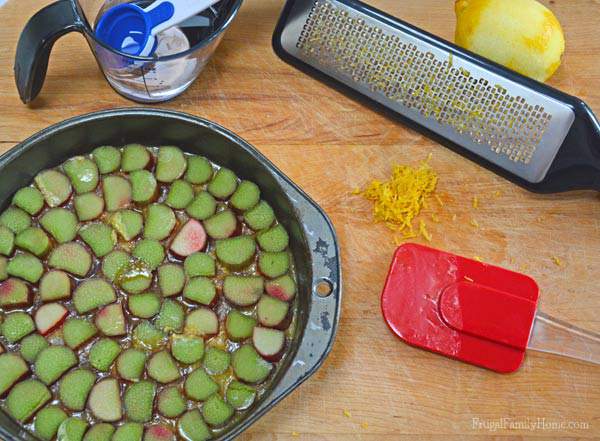 I made the caramel topping, which I mixed up with the silicone spatula. I didn't have to worry how hot the mixture was because these spatulas are heat-resistant to 45o degrees. I can't tell you how many spatulas I have ruined in the past.
I added my rhubarb in a pattern, I think it makes the final cake look a little more decorative. I also like to add a little lemon zest to the cake it gives it a nice flavor. I love using the fine zester/grater to do this job. It makes it so quick and easy.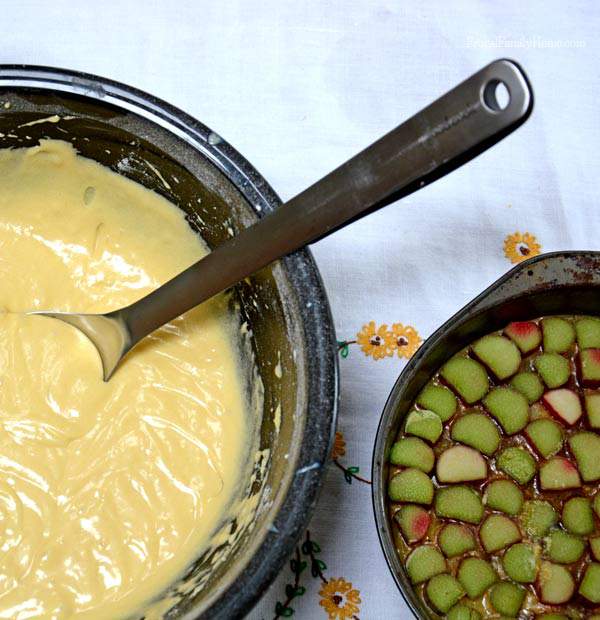 Transferring the cake batter can be a little tricky. I didn't want to mess up my design that took a few minutes to arrange. So I used the stainless steel basting spoon to spoon the batter into the cake pan. Be sure to use a 9-inch cake pan for this recipe, since all the batter won't fit in an eight-inch pan.
After the batter was added to the pan, I sprinkled the crumb topping, which will actually be the bottom, to give the cake a little crunch. I love crumb topping or in this case crumb bottom.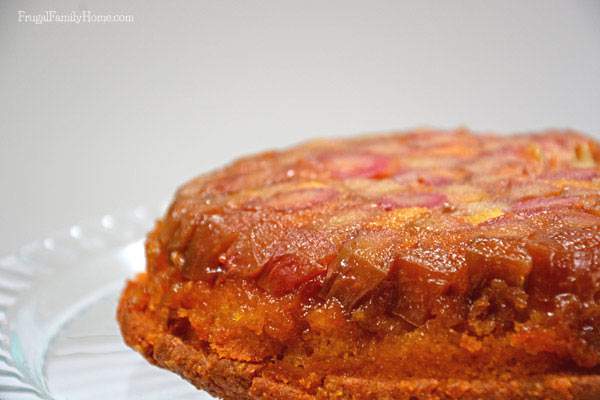 The cake smelled delicious while it was baking, making it that much harder to wait to try it. After it came out of the oven I let it sit for 10 minutes to cool, just slightly. Then came the moment of truth. Could I get the cake over without losing any of the topping? Yay! It turned out. I only lost two pieces of the rhubarb and they were easy to return to the cake.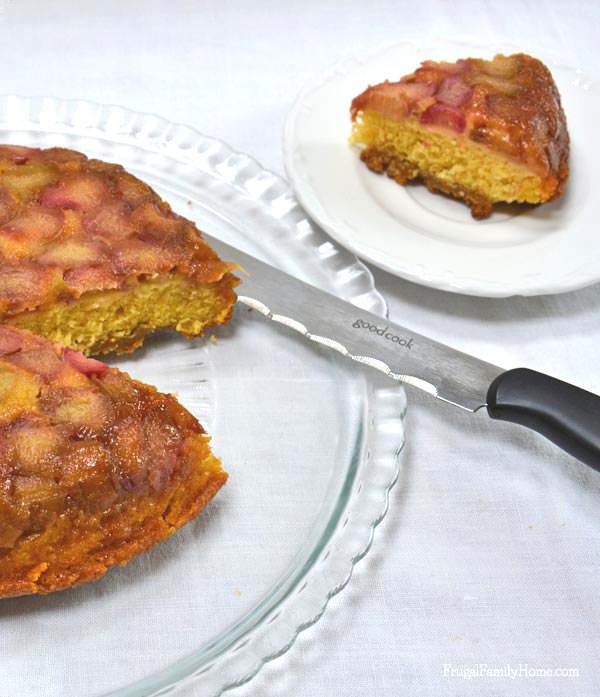 To cut the cake I used the bread and bagel knife, so I wouldn't tear up the crumb topping, well bottom. Who wants to lose all that yummy deliciousness?!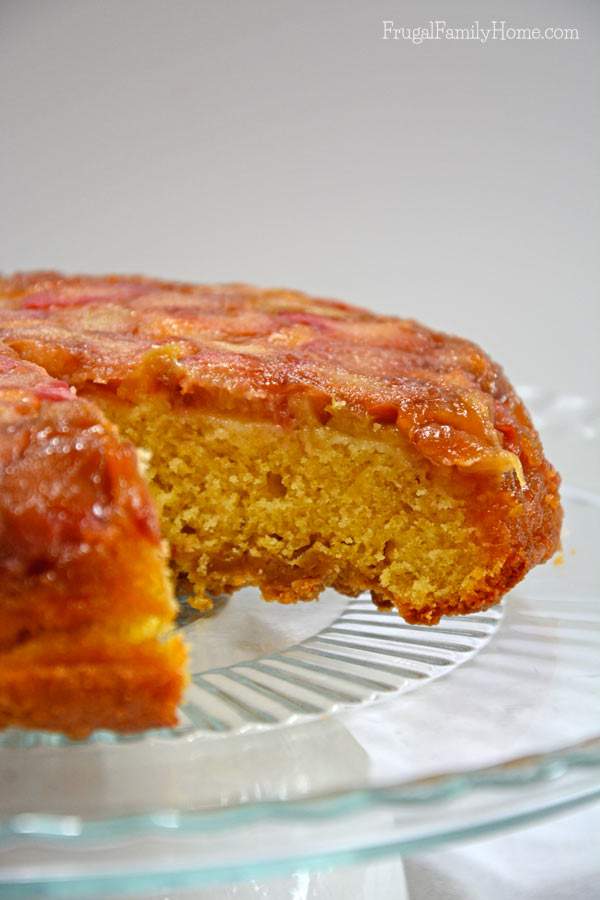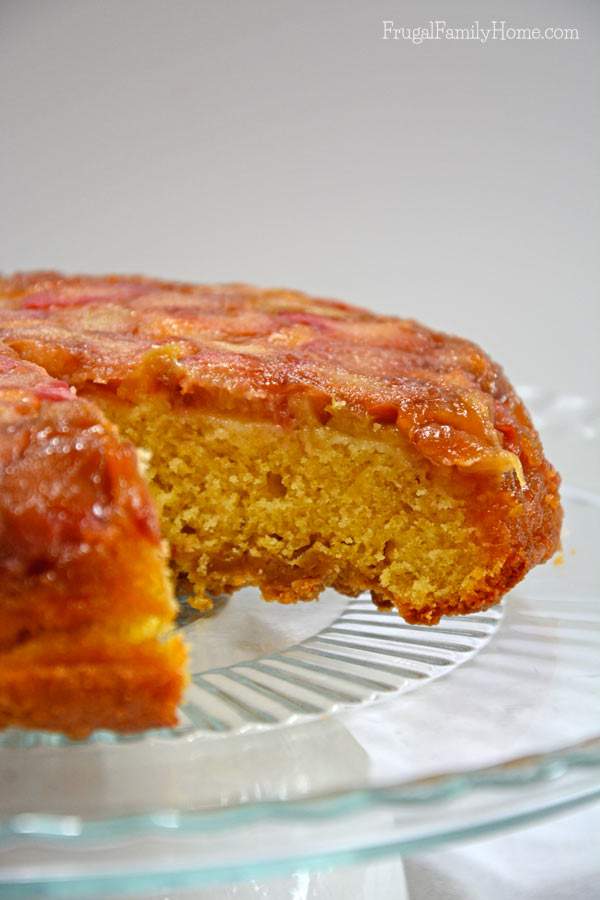 Caramel Rhubarb Upside Down Cake
Ingredients
Crumb Topping
3

tablespoons

Butter or Dairy Free Margarine

1/2

cup

Flour

1/4

cup

Sugar

I like to use brown sugar
Caramel Topping
3

tablespoons

Butter or Dairy Free Margarine

1/2

cup

Brown Sugar

1

tablespoon

Water
Cake
4-5

stalks of Rhubarb cut into 3/4 inch slices

1 1/2

cups

Sugar

1 1/2

cups

Flour

2

teaspoons

Baking Powder

Pinch

of Salt

6

tablespoons

Butter or Dairy Free Margine

1/2

teaspoon

Lemon Zest

2

Eggs

2/3

cup

Milk or Milk Substitute
Instructions
Crumb Topping
Shred the Butter with a grater and mix in with the flour and sugar. Cut it in with a fork or your fingers until crumbly. The crumbs should be about the size of a pea. Set aside
Caramel Sauce
Place the 3 tablespoons of butter in the cake pan. Place the pan in the preheating oven to melt the butter. Once melted add the brown sugar and water. Mix well.
Cake
Place the cut rhubarb pieces into the caramel sauce in the baking pan. Set side.

In a bowl mix the dry ingredients with the lemon zest. Set aside.

In another large bowl beat the butter until fluffy and light. Add the eggs and beat well.

Add half of the flour mixture and beat for one minute.

Add half the milk and beat again.

Add the last half of the flour and beat mixture once more.

Add the final milk and beat until well incorporated.

Carefully spoon the cake batter over the rhubarb and caramel in the baking pan.

Sprinkle with the crumb topping.

Bake 350 degrees for about 40 minutes or until a toothpick inserted comes out clean.

Let the cake cool in the pan for 10 minutes. Then loosen the edges with a knife and invert onto a cool rack.

Let cool completely. Then enjoy!
Tools in My Drawer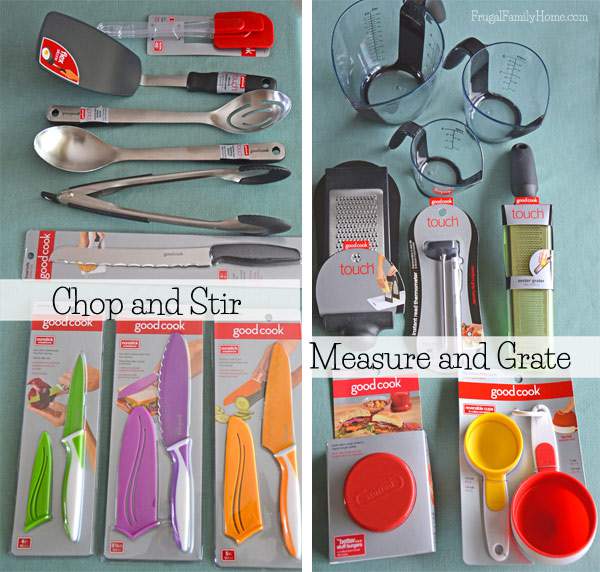 Some of the links below are my referral links. Which means as an Amazon Associate I earn from qualifying purchases and when you purchase through them I can make a little money at no extra cost to you. Thanks! See my disclosure policy for more information.
Here are the items I picked for my Ideal Kitchen Drawer. It was hard to limit the choices to just 15 because there are so many great items, but here are the 15 items that I settled on for my drawer.
Every kitchen needs cutting tools, am I right? So here are the ones I picked for my drawer.
Bread and Bagel Knife I make my own bread and cutting it into slices is something I do often, so I need a great bread knife.
Santoku Nonstick Knife with Cover This knife I chose, because every kitchen needs a great knife for preparing dinner. I also love that this one has a cover to protect the blade when it's stored.
Nonstick Paring Knife with Cover I think the paring knife is the most used knife in my kitchen, I couldn't build a drawer without one.
Nonstick Sandwich Knife with Cover I hate having to dirty two knives when making sandwiches. This little knife solves that problem with a nice cutting edge and wide enough to spread on the sauces. I made sandwiches every day so this little knife is quite handy.
Folding Grater, I love that this grater folds to store in the drawer so easily. Any space-saving items is a good choice in my book.
Fine Zester Grater Sometimes I need to zest a lemon or lime. Or even garlic into a dish. This fine zester does the trick wonderfully.
When baking I need some great tools to measure out ingredients. These are my go to items to have in my drawer. Along with a set of measuring spoons or a double sided flip measuring spoon.
Double Sided Flip Measuring Cups with just two cups I can measure the ingredients for almost any recipe. Yeah!
"Measure from Above" 3 piece Liquid Measuring Set, I'm in love with this set as I stated above. You can see how much liquid you are adding right from above. Love them!
Hand tools are a must for my kitchen. I need spatulas to clean the bowl and get every last bit out. I like to have nice heavy-duty spoons that hold up to all my mixing without bending. Especially when I am mixing up bread. I've broken a few wooden spoons before. Tongs for picking things up and spatulas for lifting.
Stainless Steel Basting Spoon, I love that it's made out of stainless steel and it has a nice feel in my hand. I like it has a nice sized spoon to baste, mix or even ladle.
Stainless Steel Slotted Spoon, Another great stainless steel spoon but this time slotted. Because sometimes you to separate yummy bits from the sauce.
Silicone Spatulas in two sizes. These are a great option for me. I love that they are heat-resistant. I tend to ruin the ones that aren't.
Silicone Flex Turner, I make lots of food that needs to be flipped. From burgers to pancakes and other things too. A spatula for turning is one of the most used items in my kitchen
Stainless Steel Silicone Tip Locking Tongs, Tongs are a great tool. From picking up meat out of marinade to serving a salad. They are so versatile I always have a set or two in my kitchen. I love that they lock so they don't throw salad out of the bowl like the spring-loaded ones. 🙂
These last two items caught my eye because we are going into grilling season. What goes with grilling? Burgers!
Stuffed Burger Press, this looks like just what I need to press my own burgers. Can't wait to try it out with goat gouda cheese in the middle of the burger.
Instant Read Thermometer, I hate to cut meat to check to see if it's done. So a meat thermometer is just the items to keep all those great juices in the meat and still know when it's done.
What items would you want to have in your kitchen drawer?
Subscribe and you'll get Recipes
sent right to your inbox!
Click the button below and fill out the form.