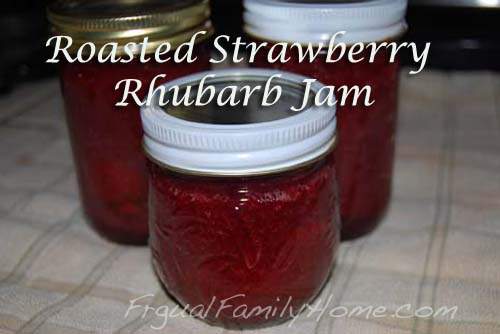 A while back I made this jam. I found the recipe at Simplest Things. By roasting the strawberries it give this jam a more intense flavor.
Here is the process I used. I changed the recipe just a little to my liking.
Roasted Strawberry Rhubarb Jam
Ingredients
6 cups cut up Strawberries
2 cups cut up Rhubarb
2 cups sugar
1 lemon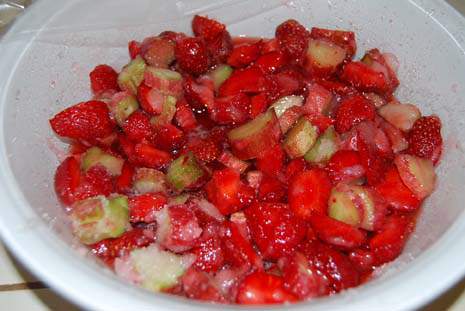 First I cut up two cups of rhubarb and added it to a non-reactive bowl. I then added in 3 cups of cut up strawberries. To that I added 2 cups of sugar and gave it a stir. Then I added  in the juice from the lemon and the spent halves of the lemon.  I covered the bowl with the sugar fruit mixture and let it sit in the refrigerator overnight.
The next day I roasted another 3 cups of diced strawberries on 300 degrees for two hours. You want them darkened but not black. ( sorry I forgot to take a picture of this step) Add the roasted strawberries and any juices released to the rhubarb-strawberry mixture from the refrigerator.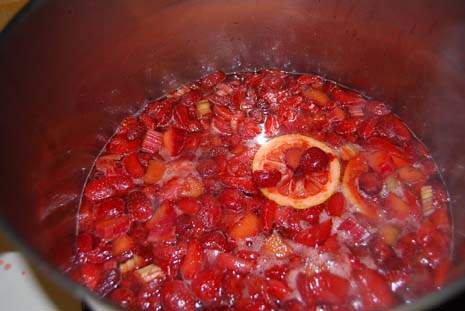 Simmer in a large saucepan until you reach the gel point. To reach the gel point it will take anywhere from 20-40 minutes. The color of the fruit mixture will darken as it thickens up. You can test the gel by placing a small amount of the jam on a plate you have chilled in the freezer. Put a dab of jam on the chilled plate.  Place the plate with the jam into the freezer again for a minute or two and then check to see if  it is thick enough. If the jam is not thick enough cook a little longer and re-test.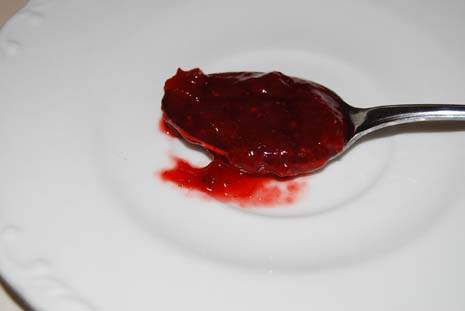 Once the jam is gelled. Place into hot sterilized jars. Process in a water bath for 10 minutes. (adjust for elevation as needed)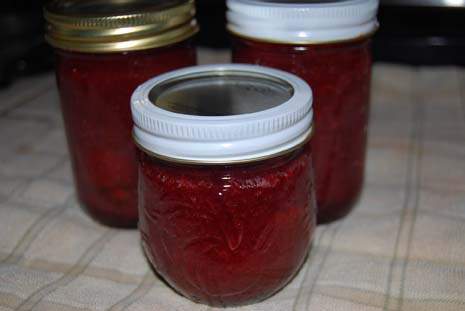 That is all there is to making this jam. If you are unfamiliar on how to can Pick Your Own has some great resources to help you learn how.