I feel like I am going down memory lane with all of these recipes I am sharing in this series. Most of the sweet treat recipes are ones I used to make with my mom and grandma.
It's wonderful to think about all those fun times helping both of them in the kitchen. My hope is that my kids will also have found memories of baking with me too.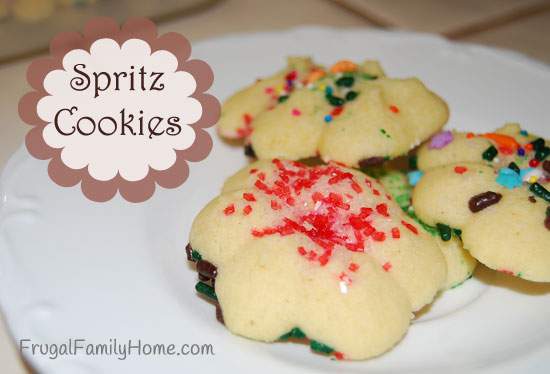 Spritz cookies are cookies that my mom would make every year. If you haven't ever had them before they are like a butter cookie or shortbread cookie. To make them you will need a cookie press, like this OXO Good Grips Cookie Press (affiliate link).
But if you have a good thrift store near you, chances are you can find one there. I know when my mom died we donated her cookie press only to find I would need it a few years later. I have one that was five bucks from a thrift store, so be on the lookout for one if you need one.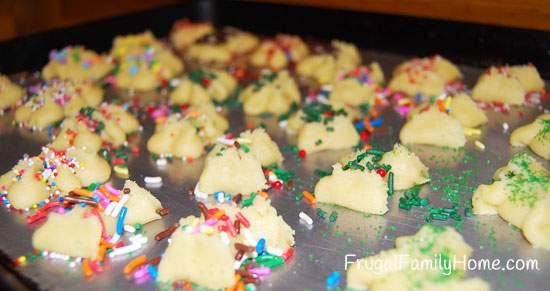 My kids always help me make the spritz cookies. I mix up the dough. My son picks out which shape we will be making and my daughter sprinkles on the sprinkles before they are baked.
My son also helps with the sprinkles with supervision from his sister. If he isn't supervised sometimes we end up with more sprinkles than cookie. 🙂
My main tip for this recipe is to count how many turns it takes of your cookie dough press to get the size of cookie you want. Too little turns and your cookie won't stick to the cookie sheet, too many turns and you will have a fat cookie.
So be sure to count the number of turns if you have a hand crank press. So you will know how to make consistent sized cookies.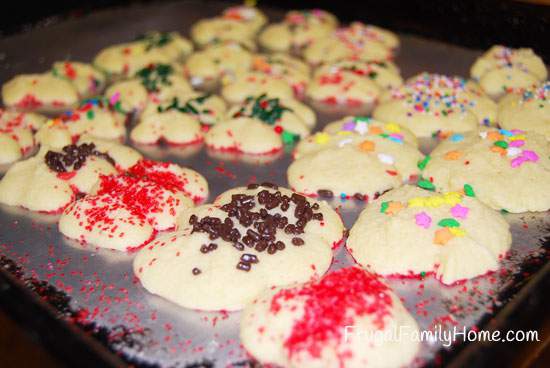 My other tip is to make sure to let the cookie sheet cool a little before adding the next batch. If the cookie sheet is too hot the cookies coming out of the press won't stick to it. So give the cookie sheets a chance to cool down a bit between batches.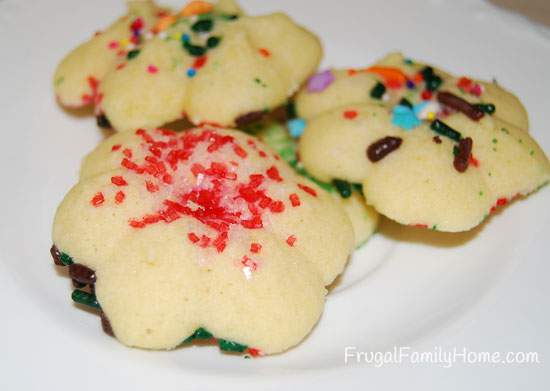 Spritz Cookies
A buttery yummy cookie that's easy to make.
Ingredients
1 1/2

cups

Butter or Dairy Free Margarine

if you need to eat dairy free

3 1/2

cups

Flour

1

cup

Sugar

1

Egg

1

teaspoon

Baking Powder

1

teaspoon

Vanilla

Sprinkles for decoration
Instructions
Preheat oven to 375 degrees

Beat butter or margarine with an electric mixer, about 30 sec to 1 minute.

Add in the sugar, egg, baking powder, vanilla and 1 cup of flour.

Beat until well combined.

Beat in remaining flour.

Push dough through a cookie press onto an ungreased cookie sheet, add sprinkles at this time if desired.

Bake 8-10 minutes just until the cookies are set but not brown.

Cool cookies on a wire rack.
Have you ever made cookies with a cookie press?
This post is part of my 31 days of Homemade Sweet Treats series.
Subscribe and you'll get Recipes
sent right to your inbox!
Click the button below and fill out the form.