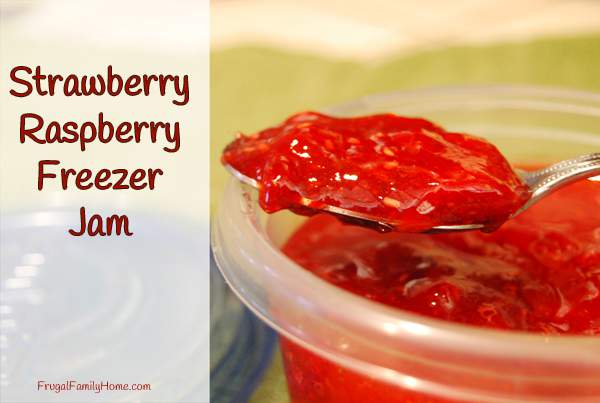 I love all the fresh berries we are getting out of our garden. They are just so very delicious. I have already made two batches of strawberry freezer jam this year and I didn't have quite enough strawberries for a third batch. But I did have some raspberries. So I thought why not try to make a strawberry raspberry freezer jam. What's the worst that could happen? The jam wouldn't set and then we would have a wonderful sauce for ice cream. Sound like a win-win situation to me. 🙂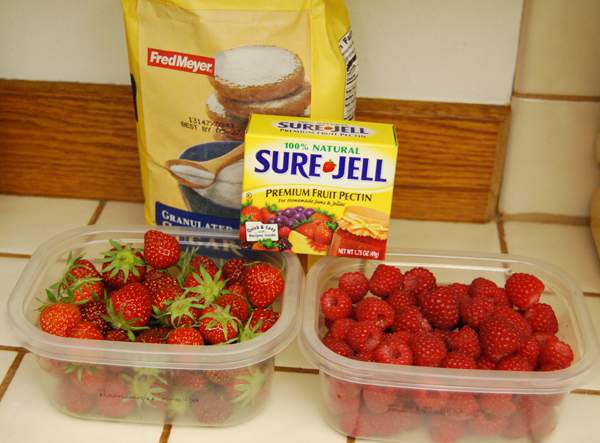 I like to use Sure-Jell for my freezer jam. Sure-Jell always turns out really well for me and it doesn't take any corn syrup either like some of the other pectin. If you haven't ever made freezer jam before you should really give it a try. You don't need any special equipment to make it and the jam in the winter tastes so good. It's like summer in a jam.
My kids are getting good at helping me so the process goes pretty fast. I think we can get two batches of jam done in a little under an hour. The most important part of making freezer jam is to make sure to measure out the crushed berries and sugar out accurately, otherwise you might end up with strawberry raspberry sauce instead of jam.
Last year I was on a jam making roll. I had made one batch and was starting on my second one, when the phone rang. So I answered it while I was mashing the berries. I had already measured out the sugar into another bowl, so when I had the berries mashed, I just dumped them into the sugar without measuring them. I was just a little distracted by the phone call.
I realized my mistake when the next morning the jam hadn't set up yet. The jam didn't set well because I put too many berries in. I didn't throw it out, I just put the strawberry sauce into the freezer and we used it on ice cream and in homemade ice cream. So don't do like I did, measure the sugar and berries accurately and you should have some really good spreadable jam.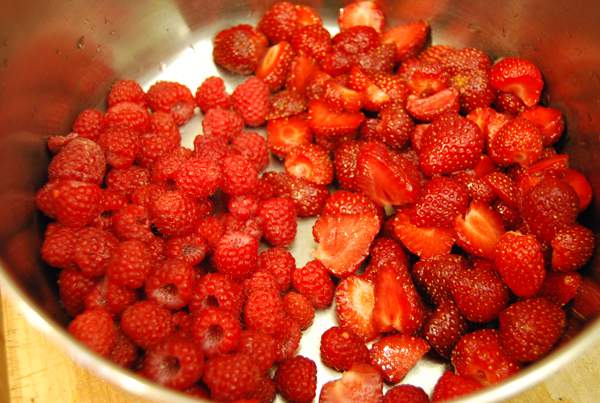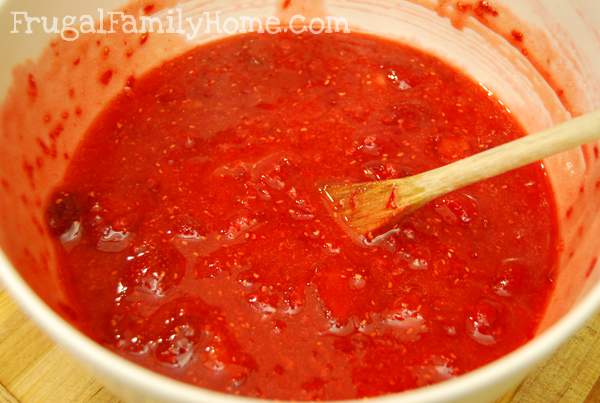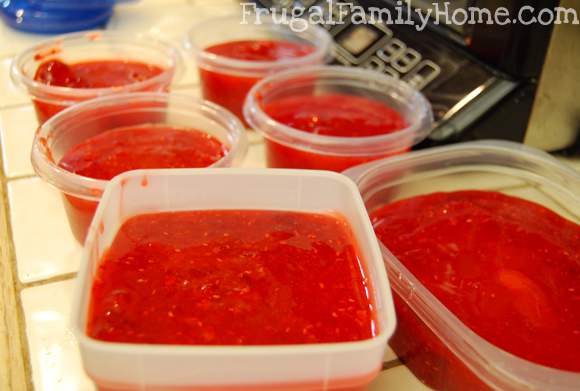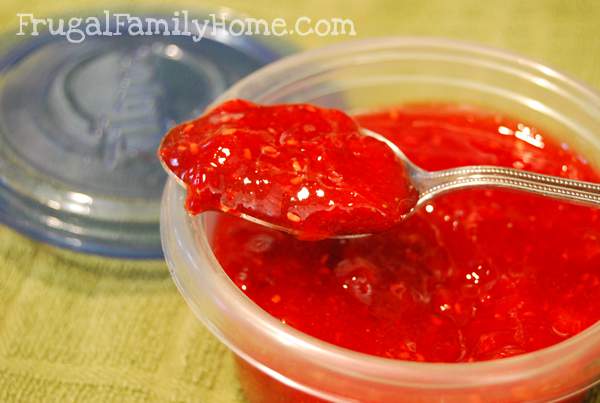 Strawberry Raspberry Freezer Jam
makes about 7 cups
Ingredients
1-quart Strawberries
1-quart Raspberries
5 1/4 cups Sugar
1 package Sure-Jell
Wash and hull strawberries and raspberries.

Crush berries. I use a potato masher.
Measure the sugar into a bowl.
Measure 3 cups of crushed berries and add to the sugar. Stir well and let sit about 10 minutes
After the 10 minutes is up for the berry-sugar mixture. Place Sure-Jell in a small saucepan and add 3/4 cup of water.
Heat the Sure-Jell mixture to a boil and boil one minute, while stirring constantly.
Stir the Sure-Jell mixture into the berry mixture and stir for about 3 minutes. You want all the sugar dissolved so it's no longer grainy.
Ladle into freezer containers and label.
Let sit on the counter for 24 hours to set.
Refrigerate up to 3 weeks or store in the freezer for up to one year.
To use, thaw in the refrigerator.
Have you ever made freezer jam before? What's your favorite kind of jam?
Subscribe and you'll get Recipes
sent right to your inbox!
Click the button below and fill out the form.