Do you find the regular sweet potato casserole just a little too sweet and heavy? Lighten it up by making these slightly sweet and very delicious roasted sweet potatoes. They are easy to assemble and can bake right alongside your other holiday dishes.
I usually make a sweet potato casserole each Thanksgiving as a side dish. But last year, I made a yummy lighter version for our sweet potato dish. I made roasted sweet potatoes instead. It was a big hit with everyone and I liked that it wasn't as heavy or sweet as the usual sweet potato casserole.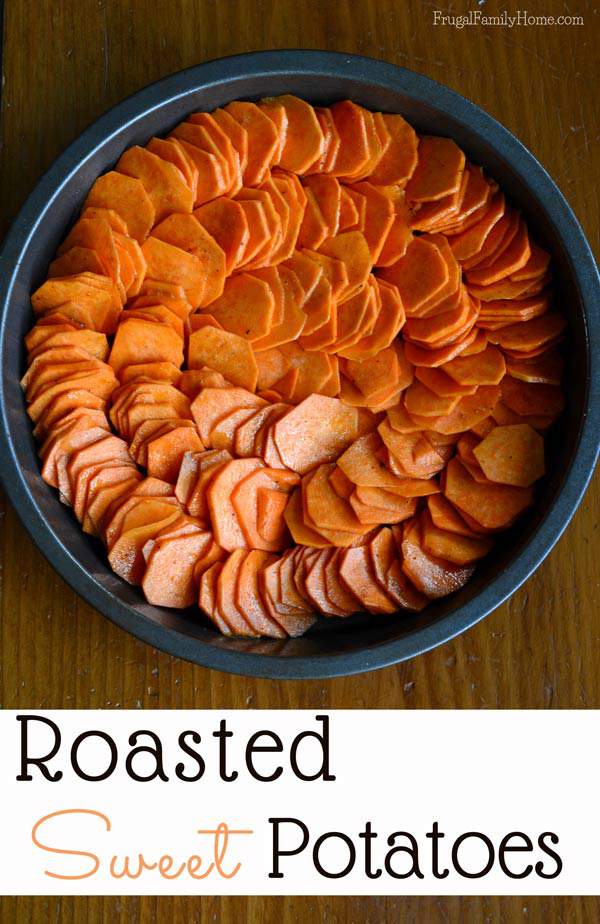 I loved that making the roasted sweet potatoes was so easy. Normally I would have cubed the sweet potatoes and then roasted them with a little oil in the oven. But because I was making these for Thanksgiving I wanted them to look extra special, instead of cubing them, I sliced them.
Just so you know, some of the links in this post are my affiliate links. When you use them I might make a little money at no extra cost to you. Thanks for your support in this way. You can learn more by reading my disclosure policy.
After slicing the sweet potatoes, I arranged them in a nice flower pattern in a round baking pan. I used a 10 inch round baking pan to fit about 5 medium size sweet potatoes, but I'm sure I could have added up to 3 more and they all would have fit. If you are cooking for a bigger crowd, you might want to try using a casserole dish like this one.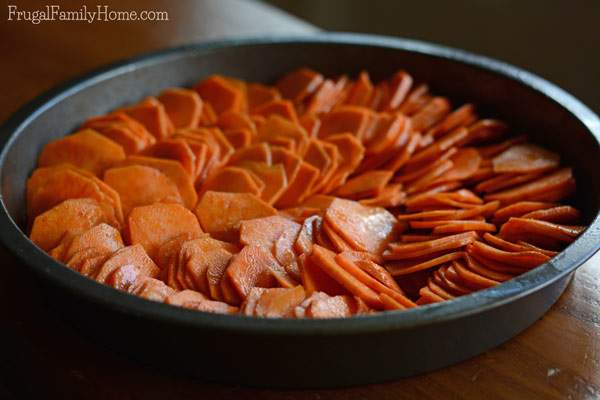 To Assemble the Roasted Sweet Potatoes
I love using my mandolin slicer, but it's getting a little old and dull. I'm hoping to get this model for Christmas to replace it. Since it was the best pick on the Cook Country Cooking Show.
I started by slicing the sweet potatoes thinly into a bowl with my mandolin slicer and then I sprinkled them with oil, brown sugar, and nutmeg. Trying to keep with the flavors of the original sweet potato casserole I usually make and gave it a good stir to coat the potatoes.
Then comes the somewhat tedious part. It really wasn't that bad, but I started on the outside and lined up the slices of the sweet potatoes in a ring, then I added another ring, and another finally filled it into the center. If you are using more than 5 potatoes, you might need to pack them in a little tighter. They will shrink some while cooking.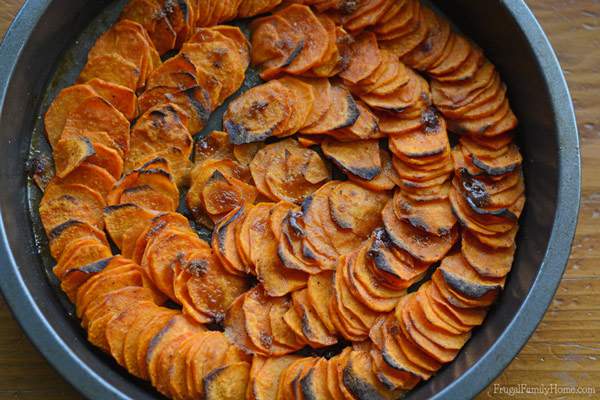 I baked this dish in the oven alongside my cashew stuffing until the potatoes were softened and cooked through. There were little bits that blackened slightly because of the sugar but also it added a nice flavor.
We all enjoyed the dish so well that it is on our menu for this Thanksgiving too. I like that it still contains the flavors of the original sweet potato casserole without all the sugar and butter. I hope your family enjoys it too.
Here's the printable recipe to add to your recipes box,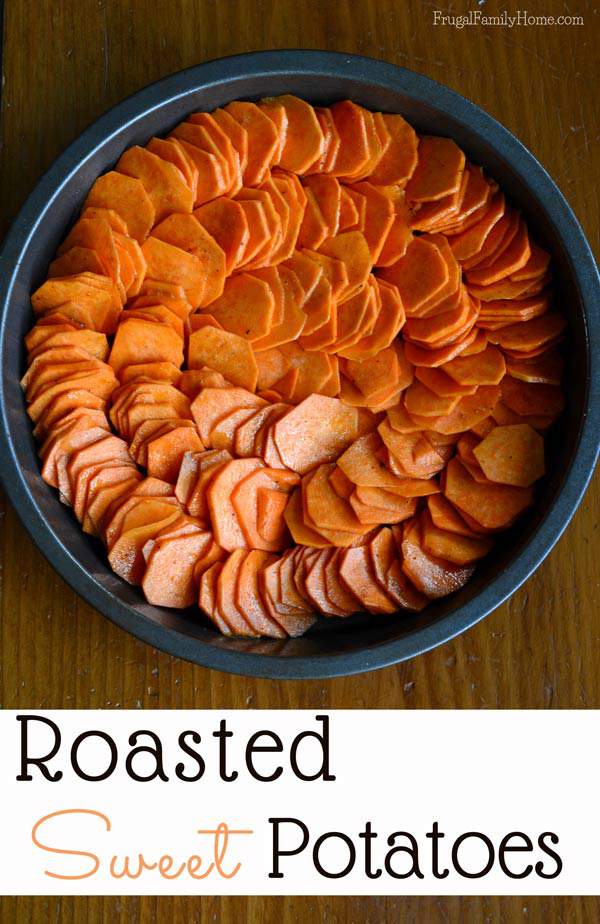 Sweet and Delicious Roasted Sweet Potatoes
Ingredients
4

medium Sweet Potatoes

peeled and sliced

3

tablespoons

of Oil

3

tablespoons

Brown Sugar

1/2

teaspoon

Nutmeg
Instructions
Add the sliced sweet potatoes to a bowl and drizzle with the oil. Add the brown sugar and nutmeg. Stir well to combine.

Arrange the coated sweet potato slices in rings around a 10-inch baking pan. Making three rings and then fill in the center with the slices that are left.

Bake at 350 degrees for about 30 minutes or until the sweet potatoes are cooked through and softened. If they are packed tightly in the pan they may take a little longer to cook.
What is your favorite side dish you make for Thanksgiving? I would love to hear what you have to share in the comments below.
If you know someone who would love this recipe, please consider sharing it with them. Use the social media sharing buttons, making it easy to share with your family and friends. Don't forget to pin this recipe to your Thanksgiving board on Pinterest too.
Subscribe and you'll get Recipes
sent right to your inbox!
Click the button below and fill out the form.