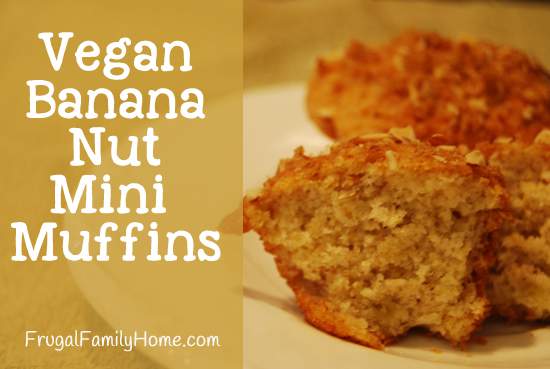 In the morning I am not always awake when I start to bake our breakfast. Most of the time I do just fine on auto-pilot but there are those mornings when things just don't quite go as planned. Have you ever had one of those mornings?
The day I discovered by accident this recipe was one of those mornings. I was going to make my usual mini banana muffins and I forgot the egg. I remembered after I had already put the batter into the mini muffin pans.
So I had a choice to make, try to scoop all that batter out of the mini muffin pans or proceed and hope for the best. I chose the latter and get what? The mini muffins turned out great. So a new recipe was born on that blurry eyed morning.
This would be a great recipe to make if you eat vegan or on a day you want muffins but have no eggs in the house. Whichever is the case for you I hope you and your family enjoy these as much as we did.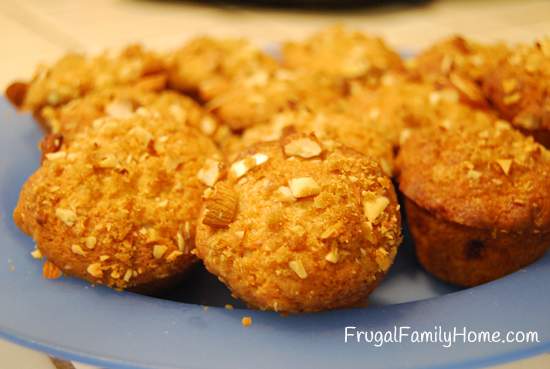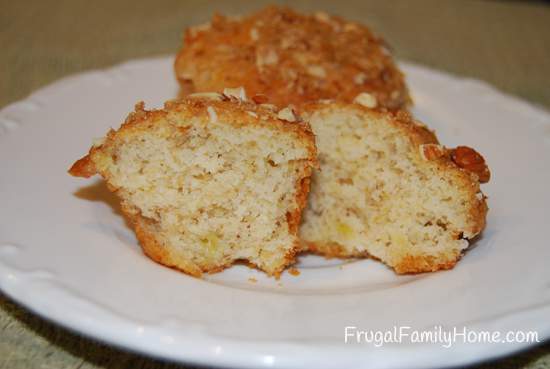 Vegan Mini Banana Nut Muffins (makes 36 mini muffins)
Ingredients
1 cup Sugar
1/2 cup Vegetable oil (or any other oil you prefer)
1 cup Mashed Bananas
1 teaspoon Salt
3 teaspoons Baking Powder
2 cups Flour
1 teaspoons Lemon Juice
Nut Topping (optional)
1/4 cup chopped Raw Almonds
1/4 cup Brown Sugar
In a bowl mash the bananas, add in the sugar, oil, and lemon juice and stir well.
Add the flour, baking powder and salt to the mixture and stir until just moistened. You don't want to over mix as it will make the muffins tough.
Spray 3 mini muffin pans with non-stick spray or grease with butter or coconut oil.
Spoon about one tablespoon of batter into each muffin cup.
Mix together the chopped almonds and brown sugar.
Sprinkle the almond sugar mixture on top of the muffin batter.
Bake at 400 degrees for about 15 minutes or until the muffins are golden brown.
Cool about 5 minutes then cool on a wire rack or eat right away.
Money Saving Tip: Leave the almonds out as they can be expensive and just sprinkle a little brown sugar on top.
Time Saving Tip: Mix all the dry ingredients into a zipper bag. Write the wet ingredients to add, on the bag with the baking instructions. Then you have your own muffin mix for those busy mornings. These little muffin mix packages make great hostess gifts too. 
Have you ever forgotten an ingredient in a  recipe but the recipe turned out alright anyway?
Subscribe and you'll get Recipes
sent right to your inbox!
Click the button below and fill out the form.