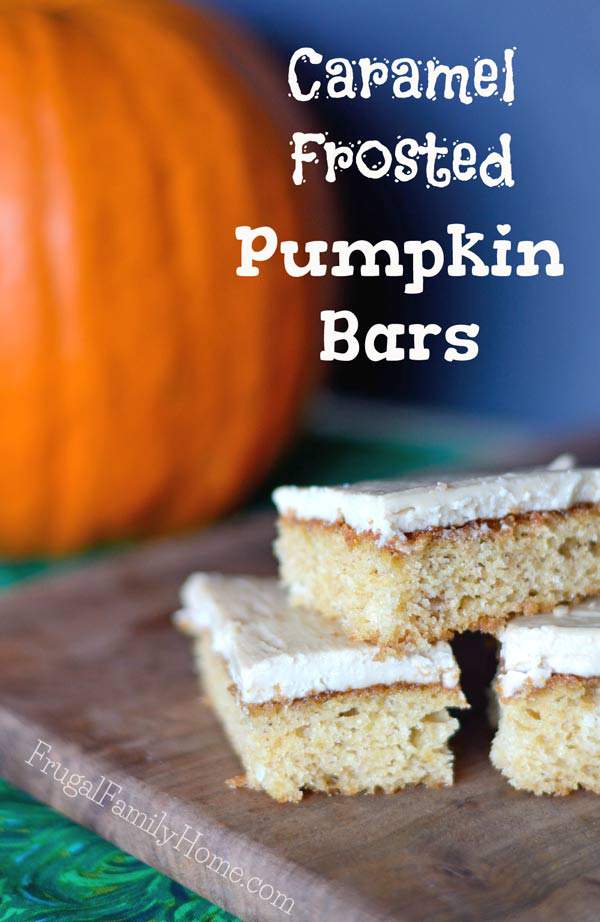 It's that time of year when pumpkins are plentiful. I always try to pick up a few pie pumpkins to stock my freezer with pumpkin puree for pies, muffins, cake, and cookies. I just love the flavor of homemade pumpkin puree from the freezer over the canned stuff. Plus we get to bake the pumpkins seeds for a snack too.
I love pumpkin recipes. My husband it can be hit or miss. He just doesn't like squash of any kind all that well. But when I made these pumpkin bars with caramel frosting, they were a big hit with him.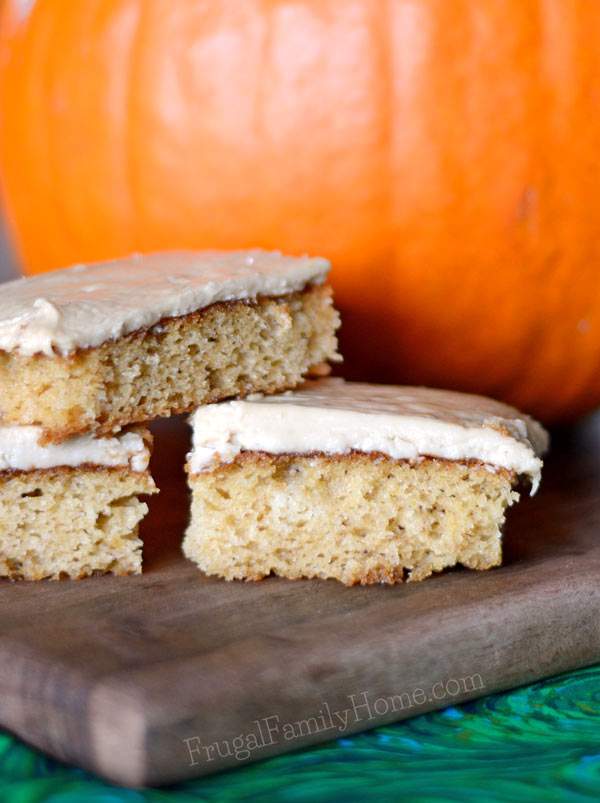 This recipe makes a whole cookie sheet of bars. It is great to take to parties or a great dessert for fall get togethers. After baking up a batch, we shared some with the neighbors. But they do also freeze well. Freezing them with the frosting can be a little tricky when you go to thaw them. So it's best to leave the frosting off the ones you know you'll be freezing.
If you are using homemade pumpkin puree from the freezer, you will need to drain off some of the extra liquid. So the batter isn't too thin. You don't have to drain it off quite as dry as you would for a pumpkin pie but just get the extra clear juice off.
This recipe is one from my grandma and the directions read, mix all the ingredients together and bake in a cookie sheet. But I thought I would share a little more preparing information with you all.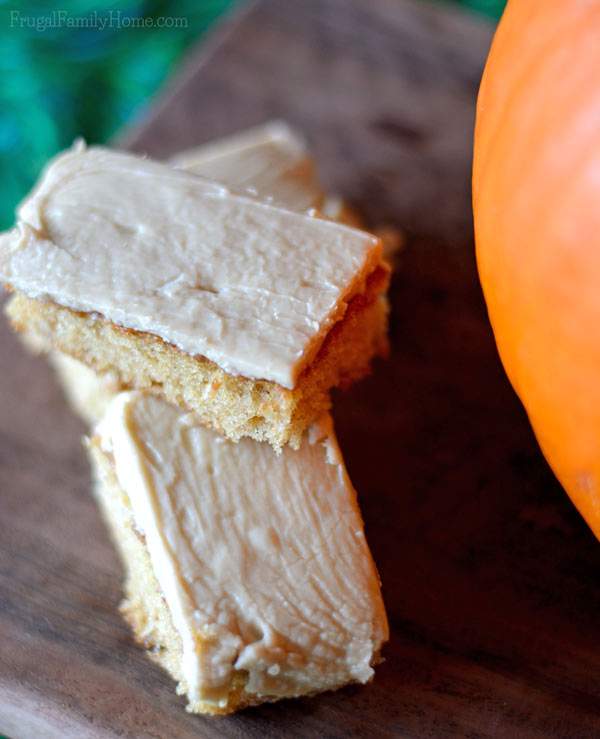 I usually mix all the dry ingredients together and use a whisk to combine them well. Then I measure the oil and eggs in a large measuring cup that I can combine them in also. No use dirtying another bowl.
To the dry ingredients, add the pumpkin and pour in the egg/oil mixture. Stir to combine. The batter will be about cake batter consistency. If it's too thick, like brownies, add a little water.
Spread into a greased cookie sheet. I had to use a spatula to get the batter spread out evenly. Then bake until golden brown and cooked through.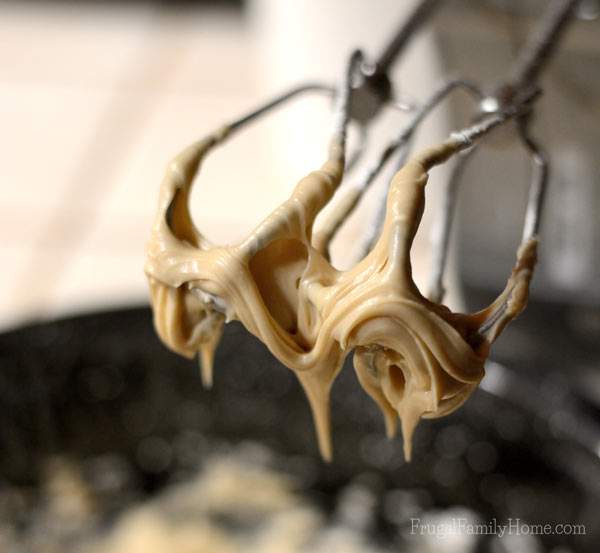 My mom and grandma always used to frost them with cream cheese frosting but I was out of the diary free cream cheese. So, I opted to make caramel frosting instead. My thinking was caramel is another fall flavor, why not try it on the pumpkin bars.
They turned out to be really delicious with the caramel frosting. I think chocolate frosting would be good too. But then again I love chocolate.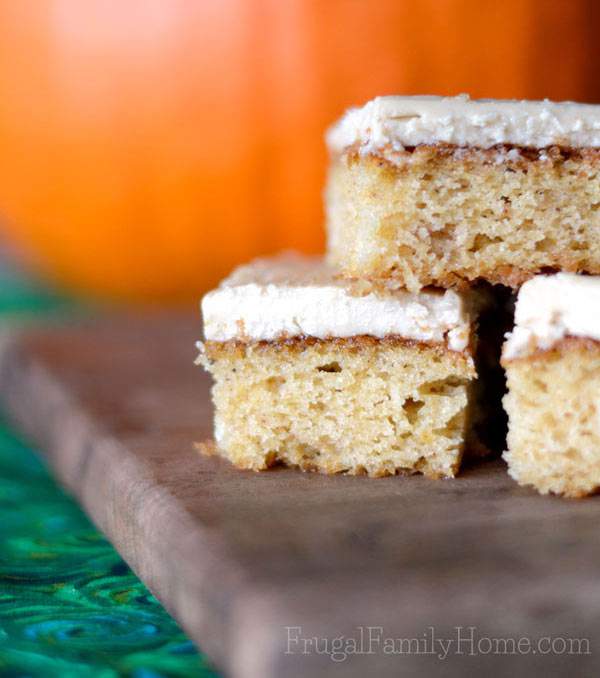 Yummy Caramel Frosted Pumpkin Bars
A new twist on the classic pumpkin bars, make them with this delicious maple frosting instead. They are so good.
Ingredients
Pumpkin Bars
4

Eggs

1

cup

Oil

2

cups

Pumpkin Puree

2

cups

Sugar

2

cups

Flour

2

teaspoons

Cinnamon

1

teaspoon

Baking Soda

1

teaspoon

Baking Powder
Caramel Frosting
1

cup

Brown Sugar

Packed

1/2

cup

Margarine

we use diary free Nucoa

1/4

cup

Milk

we use soy milk

2 1/4

cups

Powered Sugar
Instructions
Pumpkin Bars
Mix the dry ingredients in a large bowl. Set aside

Measure the oil into a large measuring cup. Add the eggs and mix well.

Add the pumpkin puree and the egg mixture to the flour and mix until combined.

Spread into a greased cookie sheet.

Bake at 375 for 25 minutes or until brown and cooked through.

Let Cool.
Caramel Frosting
In a sauce pan combine the brown sugar, margarine and milk.

Cook and stir over low heat until sugar is dissolved.

Increase heat to medium and without stirring cook for 3-6 minutes or until bubbles form in the center.

Removed from heat and let cool to room temperature.

Beat in powered sugar.

Spread over cooled pumpkin bars.
What kind of pumpkin goodies do you make this time of year?
Subscribe and you'll get Recipes
sent right to your inbox!
Click the button below and fill out the form.