This is a side dish I make a lot in the winter and spring. It is really easy to make and goes with any meat main dish you can think of. In the summer I will bake it in the BBQ. Both ways works out well. I hope you like it. You can add any kinds of vegetables you have on hand. I use whatever I have gotten on sale that week. I have used, brussels sprouts, broccoli, asparagus, carrots and celery to add to the potatoes and onion. Garlic clove cut in half is also very good.
Roasted Vegetable Side Dish
Ingredients:
Potatoes (about 1 per person)
1 large Onion
Chopped Veggies any combination of Celery, Broccoli, Carrots, asparagus, brussels sprouts green peppers. (I use about 1-2 cups)
2-3 Garlic cloves cut in half (optional)
Salt and Pepper to taste
1 Teaspoon of Garlic powder (if not using cloves)
1 Teaspoon dried parsley
2 Tablespoons of Olive Oil (can use any oil you like)
Cut potatoes into chunks, you can peel the potatoes first if you like but we usually leave the skins on. Chop the onion into chunks. Chop your other vegetables to add to the dish. Place all the veggies on a baking sheet that is rimmed or in a 9 by 13 inch pan.
Sprinkle vegetables with seasonings. Add oil and toss well to coat the vegetables.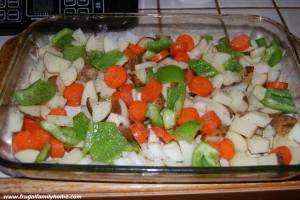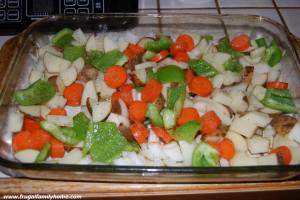 Place in a preheated 400 degree oven and bake 45 min to 1 hour. Or until browned. I usually will stir it half way through but you don't have to stir at all. Serve with your meal.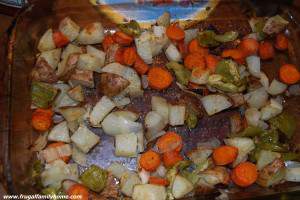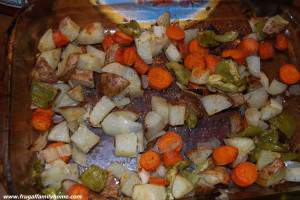 This side dish works out well if you are already baking chicken or fish. You can just roast your veggies with the meat at the same time. It saves time because you can be doing something else while the dinner cooks. Also it saves money on electricity as you are cooking your whole meal at once. Instead of cooking part on the stove top and part in the oven. I hope you enjoy this recipe as much as we do.
Subscribe and you'll get Recipes
sent right to your inbox!
Click the button below and fill out the form.