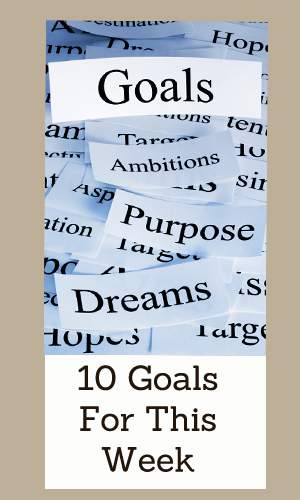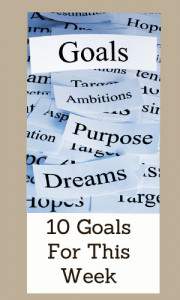 This week I was able to accomplish quite a few goals. I am really happy about doing a little better this week. I am still struggling with getting my goals planned out for the next year. So I am going to focus on one area at a time and break the goal setting down into steps.
So this week I will  just work on goals for our homeschool for next year. Then when I have that done I will start working on my next set of goals. I think making this small change will help me to be more motivated to get my goals done and also make the whole process seem less daunting.
What I was able to get accomplished this week
Family
1. Bible Reading each morning ( we got this done most mornings bu we missed a few)
2. Try another new recipe
3. Keep working on Family goals for next year
4. Continue the project with the kids
Personal
5. Drink 8 glasses of water a day ( did well this week)
6. Exercise 10 minutes each day
7. Send an e-mail or call to encourage someone this week
8. Pray for others while doing my household chores
Blog
9. Finish 31Day of Homemaking posts.
10. Attend a twitter party
10 Goals for this Week
Family
1. Continue Bible Reading each morning
2. Continue working on a project with the kids
3. Work on goals for our homeschool for next year
4. Try a new apple recipe this week.
Personal
5. Exercise at least once this week
6. Pray for others while doing household chores
7. Finish new schedule for the next quarter of homeschooling
8. Get to bed on time this week
Blog
9. Plan blog posts for the rest of this month
10. Set up a new plugin I want to use
So how did your week go last week?
[signoff]